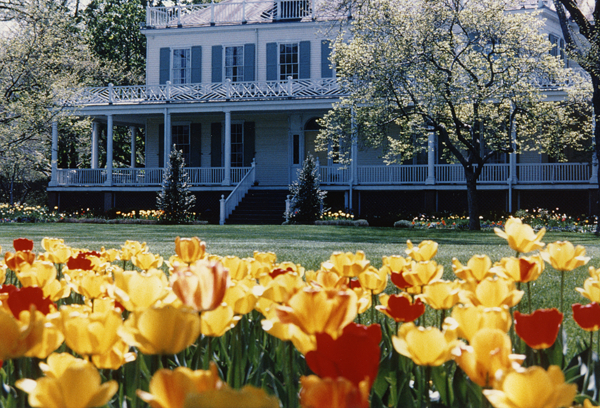 NEW YORK — Mayor Bill de Blasio and his family are moving into Gracie Mansion, and they're inviting a lucky group of ticket-holding New Yorkers into their new home to meet them on Sunday. The de Blasios will be the first family in at least 12 years to live there; the new mayor's billionaire predecessor famously chose to forego living there, deciding to stay at his similarly luxurious mansion in the same neighborhood on the Upper East Side of Manhattan.
So how will the de Blasios — wife Chirlane, college-age daughter Chiara and teenage son Dante — balance their public and private lives at Gracie?
When he heard back in December that the de Blasios would be living at Gracie (after weighing "logistical and security concerns"), Steve Levine sought to answer that question by looking at what it was like for previous occupants.
Levine is a researcher and educator at the LaGuardia and Wagner Archives, housed at the LaGuardia Community College, and which serves as a repository for historical documents relating to the city's mayoral administrations. Among the artifacts that have been collected there are an oversized gold boxing gloved signed by Muhammad Ali to Mayor Abe Beame; a World War I rifle possibly owned by Fiorello LaGuardia; and thousands of documents and photographs from the Koch administration.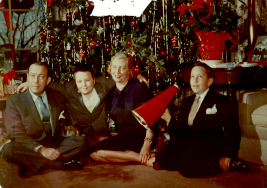 Levine was particularly interested in how Mayor Robert Wagner and his family —his wife and two young sons Duncan and Bobby — had experienced living at "the people's house" from 1954 to 1965. "Wagner portrayed it like a hallmark card," said Richard K. Lieberman, the director of the archives. The family even posed for Christmas portraits at the mansion.
But there were challenges, from the trifling to the more serious.
In a speech delivered to a dinner of the Committee for Gracie Mansion, Inc., in 1965, Mayor Wagner described visitors "walking in on our sitting room and even our bedroom" and that his son, Bobby, had put a "do not touch" sign on his electric train. The train survived, "but Bobby's silver baby cup disappeared from a bathroom shelf, along with numberless ash trays, place mats, photographs and mementos of every kind, including, of course, the bathroom soap."
"We can only hope that Dante's and Chiara's personal possessions will remain safe and no one will ever have to dress in their closet as Susan Wagner, the mayor's wife, had to do on a number of occasions when tourists arrived in her bedroom," quipped Levine, in an email message.
If all that wasn't enough, well-known New Yorker writer Philip Hamburger was living in an apartment on East End Avenue nearby, leading Wagner's wife Susan to fear that their lifestyle would be scrutinized unfairly. Instead, according to Mayor Wagner's son Bobby, interviewed by Lieberman in 1991, his parents invited Hamburger inside their home. Hamburger's book, "Mayor Watching And Other Pleasures" includes a profile of the mayor and his family. "Really it's sort of a lovely account of what was going on," Bobby Wagner said of it.
"It was a terrific way to grow up," he recalled in the interview when asked what it was like to live at Gracie from the age of 9 to adulthood. "At the time, living behind a fence, somehow being separated from the rest of the world, with the house often — because of my mother's belief that it was the public's property — filled with people … it was sort of a strange way to grow up."
He continued, "I think daddy and mommy were very good at making up for it, but it also was a chance to meet a variety of very exciting people, from Grace Kelly to President Kennedy… Lyndon Johnson took a bath in my bathtub."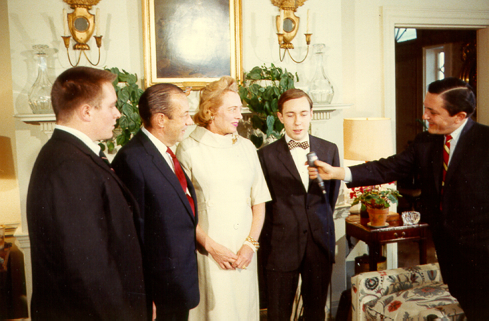 More seriously, the Wagners also had to deal with their share of security concerns unique to that era — most strikingly after a group of Puerto Rican nationalists opened fire in the U.S. House of Representatives in 1954, wounding several people. The mayor was said to be a possible next target, leading the police to station detectives protectively on the front lawn of the mansion, Bobby Wagner told Lieberman in 1991.
"Duncan and I each had two detectives assigned to us to take us to school," he said. "In my case, the detectives sat in the classroom, which thrilled my classmates. It didn't particularly thrill me."
The mansion was expanded with the addition of the Susan E. Wagner Wing for official receptions in 1966
The previous year, Mayor Wagner spoke about the wing — and his wife's role in its construction — in glowing terms.
"Recently there was some talk of abandoning Gracie Mansion, or rather, of returning it to its previous use as a museum," he said. But with the new wing, he seemed to imply that the mansion had gained new vitality as an icon of the people of New York City.
"The future of Gracie Mansion stretches long and far ahead of us," he said.