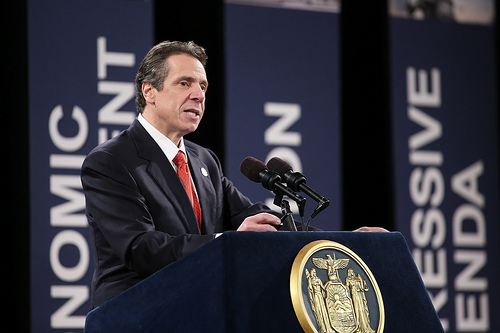 Surrounded by business leaders, Gov. Andrew Cuomo touted on Monday what he referred to as a $2 billion tax relief plan that includes a property tax freeze, the elimination of corporate taxes for upstate New York manufacturers and a renter's credit. At the same time, Mayor Bill de Blasio was holding his own news conference down in New York City calling on Albany to raise taxes on the wealthy in order to fund his plan for universal pre-kindergarten.
Strategic leaks from the Cuomo administration over the weekend revealed that Cuomo is set to reveal a plan in his fourth State of the State address that could head off de Blasio's push by providing state funding for universal pre-k across the state.
De Blasio told reporters that he had not spoken to Cuomo about the plan that is likely to be revealed as part of Cuomo's speech on Wednesday.
What had been leaked so far of Cuomo's plans seems to indicate the governor is attempting an election-year balancing act where he touts his conservative bonafides to upstate New York while heading off the growing city-based progressive movement with changes to his stance on medical marijuana and his pre-k plan.
Cuomo will also have to find a way to address legislative corruption in his State of the State address while maintaining relationships with the Legislature and convincing voters that corruption in Albany has improved under his watch.