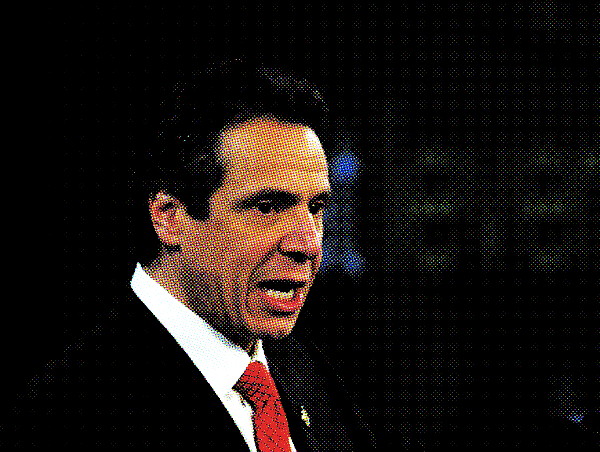 ALBANY, N.Y. — With two days left to Gov. Andrew Cuomo's fourth State of the State address, a number of prominent members of the good government community are nervous that the governor is unwilling to expend the political capital needed to pressure the Legislature into meaningful and comprehensive reform of the state's campaign finance system.
A number of sources who have discussed possible initiatives with the Cuomo administration over the past few weeks say multiple approaches have been floated — none of which struck them as comprehensive or daring. "It is fair to say we haven't heard the kind of detailed proposal that would accomplish the reforms we are seeking," said one source.
"They have been all over the place," said another.
Good government groups held a news conference on Monday calling on Cuomo to take action on the findings of his anti-corruption commission that called for public financing of campaigns and lay out a plan to tackle the lack of enforcement of campaign finance laws at the State Board of Elections.
Unfortunately, the event was overshadowed by Cuomo's own simultaneous news conference, where he touted headline-grabbing tax initiatives that will be further detailed in his address on Wednesday.
Only a few months ago it seemed unlikely — if not unthinkable — that addressing Albany corruption would not be a major feature of Cuomo's address but the governor's election-year speech so far seems to be focused on election year bread-and-butter issues like taxes and education.
Cuomo's Moreland Commission released its preliminary report in December, finding that Albany's campaign finance system has made it easy for big spenders to influence policy, while the state's bi-partisan Board of Elections has done little to enforce the state's meager elections rules. The Moreland Commission hosted a hearing where members savaged BOE chairs with reports of their incompetence or a lack of will on their part to enforce the law. The commission cited the stories of one BOE investigator who pleaded for work but instead of doing any spent his days playing solitaire on his computer; and of another who was told she was too enthusiastic about her job and let go.
Despite all the evidence the Cuomo-enacted Commission found, a number of Albany observers say that the political realities of an election year mean that it won't be easy for Cuomo to lash into the Legislature, or the BOE the Legislature wants to protect, in his State of the State if he wants their cooperation on his other major policy pieces.
The commission and members of team Cuomo have publicly clashed with the Legislature over the Moreland Commission's subpoenas. Both houses of the Legislature are also involved in lawsuits seeking to quash Moreland's inquiries. Creating more ill will could make cutting deals with the Legislature harder than it already is.
However, a number of good government advocates note that Cuomo is known for keeping major surprises up his sleeve for the State of the State.
After pushing their news conference back a number of times, Barbara Bartoletti of the League of Women Voters and Blair Horner and Bill Mahoney of The New York Public Interest Research Group went ahead and spoke to the few reporters who weren't at the Cuomo presser. Their report found that the State Board of Election has failed to regulate the spending of candidates who use businesses they own to provide services to their campaigns. "The Board of Elections is simply not up to the task of enforcing the law," said Horner.
What would advocates be happy hearing in the State of the State? Horner said he isn't exactly picky on the details — what he is looking for is commitment from Cuomo to get major reform through this year.
"A win for us would be the governor using a kind of rhetoric we haven't heard from him before where he says this legislative session won't be a success unless we implement major reforms in Albany instead of just saying, as he has, 'I continue to support public financing of campaigns,' said Horner. "Secondly, come budget time, we want to see him use appropriations and spend political capital to get concessions from lawmakers on reform. If he doesn't do this we can pretty much see that he wasn't serious."
Meanwhile, good government advocates have taken notice of the departure of long-time Cuomo advisor Jeremy Creelan, a noted government expert and one-time reform advocate. Creeland was Cuomo's go-to-guy on good government and reform issues. His relationship with the good government community was unmatched. His departure had been rumored for months but that doesn't mean it had any less impact.
"Creelan commanded the governor's attention like no plain old counsel could," said a source familiar with Creelan's work. "This could be a canary in the coal mine [as far as Cuomo's commitment to reform]. We will see on Wednesday."