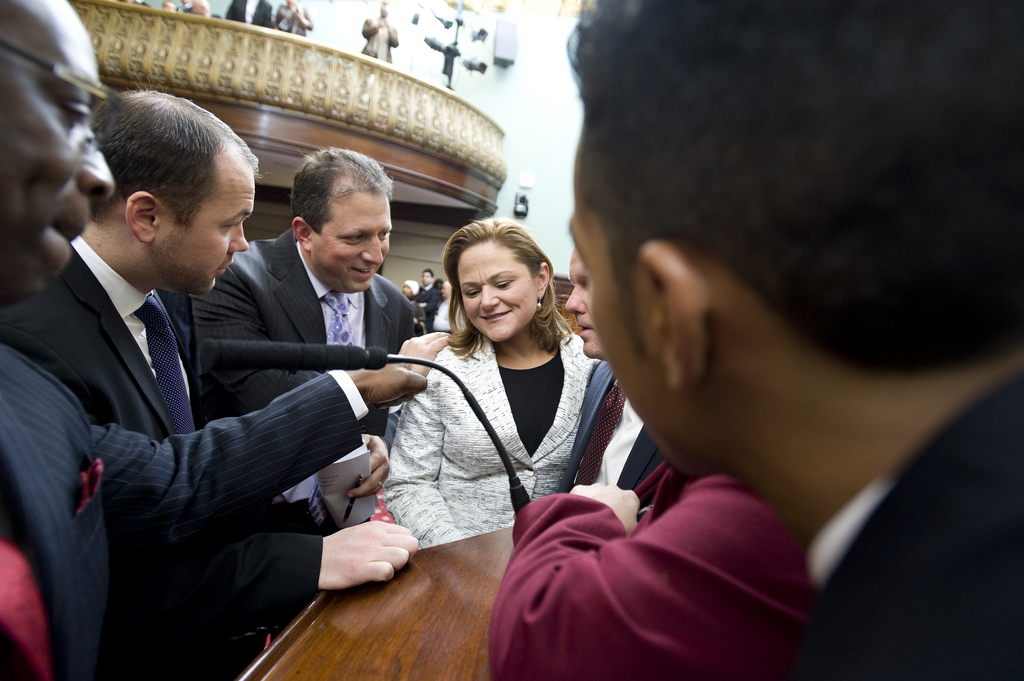 City Council's discretionary spending, a practice that frequently raises questions about favoritism and political power plays, is set to become an early wedge issue for the new mayor and the person he helped win the Council speaker race.
Mayor Bill de Blasio made a campaign promise to eliminate the discretionary fund, which Council members disburse to projects and organizations of their choosing. Council member Melissa Mark-Viverito, elected last week to the speaker position, has consistently defended the fund. And as speaker, she is empowered to dole out the cash to individual Council members as she sees fit.
As this potential clash between mayor and speaker brews, one organization, Community Voices Heard, has found its 2014 allocation of discretionary cash unexpectedly frozen. The Gotham Gazette found during the Council Speaker race that the $67,500 earmarked for CVH was frozen despite receiving similar allocations the year before.
The office of then-Speaker Christine Quinn — who over the past two years had a political falling out with Mark-Viverito — didn't respond to questions about why the CVH allocation was stalled.
A nonprofit based in Mark-Viverito's Harlem district, CVH has previously lobbied the Council to adopt participatory budgeting, a process by which residents vote on how to spend discretionary funds in their communities. CVH acted as "lead community partner" in the participatory budget process last year in Mark-Viverito's district, according to the organization's website.
CVH has received thousands of dollars in discretionary funds in the past. It was allocated $87,000 in 2012 for its programs, mostly for its efforts to promote participatory budgeting.
Mark-Viverito allocated $33,000 in her discretionary funds to CVH last year. Of that amount, $11,000 was to support CVH's participatory budgeting campaign. Another $20,000 went to housing-related programs run by the group.
A spokesman for Mark-Viverito declined to comment on why the speaker's office under Quinn froze the recent allocation to CVH, or the likelihood of the new speaker restoring the group's money.
Mark-Viverito wasn't the only Council member to direct discretionary cash into CVH. Queens Councilman Mark Weprin, a former speaker candidate, gave $11,000 to the organization last fiscal year, as did six other members who use participatory budgeting in their districts. On average, they gave the nonprofit $5,000 to help the program's outreach efforts.
CVH spent $3,550 on lobbying the City Council in 2012, city records show. Part of the money went to its advocacy work on participatory budgeting.
A CVH spokesman declined to comment on the frozen funds.
But Chris Keeley, the group's political and communications director, said CVH does not lobby individual Council members, advocate for any specific projects or influence how any of the district's $1 million in discretionary funds are spent.
"CVH has been proud to help lead the charge to bring participatory budgeting to New York City and to help expand the effort from four Council districts two years ago to 3.5 million residents of the city next year," he said in a written statement.
Council members directed questions about CVH's frozen funds to Brooklyn Councilman Brad Lander, a leading voice for participatory budgeting and a co-founder of the Progressive Caucus.
"Fiscal Year 2013 funding was repurposed for other programs provided by Community Voices Heard to comply with Council funding policies," said Alex Moore, a Lander spokesman. "We will be continuing to explore appropriate ways the Council can provide resources to improve and expand participation in participatory budgeting."
He declined to comment on the reason for CVH's frozen allocation.
Few question the merits of participatory budgeting. The practice is increasingly seen as a tool for much-needed transparency. However, some have raised concerns about a nonprofit group lobbying Council members to embrace participatory budgeting while using discretionary funds to do so.
"When the Council provides funds to an organization for a program that the organization is lobbying for to become part of the Council's practices, it appears very circular and incestuous," said Alex Camrada of good government group Citizens Union, the sister organization of Gotham Gazette.
During her last year as speaker, Quinn faced questions about providing discretionary cash to a local nonprofit that also lobbied city officials. Quinn approved the $100,000 allocation to the Association for Neighborhood and Housing Development — the third in as many years — whose stated purpose is to preserve and expand affordable housing in the city, the Wall Street Journal reported last April.

While CVH received significantly less in member items than ANHD, likewise spending much in lobbying activities, the Harlem nonprofit still set its eyes on expanding participatory budgeting from within the Council.
In an November 2013 memo published on its political arm's website, CVH recommend that the new speaker create "a new division within the City Council's finance department (to) coordinate and support" participatory budgeting. The memo also states that each Council member who adopts participatory budgeting should be granted "an additional boost investment averaging $1 million" in discretionary funds. That would essentially double the amount each Council member receives for his or her district.

"Some of these proposals would be modified pending changes to the way discretionary funding is provided to Council members under the new Council rules adopted in 2014," the memo read.
Quinn overhauled the discretionary funds process after the New York Post reported in 2008 that she had set up a "slush fund" of millions of dollars by allocating grants to phantom organizations. She instituted further reforms in 2010.
"There is a totally different, night-and-day difference from the system I inherited," Quinn told Gotham Gazette last fall. "I inherited an honor system where the assumption was that any group that a Council member requested to fund was a quality group. I found out fairly quickly that was a broken system."
While there was more transparency by the time the next budget came around, questions remain about the politicization of the process. Council members who crossed Quinn complained that they were shorted in allocations.
And despite the reforms, former Councilman Dan Halloran of Queens was caught up in a federal investigation last spring for allegedly offering to funnel discretionary cash to an undercover FBI agent posing as a developer. He has pleaded not guilty and the case is still pending.
The problems with the process have motivated at least 32 returning and new members of the Council to call for further reforms that would distribute the funds using a fairer but as of yet undecided formula. (A handful of those members who support participatory budgeting were also endorsed by CVH's political arm, including Mark-Viverito.)
That formula might be moot, if Mayor Bill de Blasio has a say. While a staunch supporter of both Mark-Viverito for speaker and participatory budgeting, de Blasio called for the elimination of the fund during the primary campaign against Quinn. The mayor's proposal: replace the controversial coffers with an independent grant program.
"My preference is that we end them immediately. Of course, there will be a negotiation with the City Council over that," de Blasio said at an unrelated press conference in early January, calling the rules reform package suggested by the New Council "progress."
____
Photo courtesy of William Alatriste/NYC Council