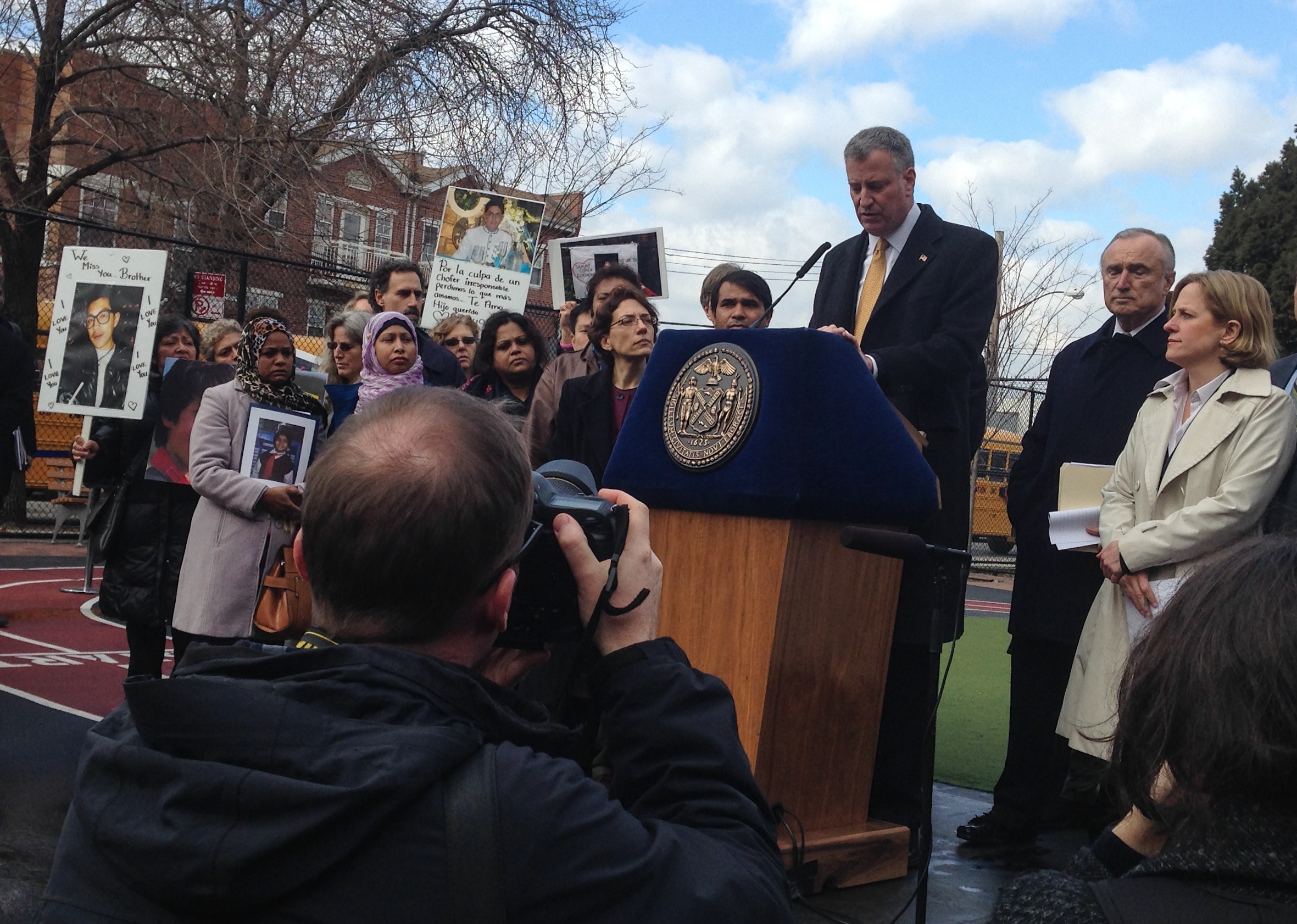 New York City will immediately begin using traffic cameras to ticket speeders — a move spearheading Mayor Bill de Blasio's strategy to reduce traffic-related fatalities.

"We think that there's an epidemic here. There's an epidemic of traffic fatalities, and it can't go on," the mayor said yesterday in announcing the creation of a task force charged with developing a plan to make city streets safer.

"The first obligation of government is to protect the health and safety of our people. And this is an area in which we simply have to do better," he said, noting the relevance of the announcment two weeks into his administration.

Seven pedestrians were killed in the past two weeks in traffic accidents. In the past ten years, 1,766 people have died in traffic accidents in the city.The issue prompted local families and activists to push the new administration to adopt "Vision Zero," a comprehensive plan to reduce and eventually eliminate injury and death by traffic incidents.

De Blasio is assembling an interagency task force with representatives from the New York Police Department, Department of Transportation, Department of Health and Mental Hygiene and the Taxi & Limousine Commission. He set a Feb. 15 deadline for the group to generate a plan incorporating additional police resources, intersection improvements and the beginnings of a traffic safety legislative agenda — which would include a push on Albany to allow the city to deploy its own traffic camera initiatives.

Two of the agencies involved in the group, however, are still technically awaiting the mayor to make appointments to their top positions. Thomas Farley, appointed by Bloomberg in 2008, continues to oversee the Department of Health after de Blasio asked him and a handful of other Bloomberg-era appointees to stay.

De Blasio did not ask former Taxi & Limousine Commission chief David Yassky to stay, leaving the agency to TLC Chief Operating Officer Conan Freud.

A spokesman for de Blasio did not immediately respond to questions on whether the lack of appointments to either agency will affect the task force and its month-long deadline.

The mayor made the announcement on the playgrounds of P.S. 152 in Queens, a block from where 8-year-old Noshat Nahian was struck and killed by an unlicensed truck driver. The accident occurred as boy crossed a six-lane boulevard on the way to school with his younger sister.

Nargish Begum, Nahian's mother, stood silently by the podium, clutching a picture of her son close to her chest. She wiped away tears with her headscarf as de Blasio spoke about her son. Nahian's sister was still in class during the early afternoon event on school grounds.

"I'm very happy," Begum said about the mayor's initiative as she held back tears.

In addition to using recently installed cameras to issue tickets to enforce speed limits across the city, the NYPD will also begin to shift personnel towards its highway division, with the goal of increasing it to 270 officers.

"A life lost is a life lost, whether by murder or by traffic accident," said Police Commissioner Bill Bratton. "And the department is committed to every way, shape and form reducing the loss of life."

The task force will focus specifically on developing a plan to improve safety conditions for at least 50 intersections, increase the number of 20 m.p.h. zones around the city and devote more police resources to address speeding and pedestrian behavior. De Blasio said he is also committed to challenge Albany to allow the city to govern itself on traffic issues, exerting home rule on traffic cameras — currently under the state Legislature's realm.

"My hope is, on the legislative agenda we're discussing here, that it will be quickly embraced by all elements in Albany and we can act on it quickly," de Blasio said.