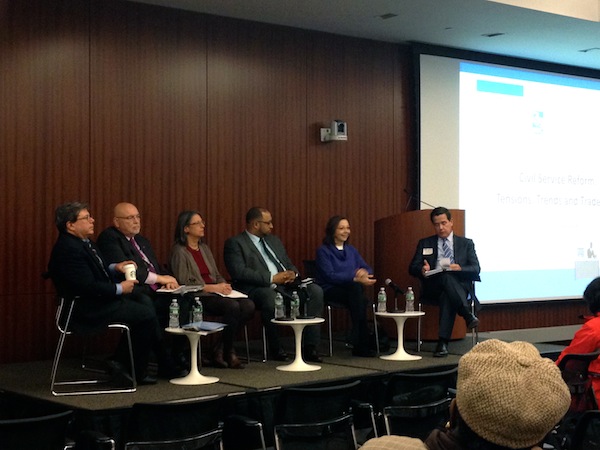 New York City workers expect two recent developments will end their long fight for new contracts and salary increases: the emergence of a hefty surplus in the city budget and the election of a progressive mayor.
That was the assessment of several labor leaders and municipal officials who met yesterday at New York Law School for a panel discussion on what Mayor Bill de Blasio should learn from the stalemated negotiations of his predecessor and what his plan of action should be moving forward.
The discussion, moderated by Dick Dadey of the watchdog group Citizens Union, also focused on the need for civil service reform.
Panelist Ronnie Lowenstein, director of the city's Independent Budget Office, noted that the city's budget surplus is higher than expected, and will likely continue to grow.
"This year, in a sense, we had a surplus surplus," she said. "We have more than we need to bring next year into balance."
But she warned against getting too excited about the surplus, as none of the city's union has a contract and the money will certainly find a home.
Still, all the panelists agreed that if anyone is going to make a deal that satisfies the unions, the workers and the city agencies, it's de Blasio.
"That's as good as they're going to get," said panelist Michael Jacobson, director of CUNY Institute for State and Local Governance.
After more than a decade under the Bloomberg administration, many New Yorkers are hopeful that de Blasio will usher in the change he promised on the campaign. At the top of that list are de Blasio's promises to eliminate the "tale of two cities" and to establish a universal pre-kindergarten program, but some think the city's need for civil service reform should also be a priority.
The last time there was any significant changes made to the city's civil service system was during the fiscal crisis in the mid-1960s, Dadey said.
"There was no Internet then, there was no Twitter," added Carol Kellermann, president of the Citizens Budget Commission. "We have a much more transparent system now. There is still nepotism, but this is not Tammany Hall."
The Bloomberg administration issued a report in early 2011 that recommended changes to the civil service system. It was quickly rebutted by the Municipal Labor Committee, which issued its own report detailing the detrimental effects those changes would have on the city.
"Change like this is often stalled by complicated politics, but we believe that conversation is essential," Dadey said.
Representatives from the city's unions spoke freely about their grievances with the Bloomberg administration and their hopes for the future during the forum.
The city's teachers union, which has 94,000 members, has not had a raise in almost five years and the union's President Michael Mulgrew said his members are owed more than $3.2 billion in back wages.
Henry Garrido of the municipal employee union DC 37 said he hears a lot of talk about contracts for teachers and firefighters, but that his union's interests are quite diverse, as he represents people who have more than 1,000 different job titles including 121,000 members and 60,000 retirees.
"Civil service is the anecdote to nepotism," which Garrido said is alive and well in the city workplace.
What ignited the most contention during the panel discussion was the idea of building trust between city workers, managers and local and state government agencies.
It is common for the city to use outside contractors to fix machines or systemic problems at an agency. But that fosters a bad environment for the workers because the outside contractors generally leave after a few years without training the city employees, who are then unable to properly operate the new equipment, union representatives say.
"For us, we are not just government workers, we are citizens," said Arthur Cheliotes of the public sector workers union Local 1180. "We take pride in what we do and we haven't been treated like we do anything worth while."
Jacobson struck a cord with some of the audience members from Local 1180 when he described how he transformed the city's probation department in 1992 when he was the commissioner. The year he took office, the probation department was informed that it would be facing a major budget cut in the next year.
Jacobson said he quickly realized that a year wasn't much time to restructure an entire bureaucracy. He knew he had to get the workforce on his side, but there had been a quick turnover rate for his position and no one had any reason to trust him.
Other department heads facing similar situations offered Jacobson advice: "it has to be staff, not managers" who restructure the agency and reimagine how to do their jobs.
"The workers are the ones that do the job and they would know where to cut the waste," said Gina Strickland, a member of Local 1180 who was in the audience.
Negotiating contracts and back pay are both important to Garrido and Cheliotes, but their union members' also are worried about obscure job titles and inefficient performance evaluations.
Before ending the two-hour long discussion, Dadey posed a question to the panelists: what are the top two things to improve the workforce that would benefit city government and the worker?
Garrido mentioned fairness, although it is hard to measure, and less burdensome administrative requirements. Cheliotes said improving city government is a matter of offering its employees more money and more opportunity.
"City workers need a raise," he said, adding that there needs to be a clearer pathway for them to find a way to move up the job ladder.