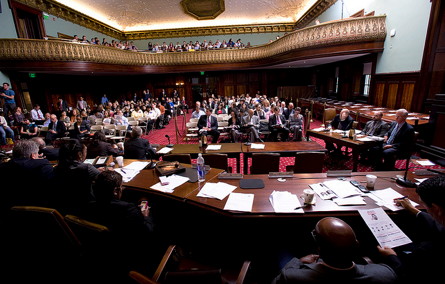 Despite suspicion that City Hall will enjoy a chummy relationship with City Council, Mayor Bill de Blasio's pick for chief of the city's investigations agency was grilled today by Council members.
Mark Peters, the mayor's nominee for Department of Investigations commissioner, spent three hours before the Council's Rules Committee. For much of that time, he fielded questions about his role as de Blasio's campaign treasurer and whether that would interfere with the agency's mandate to investigate waste, fraud and corruption in city government — as well as in the mayor's office.
Peters argued that he has a successful track record operating watchdog agencies despite close relationships with elected leaders. He previously served as head of the state's Public Integrity Commission under former Gov. David Paterson, whom Peters said was a close friend before his appointment.
Almost every Council member questioned Peters' ties to de Blasio. Councilman Jumaane Williams of Brooklyn said he was particularly concerned that Peters was still serving as Blasio's campaign manager a week before the mayor nominated him to the DOI.
"What do I tell my constituents about the appearance of partiality with someone who hasn't even been gone for 30 days from a pretty high-level position in the de Blasio administration?" Williams asked, adding concern about setting a precedent for future administrations.
Manhattan Councilman Dan Garodnick asked Peters whether he would recuse himself in the event that the mayor's office needed to be investigated. Peters responded that he couldn't imagine a situation in which he would need to step down from an investigation into the de Blasio administration.
Garodnick shot back with a possible scenario in which the investigation focused on the mayor's campaign finances. Peters conceded he would need to recuse himself in such a situation, adding that such a hypothetical was unlikely to occur.
Queens Councilman Rory Lancman was dissatisfied with Peters' response to questions about his ties to the mayor and asked the nominee if there was a particular dollar amount that would prompt his recusal if the agency needed to investigate a de Blasio campaign contributor. Peters responded that he wouldn't know and that it would be a more relevant conflict of interest if he were being appointed to the city's Campaign Finance Board.
Councilman Brad Lander of Queens, the committee chairman, asked Peters for his thoughts on the appointment of an inspector general for the New York Police Department, a position created by a controversial bill Lander and Williams co-sponsored last year. Former DOI Commissioner Rose Gil Hearn opposed the bill.
"I fully supported it then and fully support it now," Peters said.
Williams asked Peters what role the de Blasio administration would play in picking the Police Department's first inspector general, who would need to be in place by April 21. Peters said de Blasio would play a "significant role" in the search. The mayor recently reiterated his pledge to institute an independent NYPD inspector general and indicated Police Commissioner Bill Bratton would also play a role in the IG's appointment.
Peters eventually walked back his answer, saying that the mayor's input would be important.
Citizens Union Executive Director Dick Dadey testified in support of Peter's nomination while acknowledging that the members' questions about Peters' ties to the mayor were justified. The Gotham Gazette is a sister organization of Citizen's Union.
"Mr. Peter's role in the campaign of the Mayor de Blasio as his treasurer is well known, and will undoubtedly bring additional scrutiny to his leadership and decisions at the DOI, as it should," Dadey testified. "Citizens Union believes that city employees should be hired because of what they know, not who they know."
The Council is expected to vote on the nomination on Feb. 4.