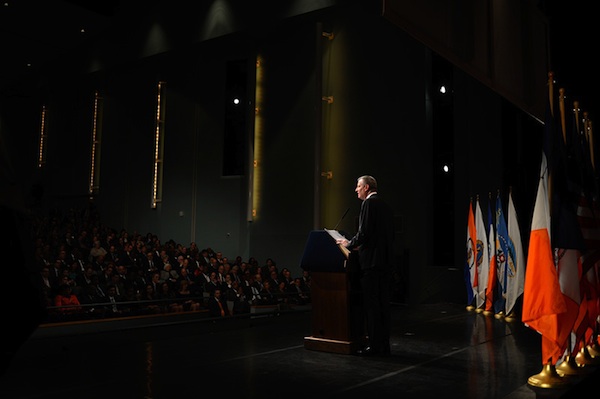 Mayor Bill de Blasio used his inaugural State of the City address to outline a progressive agenda designed to become the final chapter of the "Tale of Two Cities" he developed as the theme of his election campaign.
De Blasio unveiled a laundry list of issues he plans to tackle as the city's first Democratic mayor in two decades. In keeping with his promise to reduce the gap between the city's rich and poor, he proposed raising the city's minimum wage, investing in the city's future through education and helping undocumented workers by offering them municipal identification cards.
All of his core campaign promises – creating a universal pre-K program and amping up the city's affordable housing program – circled back to his continued fight for economic equality.
"In past decades, working people built our city, and for their hard work they were rewarded – not always with great wealth, but with a fundamental assurance," he said. "Today, that assurance is missing. That sense of economic justice is gone."
His speech laid the groundwork for a busy four years. In his first month in office, de Blasio introduced legislation that will provide half a million more New Yorkers with paid sick leave, announced the end of stop and frisk practices and started a citywide initiative to reduce traffic fatalities.
Noting that 46 percent of the city's residents live at or near the poverty line, de Blasio once again promised to reduce economic inequality by making affordable housing more accessible.
"To countless New Yorkers, affordable housing is an oxymoron," he said.
He pledged to preserve or construct 200,000 affordable housing units, which would provide homes for nearly 500,000 people.
The mayor stressed that he is not opposed to working with the real estate industry to make that goal possible, and said he created a team that will develop a concrete housing plan by May 1.
De Blasio also announced a plan to issue municipal identification cards to New Yorkers regardless of immigration status. The move would help undocumented residents use many services that require a picture ID, such as opening a bank account, borrowing a library book or receiving care at a health clinic.
"To all of my fellow New Yorkers who are undocumented, I say: New York City is your home too, and we will not force any of our residents to live their lives in the shadows," he said.
De Blasio delivered the speech at Laguardia Community College in Queens and at times seemed to channel his inner Fiorello Laguardia, perhaps the city's most beloved mayor.
"A mayor who cannot look fifty or seventy-five years ahead is not worthy of being in City Hall," de Blasio said, quoting Laguardia, who was mayor during the Great Depression.
Of all the modern New York mayors, it's fitting that de Blasio would chose to model himself after Laguardia, said Christina Greer, an assistant professor of political science at Fordham University.
"If you're setting up a mantle, Laguardia's perfect," she said. "He took notions from the past and set up a blueprint for the future."
Greer added that de Blasio's choice to deliver the speech at a community college is particularly significant in that President Barack Obama has urged people to support and attend community colleges.
"It's great to hear he's willing to help the students and is so focused on the middle class and education," said Juliana Betancur, a student at Frank Sinatra School of the Arts who sang the National Anthem prior to the State of the City address.
Laguardia was clearly on the new mayor's mind, as he chose Laguardia's granddaughter Katherine to introduce him and quoted the former mayor three times. De Blasio said Laguardia's belief that the city belonged to the people is a "bedrock principle of New York greatness."
De Blasio didn't mention his predecessor by name, but took a jab at the Bloomberg administration, saying that he wouldn't use his speech to attack the "motives of public employees," and instead wanted to recognize their hard work and commitment.
"Our public employees represent a thread that runs through this administration – a belief that public service is a noble calling – that part of what makes New York special is helping our neighbors navigate life's challenges, big and small," he said.
Next week, de Blasio will demonstrate his commitment to the people by asking state legislators to increase the city's minimum wage, which is currently $7.25 an hour.
"In the process, we will send a powerful signal to the people of New York – that we honor work and that we are committed to making work pay," he said.
The state's control over the city is a hurdle that many mayors have dealt with, and it will prove especially difficult for de Blasio as Gov. Andrew Cuomo is campaigning for re-election.
Cuomo has already said he will not raise taxes, so de Blasio will have to get creative in how he bargains with the state to win approval of his universal pre-K strategy, which entails taxing wealthy New Yorkers.
"Andrew Cuomo is the wild card, friend or no friend," Greer said.
"These two have to work together, but one person needs and wants to succeed because he's new and the other person is like, 'I need to win because I need to keep my job and possibly move up to a better job," she said, hinting at Cuomo's possible bid for the presidency in 2016.
De Blasio is a proven fighter, beating out five other mayoral candidates last year without a runoff. But now, it's more about whom he can team up with to help pass legislation and carry out his campaign promises.
One political ally, City Council Speaker Melissa Mark-Viverito, said she is eager to get to work.
"He laid out a lot of work to get done," she said after the speech. "It was a call to action."
Manhattan Borough President Gale Brewer agreed, adding that de Blasio's to-do list is extensive.
"The issue is how do you get it all done," Brewer said, adding that she would have liked to hear the mayor discuss ways to improve the city's culture and mental health programs.
It is clear that New Yorkers are ready for the change de Blasio promised in the campaign, and continued to promise in his speech, Greer said. The question of how he will get the job done still remains.
"The message resonates, no one's denying that," she said. "Going from the rhetoric phase to the action phase is where it gets difficult."
Photo credit: Office of the Mayor