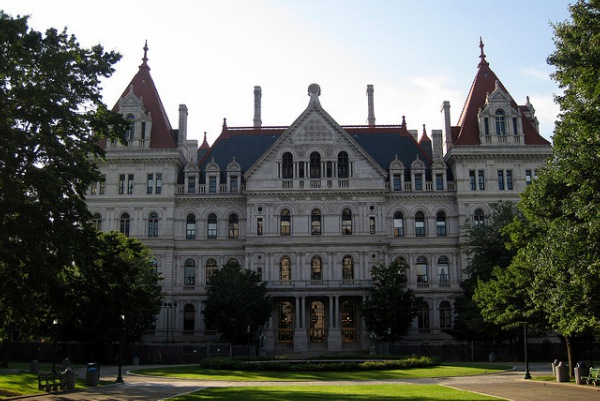 Members of the Black, Puerto Rican, Hispanic and Asian Legislative Caucus, frustrated by what they see as years of having their signature issues ignored by Gov. Andrew Cuomo, are prepared during this election year to apply intense political pressure to try to get the governor to consider their agenda.
The caucus plans to do this by mobilizing a coalition of labor, progressive business groups and political activists, as well as enlisting the aid of New York City Mayor Bill de Blasio.
But recent comments by Cuomo indicate that the caucus faces a difficult fight.
Caucus members have seen their major issues stymied over the last few years – from the DREAM Act to lowered penalties for possessing small amounts of marijuana to legislation creating a farm workers' bill of rights. Each year advocates build momentum around the issues, only to have them put off by legislative leaders until "after the budget," and in June as the flurry of last-minute deals kicks in, they are disappointed to find their issues have been left out.
Sen Jose Peralta, D.-Queens, says he is dead set on convincing the Cuomo administration that The DREAM Act and driver's licenses for undocumented residents will not only benefit the entire state but also Cuomo's re-election campaign.
"This is about what can we move the governor on," said Peralta. "Because if the governor wants to move something forward it will move forward regardless of what else is going on. We've seen that with gun control and (same sex) marriage."
The caucus seemed to be building momentum as their annual caucus weekend approached. They have the backing of People for New York, a collection of progressive groups that includes labor, activists and some business interests. The groups are committed to helping the caucus lobby Cuomo and the rest of the state legislature.
They have the added the support of popular new Mayor Bill de Blasio, who is backing several of the caucus' key issues, including driver's licenses for undocumented residents, allowing the city to set its own minimum wage and universal pre-kindergarten.
The caucus meets this weekend and holds seminars with politicos and activists about their legislative priorities and to strategize their lobbying campaigns.
"The committee was put together to create and sustain pressure on these issues," said Peralta. "The point is we are tying all this activism together to make sure it doesn't fizzle out through the budget process."
But as caucus weekend grew closer, Cuomo made very public arguments against two issues that are key to many city-based caucus members: giving the city the ability to set its own minimum wage and allowing the city to tax the wealthy to fund pre-kindergarten.
Looking to rack up a record-setting victory in his re-election this fall, Cuomo is carefully set on appealing to upstaters and business interests. He recently attacked de Blasio's call for a pre-k tax and proposal to allow the city to raise the minimum wage as furthering inequality – essentially using the same argument that the mayor and some legislators use in campaigning for the issues. Cuomo said the plan to tax the wealthy would be unfair to the rest of the state and that his program for universal pre-k will be implemented statewide rather than just in New York City.
As for empowering local governments to set their own minimum wage, Cuomo warned such a move would pit one community against another in competition for economic growth. "We don't want to cannibalize ourselves," he said.
Cuomo negotiated a phased-in minimum wage hike last year – one that progressives and many caucus members say is too little too late. They note that the cost of living in the city is drastically higher than in the rest of the state and that major cities across the country are allowed to set their own base wages.
It isn't surprising to caucus members that Cuomo is so far proving to be the man standing in the way of their interests. In fact, they say their efforts this year have been designed to pressure him specifically because of the way he has disappointed them in the past.
The disappointment started for city-based caucus members during Cuomo's State of the State address this year. Peralta and Sen. Adriano Espaillat, D.-Manhattan, wrote to Cuomo asking him to include The DREAM Act in the speech. One staffer recalled listening to the speech just hoping for "a fragment of a sentence" about the issue. When Cuomo reached end of his address and spoke about equality and even used the word "Latino," the staffer recalled thinking, "Maybe I missed something." The staffer checked with another legislative aide, who confirmed that The DREAM Act had not been mentioned.
During an interview with the Gotham Gazette this week, Espaillat mentioned that during his time in the Assembly he participated in holding up the budget to ensure education funding. "An early budget can be sold as a nice accomplishment but it could be a terrible document that is horrible for communities," he said.
When asked whether he would be willing to hold up the budget, or would like to see the budget held up, he said he was merely referring to a news release from Sen. Jeff Klein, D.-Bronx, who heads the Independent Democratic Conference. Klein released a statement this week saying that he wouldn't support a budget that "fails to realize the vision Mayor de Blasio and I share of providing high-quality, universal pre-k to the 50,000 four-year-olds who need it." Some observers interpreted that as a declaration that he would delay a budget deal until it included de Blasio's pre-k plan. However, Klein has since walked back that statement.
Cuomo has touted his on-time budgets as a sign that he has gotten Albany to function when other governors could not. New York has a long history of drawn-out budget battles, and it could be slightly damaging to Cuomo's message should he have a late budget during an election year.
Klein insists that he wants an on-time budget and wants to finance universal pre-k in some fashion – not specifically de Blasio's way.
Klein has been trying to boost his progressive bona fides after suffering a backlash from activists last year when he failed to force his Republican partners in the senate to move progressive legislation. Those advocates have threatened to back candidates challenging all of the New York City-based independent Democrats in the senate. Klein faces a possible challenge from former Councilman Oliver Koppell. Still, Cuomo presents a bigger problem for Klein than issue advocates.
Cuomo's success in getting same-sex marriage and his gun control package (the SAFE Act) through the senate has convinced lawmakers like Peralta that the governor merely needs to decide to expend political capital and suddenly legislation becomes law. But Cuomo observers say his calculus is a bit more complicated than that because he is playing now for higher stakes.
Cuomo has made the majority of his public appearances in upstate and western New York over the last two years, but his support continues to be weak there. As a Democrat, Cuomo can safely count on the support of party strongholds like New York City, but his support in western and northern New York dropped in the immediate aftermath of the passage of his gun control package.
Cuomo's State of the State speech was dedicated to economic initiatives in areas like Buffalo and tax cuts for Upstate businesses.
Conservatives still paint him as a liberal. Cuomo's comments about "extreme conservatives," made on The Capitol Pressroom radio show in January didn't help. Cuomo was making a point about the political viability in New York of Republicans who oppose a woman's right to choose, but national conservative news outlets treated it as though Cuomo had told conservatives to get up and leave the state. Political pundit Sean Hannity has pledged to do just that.
Episodes like that could hurt Cuomo's performance in the fall and affect his viability as a presidential candidate. Gov. Eliot Spitzer faced major backlash from the legislature and in the polls when he pushed for driver's licenses for undocumented residents. The DREAM Act has also proved to be divisive Upstate and in other conservative areas. Sen. Joseph Addabbo, D.-Queens, refused to support the measure even while his Republican challenger Councilman Eric Ulrich supported it during their 2012 contest. Many legislators are concerned constituents will see their support of a measure that offers the children of undocumented immigrants an opportunity to attend college as a giveaway that could instead be helping their own children.
Sen. Greg Ball, R.-Patterson, recently lashed out at de Blasio's support for identification cards for undocumented residents, calling the mayor "crazed" and "extremist." He warned that the IDs would create a "homeland security nightmare." Ball also invoked 9/11. Peralta responded by calling Ball's comments "overheated."
"Senator Ball seems not to be aware that municipal IDs have been used for years in cities from New Haven, Connecticut, to San Francisco, California, where they have greatly improved cooperation between immigrant communities and law enforcement," said Peralta.
"He also seems unaware that all immigrant driver's licenses, including the one I have proposed in New York and those already in place in 11 states and Washington D.C., must be clearly distinguishable and meet with the approval of the Department of Homeland Security."
Cuomo's political calculations, together with the IDC's co-control of the Senate with Republicans, makes it very likely that the caucus again won't see their major issues addressed – especially in an election year, when hot-button topics could trigger major battles and perhaps a return to dysfunction.
Yet Espaillat remains cautiously optimistic and talks as though he is a man with a card up his sleeve.
"The budget is a very telling document," he said. "If the money is in the budget for our programs, then they are funded. It doesn't matter what people have said beforehand."