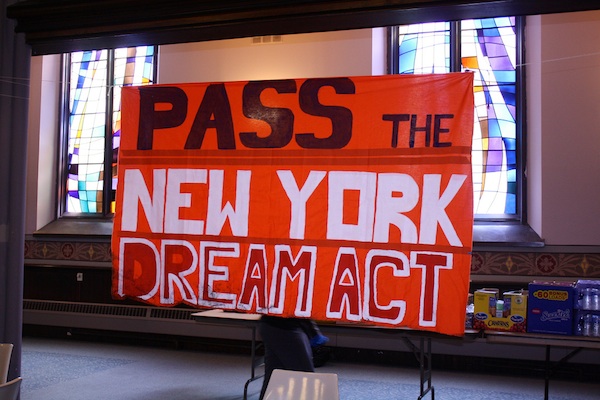 There is a growing consensus among Latino legislators in Albany that the time has come to adopt the New York DREAM Act and some of those lawmakers say they are prepared to vote against a state budget that fails to include it.
The proposed state DREAM act would provide tuition assistance for the children of undocumented immigrants. To be eligible for the financial aid, students must have attended at least two years of high school in the state and graduated or obtained a GED.
There is an overwhelming sense among many Latino legislators that 2014 presents the best opportunity to pass the DREAM Act because it is an election year and candidates of both political parties need to appeal to a growing electorate of immigrants and their families.
"The Latino electorate has become much more sophisticated," said Assemblyman Francisco Moya who sponsors the act in the Assembly. "People are starting to realize the days when they came to court the Latino vote, spoke a little Spanish and got our votes is over."
State Sen. Jose Peralta, who sponsors the bill in the Senate, said he and like-minded colleagues intend to write Gov. Andrew Cuomo to ask him to include the DREAM Act in his budget bills.
The Assembly's budget proposal includes $27 million for the DREAM Act.
But Cuomo holds the key to making the DREAM Act a reality, Moya said.
"Three years in a row now we have seen a budget that does not reflect the values of our Latino communities," he said. "We saw how committed he (Cuomo) was when he got the marriage act, the Safe Act, minimum wage. We need that same investment for DREAM."
The governor recently said he would sign the DREAM Act into law should it be passed by both houses – he previously had responded to questions about the act by voicing support for the federal version of the legislation.
The federal DREAM Act, first introduced in 2001, has stalled in Congress.
Peralta said he and fellow legislators continue to look for new funding mechanisms to make the act more palatable for Cuomo and Republican legislators.
Peralta said he would have to "see where things stand," before casting a vote against the state budget, but acknowledged it was a possibility and that a number of other legislators are ready to make their feelings known through a no vote.
Momentum seems to be building for the DREAM act this year with Cuomo announcing his support, the Assembly passing the bill for a second year in a row, the Independent Democratic Conference coming out in support of the bill and New York Mayor Bill de Blasio lobbying for it.
Advocates of the legislation say 30 senators have come out in support of the bill while others privately say they will vote for the bill if it hits the floor.
"We have been galvanized by the support of (state Sen.) Jeff Klein and the IDC as well as the growing number of Democrats who say they are going to vote for it," Peralta said. "Meanwhile, there are Republicans in the background saying, 'Hey, this is not a bad bill.' They are saying it privately but we think that will change once we get the bill to the floor."
DREAM Act supporters have targeted two New York City senators – Republican Martin Golden and Democrat Simcha Felder, who caucuses with the Republicans – and Republican Jack Martins of Nassau County. Golden and Felder represent districts with large immigrant populations, including Russian and Jewish residents. Martins, a first-generation American whose parents emigrated from Portugal, represents a large Latino immigrant population in his district.
Before Cuomo presented his budget, Latino legislators sent Cuomo a letter asking him to mention the DREAM Act in his State of the State Speech. The governor made no mention the act. But legislators say they have met with Cuomo on the issue several times and have stressed the financial benefits of the act.
"The better educated people are, the better equipped they are to give back to the state coffers," said Peralta, who pointed to a study by Comptroller Thomas DiNapoli. "The max cost to the state would be $20,000 per individual and the study found that would bring back $60,000 in taxes per individual. Its economic impact outweighs any moral issue."
Cuomo is using the economic-benefit argument to support his proposal to offer a college education to prison inmates – an idea he unveiled during the Black and Latino Caucus weekend earlier this month. He quickly came under fire from conservatives who complained that spending tax dollars to educate prisoners robbed financial aid from needy college students. The governor countered that educating prisoners would save tax dollars by reducing recidivism and inmate violence. When released, these inmates stand a better chance of landing jobs and paying taxes, he added.
Peralta is employing a similar sales pitch to get Cuomo and Senate Republicans to focus on the economic benefits of providing undocumented immigrants with financial aid to attend college.
"These kids have no say in where they are as opposed to someone who is incarcerated," he said. "They excelled. They get to that high school level and then hit a glass ceiling and they can't afford to go to college. So now what?"
Moya noted that Washington State recently passed its version of the DREAM Act.
"Its a funny thing – they have a Senate that is controlled by Republicans because of two Democrats who defected and they passed the legislation," he said. "New York is no longer the leader on progressive issues."
See related story: Dream Act Could Advance Via Espaillat Campaign
Photo by Daniella Silva.