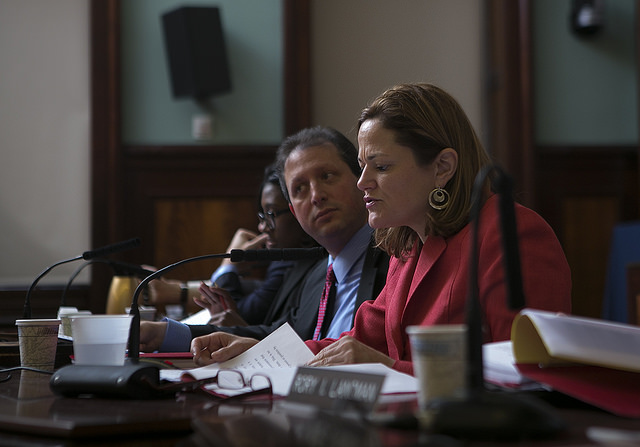 Speaker Mark-Viverito (right) and Council Member Lander (William Alitriste)
---
It has been a month since the City Council rules committee met in late February to discuss reforming the rules by which the Council operates. Preliminary budget hearings have dominated the Council's time since then, relegating reform to the back burner. But with the first round of budget talks set to end this week, the eyes of the Council are once again focusing on rules reform.
On Tuesday, March 25, the council's 51 members received a survey from Speaker Melissa Mark-Viverito's office. The survey, which was developed by the speaker, rules committee Chair Brad Lander, and staff of the rules committee, is completely anonymous in hopes that members will respond openly and honestly.
"It is our rules so we thought it was extra important for members to be able to participate and give their opinion," Lander said Wednesday.
The 11-question survey, a copy of which was provided to Gotham Gazette and is embedded below, is due back to the speaker's office by the end of the week. The survey polls members on many topics discussed at the Feb. 24 Council rules committee hearing, including perhaps the most controversial, member item reform.
Also known as discretionary funds, member items are monies provided to each council member to spend as he or she sees fit in his or her district. Member items have been the source of much controversy in recent years and the new speaker and many of her council colleagues have promised to de-politicize the process by which they are allocated.
The survey also includes questions about the Council developing an independent legislative drafting unit and improving its website and online training tools.
According to the survey, once responses are in and tallied, the speaker will bring a set of proposals to the Democratic and Republican Caucuses for discussion. Following that discussion period, the rules committee will receive a proposal to be vetted at another public hearing before a final proposal is crafted and put to a committee vote.
Lander did not give a time frame for the committee vote, however he did say that the proposal was not expected at the next rules committee hearing on April 3.
Reform is happening
Regardless of the outcome of the survey, rules reform of some kind appears inevitable, according to multiple council members who spoke with Gotham Gazette. How it will take shape—particularly member item reform—is still very much up in the air.
"We are going to have rules reform, no question," said Council Member Mark Weprin. "We made a commitment."
In the fall, thirty-four council members (both new and returning) signed on to a preliminary package of reforms initially outlined in October by Lander and Council Members Jumaane Williams, Fernando Cabrera, and David Greenfield. In addition, Mark-Viverito campaigned for speaker, at least in part, on a platform of reforming the Council.
During her speaker campaign, Mark-Viverito also vowed, if elected, that she would not use member items to punish or reward her colleagues—a practice her predecessor was criticized for using, and something Mark-Viverito has openly opposed. Instead, she promised that under her leadership member items would be allocated in a fair and objective manner.
But how?
In fiscal year 2014, the member items pool was roughly $34 million. How will Speaker Mark-Viverito and the Council decide to split this year's pot fairly and objectively across 51 diverse council districts? The Council does not appear to be much, if any, closer to that answer than it was in Feb.
The original member item reform proposal from the fall recommends funds be distributed equally or by using a needs-based formula. At the Feb. hearing, a panel of representatives from good government groups suggested several elements that could be included in a formula, but none had a formula to recommend.
Citizens Union* suggested using district data such as number of food stamp recipients, reduced-price lunch participants, Medicaid recipients, individuals living under the poverty line, individuals under 18 and over 65, ratio of open space, and access to public transportation. Common Cause New York suggested looking at a number of markers including population, average income, and district size.
These suggestions brought more questions than answers.
"If we're going to do needs-based where is that formula going to come from?" asked Council Member Ruben Wills at the hearing. "We've seen a lot the metrics that would go into it but the formula hasn't been seen."
"It just seems to me it's too complicated to try to come up with a formula...because we're not talking necessarily needs," Weprin said. "These are things that people, communities want," he continued, referring to the types of projects that member items usually fund.
Figuring out a needs-based formula may prove so difficult as to make it a non-starter, despite several members supporting the concept. There is no indication progress has been made since Feb: of the three good government groups who testified, representatives from Citizens Union and New York Public Interest Research Group (NYPIRG) said they had not heard from any Council members regarding designing a formula for needs-based member item distribution. A representative from Common Cause declined to comment.
"There have been discussions, but there has been no final answer," Council Member Jumaane Williams said on Wednesday. "I think the best thing is needs-based, but the question is how do you do needs-based."
If the survey sent out on Tuesday is any indication, that question is still unanswered and it is now members' turn to weigh in. Instead of giving members a choice between multiple formulas the survey asks, "If you believe expense funding should be needs-based, what are the top items that you believe should be reflect[ed] in the formula?"
To complicate matters, several council members do not support using a needs-based formula, instead favoring equal distribution.
"There are pockets of poverty in even some of the wealthiest districts throughout the city so a formulaic approach isn't the most viable option," Council Member Mark Levine said by email.
In the Feb. hearing, Council Member Helen Rosenthal said her district is a wealthier district overall, but does have pockets of acute need which may not be accounted for in a formula.
"When we get to the needs-based formulas it gets tricky because a district like mine ends up losing funds both from the mayor's side, from the executive budget, and (from) the council side," Rosenthal said in Feb.
If the Council decides to attempt using a formula for distributing discretionary funds, there is a finite amount of time to agree on one. The budget must be passed by June 30 and reform or no reform, Council Speaker Melissa Mark-Viverito will dole out discretionary funding to her members.
Even with a ticking clock, and little decided on, Lander, like many of his fellow members, believe the Council will get the job done.
"I am extremely confident we will have all the rules reform done in plenty of time for the budget," Lander said.
Read the full City Council member survey here:
City Council Member Survey - March 2014
*Citizens Union Foundation publishes Gotham Gazette