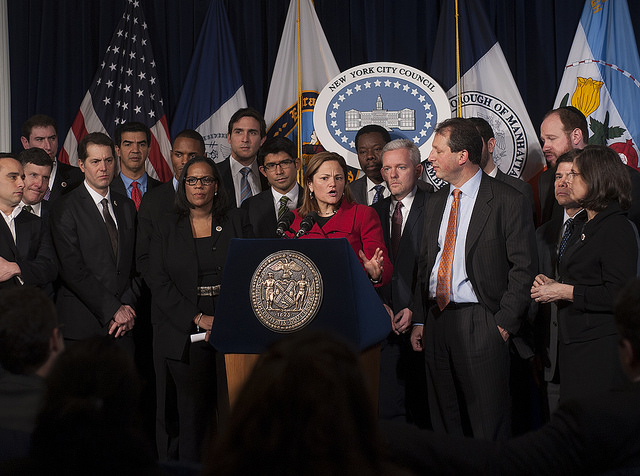 New York City Council members (William Alatriste)
---
Reform or no reform, this year's discretionary funding process continues to move along in the New York City Council.
Discretionary funding forms are due back from council members to the finance division of the City Council on Wednesday, April 9, according to a memo that was sent to all 51 council members on March 26, a copy of which was obtained by Gotham Gazette.
The new Council, led by Speaker Melissa Mark-Viverito, has committed to reforming the discretionary funding, or member item, process - but that process is still ongoing while internal rules reforms are being negotiated.
As first reported by Gotham Gazette, an 11-question survey was sent out to each council member by the speaker's office on March 25. The survey asked for input on a variety of reform topics, including if council members are in favor of the speaker doling out member items equally or according to a yet-to-be-determined needs-based formula.
Survey results are in the process of being tallied and a proposal will be submitted by the speaker's staff to the rules committee, although no date has been set for this step. In a March 26 interview, Council Member Brad Lander, chair of the rules committee, told Gotham Gazette that new council rules would be approved before the budget is adopted. The latest the budget can be adopted is June 30.
In the memo sent to council members, which is solely focused on discretionary funding, members are asked to outline their capital and expense requests. In doing so, they are instructed not to exceed certain dollar amounts, something not done in prior years. In 2013, the Council rules stated, "The [member item] amount is determined by various factors, including local needs, the member's request, and other considerations."
According to the 2014 memo, the ceiling is $7.5 million for capital funding and $500,000 for local expense funding. Funding requests for Department of Aging and Department of Youth are asked to be exactly $110,000 and $150,000, respectively.
If the $7.5 million cap stays, it should level out capital funding by reducing the largest member item payouts. In fiscal year 2013, eight members received over $7.5 million in capital discretionary funding from then-Speaker Christine Quinn. If those members had been limited to the $7.5 million cap, an extra $15.1 million could have been distributed to other members. Of the group that received more than $7.5 million in fiscal year 2013, only Donovan Richards and Jimmy Van Bramer are still members of the Council.
With both member item reform and budget negotiations still in progress, nothing has been decided. The cap set in the speaker's memo could move or disappear completely based on rules reforms or the speaker's discretion.
***
by Kristen Meriwether, Gotham Gazette
@MeriwetherK