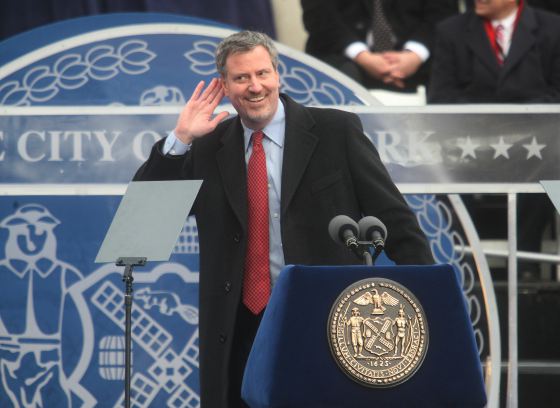 Bill de Blasio during his 2010 public advocate inaugural address (Hiroko Masuike/Getty Images)
---
"The next phase of New York City's growth and its greatness will be meeting the rising tide of public engagement and ending the disconnect between the people and City Hall," said Bill de Blasio in his inaugural address - as public advocate, on January 1, 2010.
In that speech, which he gave between those of Comptroller John Liu and Mayor Michael Bloomberg, de Blasio hit not only on the need for better public engagement, and repeatedly so, but also on poverty, responsible development, affordable housing, education, and homelessness.
De Blasio followed his inaugural speech with a first 100 days as public advocate that included taking action on several of those issues, but only in the fairly impotent way that the position, and it's $1.7 million budget, allowed.
According to press releases and statements found on the archived public advocate's website, Public Advocate de Blasio quickly launched a "Community Organizing and Constituent Services Department" on January 4, 2010, and spent much of the next three-plus months using the bully pulpit that the office provides to call for changes in homelessness policy; protest the Supreme Court's Citizens United ruling; announce his plan for a new website, "Open Government NYC," to bring more transparency to local public funding by government officials; launch a campaign to inform New Yorkers of their role in the charter revision commission process and encourage the commission to fully engage the public; and rail against the Bloomberg administration's closing of several city schools.
Legislatively, de Blasio, with Council Member Dan Garodnick, introduced in March, 2010, a set of bills "to strengthen civilian oversight of the NYPD" via the Civilian Complaint Review Board (CCRB). With these proposals, and others, de Blasio the public advocate was able to impact the public discourse, but often fell short of accomplishing policy goals.
Four years later, Bill de Blasio is mayor, and approaching, on Thursday, April 10, 2014, his 100th day in office.
Mayor de Blasio will commemorate the day with a speech at Manhattan's Cooper Union. In the speech, de Blasio is certain to hit on several of the topics he spoke about during his inaugural address on January 1, 2014, which in multiple ways, was an expansion upon his address of four years prior - but with an air of far greater agency.
According to the mayor's press office, on Thursday de Blasio "will discuss the measurable progress that his administration has made since he took office, and will offer a look ahead at the next steps he will take in the coming months."
De Blasio will trumpet his early accomplishments such as "the dramatic expansion of universal pre-K and after-school programs, his Vision Zero initiative to drastically reduce traffic crashes and pedestrian deaths, the city's new legislation to expand paid sick leave to help 500,000 New Yorkers, his work with Commissioner Bratton to end the overuse of stop-and-frisk and...his successful negotiations to require developers to build thousands of units of affordable housing."
Even in the relatively short time of 100 days, de Blasio has indeed used the levers, and dollars, of government at his disposal to act on his "progressive" vision for the city that he was almost only able to articulate in words as public advocate.
It should be no surprise that de Blasio has not forgotten where he came from, including a $700,000 bump to the public advocate's coffers in his preliminary budget outline.
While de Blasio will spend much of Thursday's address touting his early mayoral wins, when he turns to next steps, he is likely to preview policy agendas due from his commissioners, especially those charged with leading Sandy rebuilding efforts, as well as his next battles with Albany.
On Friday, the mayor's new Build It Back team is due to release "an updated strategy with diagnostic and additional specific recommendations to improve Sandy recovery."
Meanwhile, NY1 is reporting that legislation will be introduced in the City Council to enact de Blasio's call for a municipal ID card, which, if implemented, would most benefit immigrants and the homeless. That legislation could be introduced at the Council's next stated meeting, scheduled for just after de Blasio's speech on Thursday.
Along with the ID program, other ways in which the administration will address the difficulties faced by the homeless are likely to be featured in the mayor's remarks, especially considering his having made the issue a budget priority and homelessness policy a recurring theme for de Blasio.
To actualize some other elements of his agenda, the mayor will need to resume his pursuit of acquiring greater home rule from Albany. In his first 100 days as mayor, de Blasio won a small home rule victory in the City's being able to use funds toward rent subsidy programs for transitioning the homeless into permanent housing. But, despite securing $300 million for expanded pre-K, de Blasio was unsuccessful at convincing state representatives to allow the City to raise taxes on its highest earners and he lost power to the State on charter schools.
Next up, de Blasio needs Albany to help accomplish key pieces of his Vision Zero plan, such as allowing the city more speed and red light cameras, and, de Blasio may take up the extremely uphill battle for minimum wage home rule.
Much of de Blasio's agenda harkens back to not only his mayoral campaign platform, but also his time as public advocate, and even his first 100 days in the City Council, in early 2002.
As a freshman council member, de Blasio chaired the general welfare committee, and in what may have been a preview of his pre-K push, quickly co-sponsored a public hearing on "the city's failure to expand its number of child care slots" despite receiving federal funding to do so, as reported by The Amsterdam News in 2002.
Also early in his council tenure, de Blasio pushed the nascent Bloomberg administration to reexamine a Giuliani-era policy of moving certain homeless families around for 10-day wait periods.
As he reprises topics that have been central to his public policy work for years, de Blasio's message on Thursday will undoubtedly continue to center on reducing inequality, expanding opportunity, and creating a more fair and just city.
One key aspect of the mayor's portfolio that he may very well continue to stay mum on, though, is the ongoing contract negotiations between the City and municipal labor unions, the outcomes of which are sure to define de Blasio's tenure regardless of how many days on the job the mayor has accrued when they are announced.
***
by Ben Max, Executive Editor, Gotham Gazette