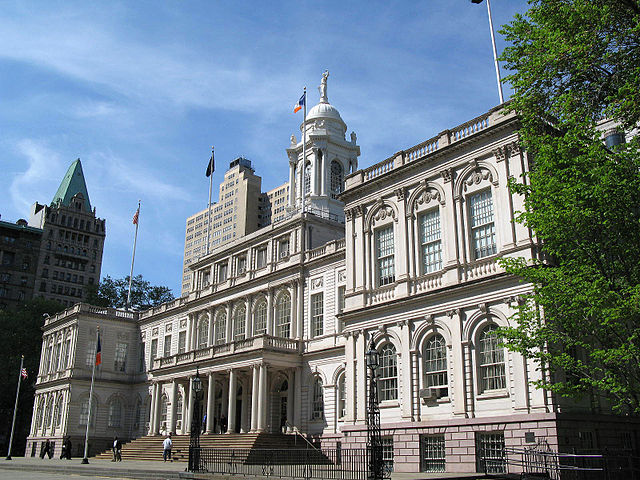 New York City Hall (wikimedia)
---
What to look for this week, via the city and Albany:
After a fairly quiet week due to the Passover and Easter holidays and public school spring break, things are due to pick back up this week, at least in New York City, if not Albany where the legislature is still on break until next Monday, April 28th.
Mayor Bill de Blasio begins his week with an appearance on ABC's The View Monday morning, followed by yet another pre-kindergarten-related event, at which he will urge families to sign their children up for pre-k by Wednesday's deadline. Monday evening, de Blasio will deliver remarks at the New York Times Cities For Tomorrow Conference.
Expect several other events and announcements from the mayor this week, perhaps including additional appointments to top posts in his administration.
The City Council has not held a public meeting of any kind since it's last full-body "stated" meeting of April 10th. This Wednesday, April 23rd, council committee hearings will kick back into gear, with a frenzy of meetings the last three days of the week:
Wednesday, 4/23
The Subcommittee on Zoning and Franchises will meet at 9:30 a.m. to review the Domino Sugar Factory land use application. The hearing will be more of a formality, as the deal was already officially announced by Mayor Bill de Blasio. Look to see what, if any, issues are brought up by Council Member Antonio Reynoso, whose district the project is housed in, and how those issues may be addressed with a deal already in place. The Committee on Land will take stock of the deal on Thursday.
The Technology Committee will meet at 10 a.m. to analyze how the City uses data and technology to improve health and safety in New York. A representative from the Mayor's Office of Data Analytics is expected to testify on this topic as well as discuss future projects.
The Committee on Parks will hold an oversight hearing at 1 p.m. to look at equity among parks. Are there disparities in the care of the City's open spaces? Many visiting Flushing Meadows Corona Park in Queens argue yes. De Blasio has said he supports measures to redistribute some of the money from the larger park conservancies to poorer parks. This hearing could sow the seeds to move that initiative - which is not favored by some parks advocates - forward.
The Vision Zero town hall series continues with its third borough installment, in Queens. The meeting starts at 6 p.m. at LaGuardia Community College. (Council Member Brad Lander and Park Slope Street Safety Partnership are having one their own on Monday evening in Brooklyn)
Also Wednesday evening, city officials including Deputy Mayor Richard Buery and the DOE's Chief Strategy Officer, Josh Wallack, will participate in "Universal Pre-K in New York City: Quality & Equity in the Face of Rapid Expansion" at Bank Street College.
Thursday, 4/24
The Committee on Economic Development will hold an oversight hearing at 10 a.m. to examine the Brooklyn Navy Yard as a model for the expansion of New York's industrial sector. Deputy Mayor Alicia Glen cited Brooklyn Navy Yard in her recent ABNY speech on the city's tech economy. No word if Glen will testify at the hearing.
The Education Committee will hold a hearing at 1 p.m. Noticeably absent from the agenda is the promised oversight hearing regarding charter schools. Chair Danny Dromm had promised in early March to call in Success Academy CEO Eva Moskowitz for closing her schools and busing her students to Albany for a political rally. The hearing was originally scheduled for April 8 but postponed until the 24th "due to scheduling conflicts." But, the agenda posted for the rescheduled hearing makes no mention of charter schools - instead, the meeting is set to focus on the reporting of school environmental data.
With the State budget agreement's protections for charters showing a loss for Mayor de Blasio, there is reason to believe that neither the mayor nor his council allies want to bring further attention to the issue for the time being.
Friday, 4/25
The Committee on General Welfare will meet jointly with the Committee on Youth Services at 10 a.m. to discuss data collection on runaway and homeless youth.
The Committee on Civil Rights and Committee on Higher Education will meet jointly at 10 a.m. to discuss faculty diversity at CUNY.
And a few things to look for from Albany:
Since the legislature broke after reaching a budget deal, Albany has been quiet. Even Governor Andrew Cuomo has kept a low profile after being heavily criticized for disbanding his Moreland Commission on Public Corruption.
While State Senators and Assembly Members have been in their home districts, rumors about reconciliation between the Independent Democrats and their mainland party-mates seem to be leading nowhere. All eyes are on former New York City Council Member Oliver Koppell, who has said he will announce after Easter whether or not he will be mounting a primary challenge to Independent Democratic Conference leader state Senator Jeff Klein.
Meanwhile, forecasts of the post-budget legislative session include significant items like campaign finance reform, which Klein is making a priority, "Vision Zero" bills, and much more. Both houses of the legislature return to Albany on April 28th; the session ends in mid-June.
***
by Kristen Meriwether and Ben Max in New York City and David King in Albany