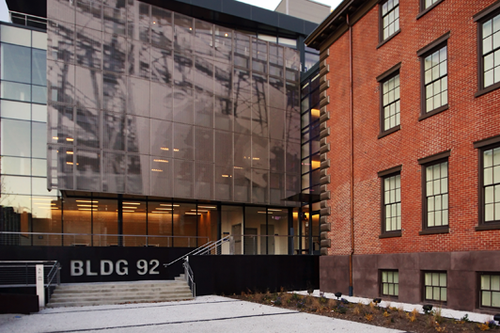 Building 92 at The Brooklyn Navy Yard (bldg92.org)
---
BROOKLYN - In its heyday during World War II, the Brooklyn Navy Yard was an industrial powerhouse. It employed 77,000 people, and ran 24 hours per day, seven days per week.
Long gone are the days of Rosie the Riveter, but thanks to a resurgence in industrial manufacturing in New York City, business is once again booming at the Yard. The 300 acre City-owned site is nowhere near operating at the production levels of World War II, but it is currently seeing the biggest industrial expansion since that time period.
And due to the Yard's success, the Economic Development Committee of the City Council will hold a hearing on April 24 to discuss using the Navy Yard as a model for expanding the city's industrial sector. In preparation for the hearing, Committee Chair Dan Garodnick, along with Council Members Stephen Levin, Mark Weprin, and Vincent Gentile, toured the Yard with David Ehrenberg, president and CEO of Brooklyn Navy Yard Development Corporation (BNYDC) on April 22. Gotham Gazette accompanied the council members on the tour.
"You see the success of concentrated manufacturing in a particular geographic area that is working," Garodnick said following the visit. "It gives New York City an opportunity to grow businesses and to create jobs and we should be doing everything we can to encourage that."
Garodnick said that at the hearing the committee will look at what has worked at the Navy Yard and how the City can potentially use that model elsewhere to continue to grow industrial areas in the five boroughs.
Today, the new Brooklyn Navy Yard does not feature the large scale manufacturing that dominated the site during the war. The large buildings have been carved up into small and medium size spaces to accommodate "manufacturing 2.0," much of which incorporates the simultaneously booming technology sector and emerging green manufacturing.
The Yard currently houses just over 330 businesses which employ roughly 7,000 people. As it continues to expand over the next five years, that number is expected to increase to 12,000 employees. The jobs pay an average of $12 per hour—more than a typical retail job—and often offer a career ladder.
The Yard is currently at 100 percent occupancy and, though expansion continues, it has been nearly full for roughly ten years. While occupancy rate is one measure of success for the Brooklyn Navy Yard Development Corporation, the not-for-profit that manages the Yard, workforce development is a more important metric.
For the last 15 years the Yard had an on-site workforce development center but it was tucked deep inside the grounds and not easily accessible to the public. Two years ago BNYDC opened Building 92 right on Flushing Avenue with easy access to public transportation and a way for residents to walk in off the street to look for jobs.
"As a mission-driven not-for-profit [workforce development] has to be at the center of our focus," said David Ehrenberg, president and CEO of BNYDC, by phone April 23. "It is not just about having a lot of businesses. It is about making sure the opportunities that that creates really has an impact on the local community."
Ehrenberg explained some of the business selection process on the tour. The Yard, he said, will not only look at the business and what space they are looking to occupy, but how many jobs the business will create.
"It requires selecting businesses that are going to hire people and then working with those businesses to make sure that as they hire, they hire from a wide network of individuals," Ehrenberg said.
The workforce center uses multiple platforms by which to get people into jobs including internships, training programs, and partnering with local community groups to find job seekers. The workforce center has its own team visit with tenants and ask what jobs those businesses are looking to fill. This allows the center to pair job applicants with jobs as efficiently as possible and helps cut down on unnecessary training programs.
Ehrenberg said by having a singular focus his organization can dedicate its resources most effectively. The rental money collected from tenants is reinvested into renovating buildings or launching programs to create more jobs.
He added that being on-site helps him understand the needs of the tenants in ways he couldn't if he was in a remote office.
"I see our tenants all the time in the hallways, at lunch. I am going to figure out whatever the issue is because it is right there in front of me," Ehrenberg said. "I am committed because I am physically there at the site. I think that is really a critical component of success."
The Yard as a Model
The success of the Navy Yard is a double-edged sword. It is home to a new age of manufacturing in New York City, but with its success and its 100 percent occupancy, there is limited room for expansion.
Building 77, a 16-story structure that represents one quarter of the built space in the Yard, was recently leased to Jack Basch, the CEO of Shiel Medical Laboratories. The building, which has 11 windowless floors, captured the last available built space in the Yard. There are roughly 70 remaining acres of land that new buildings can be built on, but finding a company or companies willing to build presents a far greater challenge than attracting companies into already-built space. Many of the businesses that occupy the Yard are (or entered into their leases as) start-ups occupying small spaces with hopes of growing their business and space, not large companies with millions to invest in developing land.
The Yard does feature several unoccupied buildings, but each is leased and currently undergoing renovation or soon to be.
If manufacturing 2.0 is going to continue to grow, the City will have to expand outside the Yard to other industrial zones. Where the city will make its next big industrial investment and what that investment entails is yet to be determined. There are currently 21 Industrial Business Zones (IBZ) throughout the five boroughs, some of which already have some form of industry or manufacturing in them.
Mayor Bill de Blasio's preliminary budget did not include funding for IBZ development, which had been as much as $4 million in 2007. IBZ funding has decreased in recent years, with the City Council using its discretionary funding to restore $1.1 million in fiscal year 2014 funds. In its budget response released on April 23, the Council requested $1.2 million for IBZ be baselined in the Executive Budget, which will be released by the mayor May 8.
Ehrenberg said he has not been contacted by individual council members interested in implementing the model used at the Navy Yard in their district, but he has received inquiries from Philadelphia, Detroit, and San Francisco in recent months.
***
by Kristen Meriwether, Gotham Gazette
@MeriwetherK