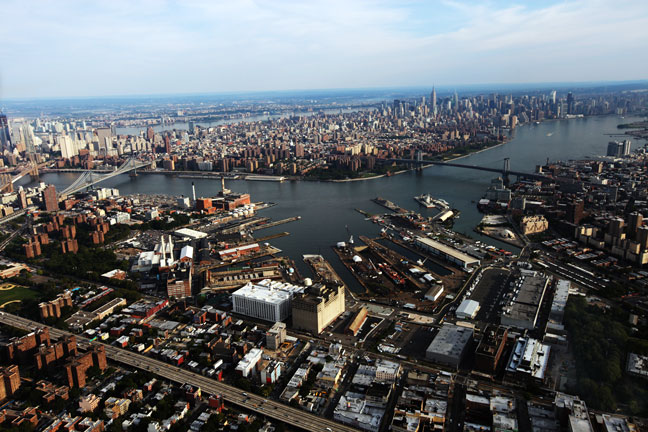 The Brooklyn Navy Yard from above (ohny.org)
---
NEW YORK - The City's industrial portfolio is quite robust, spanning multiple sites in all five boroughs. To date, no spot has been more successful in both attracting business and creating jobs than the Brooklyn Navy Yard.
The 300 acre City-owned site has been at or near full occupancy for almost a decade. It currently houses 330 businesses and 7,000 jobs, a number expected to climb to 12,000 in the next five years. In addition, the model has been studied by the Pratt Center, and other cities like Detroit, Philadelphia, and San Francisco are using that study to apply what has worked to develop their own industrial zones.
On Thursday, April 24, the City Council's Economic Development Committee, chaired by Council Member Dan Garodnick, held a hearing to discuss the Navy Yard model and to inquire if it could be used at other City-owned sites like the Brooklyn Army Terminal. In short, the answer is no.
While the Navy Yard blueprint is a good one, the complex system by which the other City-owned properties are run will prevent the replication of a successful model.
The Brooklyn Navy Yard, while owned by the City, is operated by a non-profit (Brooklyn Navy Yard Development Corporation). The model, for the most part, is self-contained. All revenue goes back into the site to rehabilitate buildings, create workforce development programs, and perform maintenance. The Yard has applied for and received some capital funding from the City (including one award of $200 million over ten years), but that money goes to road repair, sewer maintenance, and other infrastructure needs. Capital funding is not used for turning buildings into attractive work environments for businesses.
The Brooklyn Army Terminal, on the other hand, is a part of the New York City Economic Development Corporation (EDC), which has an industrial portfolio that also includes Hunts Point, among several other sites. The revenue brought in through these properties does not stay within the sites themselves, but goes to fund the vast EDC portfolio. This set-up allows for funding to a variety of programs that have been beneficial to the city such as incubator spaces and workforce training programs. EDC revenue from industrial assets even helped fund the much-anticipated Cornell Technion Campus slated to open on Roosevelt Island in 2017.
There is one shortfall to the EDC model, however. It leaves some of its industrial properties without the funding needed to reinvest and develop existing spaces, a piece that has made the Brooklyn Navy Yard so successful. This has resulted in the EDC looking to the City for more capital funding to build out its sites. EDC sites that are tenant-ready are nearly at capacity.
Currently, Brooklyn Army Terminal has 500,000 square feet of "raw space" that is awaiting capital funding from the City to bring the space up to code. Zac Smith, chief operating officer for EDC, said during a phone interview on Thursday that they are asking the City for roughly $60 million in capital funding to build out the space, an amount he added was a conservative estimate. Smith said that to date the City has not made a decision.
As the city's industrial sector continues to grown and the ever-popular Brooklyn Navy Yard heads toward maxing itself out, it would be advantageous to find the most efficient way to build out prime space (such as that at the Army Terminal). The City already has a highly successful working model in its portfolio, why not just use the Navy Yard model at EDC?
"I think the EDC's position is there are consequences, both good and bad, to adopting a purely Navy Yard model for industrial assets like the Brooklyn Army Terminal," said Smith during his testimony at City Council on Thursday. He added that moving to a Navy Yard model would cut off the revenue for all other things the EDC funds.
"I think that is something that needs to be considered when you talk about truly applying the so-called 'Brooklyn Navy Yard model' to Brooklyn Army Terminal," Smith said.
While the EDC is not utilizing the self-sustaining model for its units at each of the industrial sites the City owns, it is open to using some pieces of the Navy Yard model that have been successful.
He cited the Navy Yard's ability to attract smaller manufacturers by cutting up its assets into smaller units, saying this has been key to gaining quality tenants. At the Army Terminal that will be more difficult because there are only two very large buildings, which are being carved into spaces of 20,000-40,000 square feet. By comparison, the Navy Yard offers average space of 6,000 square feet. While it might not be best-suited for the Army Terminal, this practice may be useful at other sites.
Workforce development has been a huge success for the Navy Yard, due in large part to the opening of Building 92 two years ago. The center, which is accessible to the public from the street, was funded by a reinvestment of the Yard's revenue. The EDC properties do not have anything comparable, but do work with the city's workforce development programs.
"This is an area where there is a lot more potential and we think we can do a lot more," Smith said about workforce development. He added that while something like Building 92 on EDC properties could be good, EDC would not have the opportunity to fund them the way the Navy Yard did because they don't directly reinvest their funds.
"It strikes me as an odd framework for the city," Council Member Garodnick said on Thursday, "to have multiple industrial parks, even in the same borough, where some of them are getting capital funds through some direction of government [and] others are getting capital funds from another direction of government."
***
by Kristen Meriwether, Gotham Gazette
@MeriwetherK
***
Note: this article has been corrected to show that the Brooklyn Navy Yard has applied for and received an award of $200 million over ten years, but does not necessarily receive annual funding from the City.