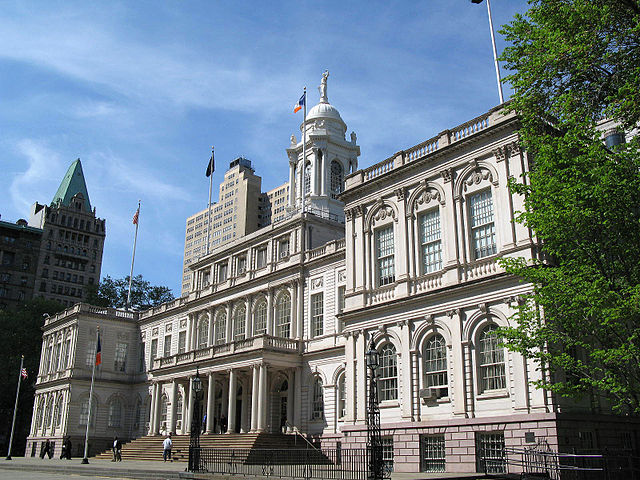 New York City Hall (wikimedia)
---
What to look for this week, via the City and Albany:
Eyes are on Albany as the week begins and the State Legislature returns to session on Monday, April 28. Legislators return to the capital after their post-budget break, with the current session continuing until mid-June. There will be much to follow in Albany over the next eight weeks, both in terms of policy and politics - more details below.
The week also kicks off with State Comptroller Tom DiNapoli releasing "a report on the economic growth of New York City's high-tech industry." DiNapoli will release his report early Monday afternoon in downtown Manhattan and he will be joined by Mayor Bill de Blasio, who is scheduled to make his own remarks at the event.
On Monday de Blasio will also greet "student volunteers at the Daily News' Citizenship NOW! phone bank" and speak at the "Lincoln Square Synagogue Holocaust Remembrance Day event," according to his public schedule.
Gov. Andrew Cuomo's schedule has him "in the New York City area" on Monday.
More details of the week ahead in the capital and the City:
In Albany:
While GENDA, medical marijuana, campaign finance reform, and more will be on the docket over the next several weeks, don't expect a rush on legislation as the Legislature returns to session. Things in Albany tend to happen last minute, even post budget. Add in developments regarding assembly and senate races in this election year and who knows what might happen - or when. Session will run from Monday to Wednesday this week and for most of May.
Advocates and lobbyists will, of course, be out in full force as legislators return to work at the capitol on Monday:
Two dozen supporters of Sen. Diane Savino's medical marijuana bill will be in town on Monday to meet with legislators and push them to support the legislation, which appears on the verge of support from both houses.
The New York For Democracy Coalition will hold a lobby day and press event on Monday starting at 9:30 a.m. to call for legislators to pass a constitutional amendment to "get the money out of politics" and call for an overturn of the Supreme Court's Citizens United and McCutcheon decisions.
On Tuesday, the New York State Pride Agenda will hold an "LGBT Equality and Justice" lobby day from 9 to 5. Legislators including Sens. Daniel Squadron, Brad Hoylman and Assembly Members Richard Gottfried and Amy Paulin will address the gathering. A rally will take place in West Capitol Park starting at 1 p.m., speakers will include faith leaders and advocates.
Also on Tuesday, Sen. Liz Krueger and Assemblywoman Crystal Peoples-Stokes will hold a public forum on NYS marijuana regulation and taxation at 9:30 a.m. in Hearing Room A of the Legislative Office Building. Experts and advocates will be in attendance.
On Wednesday at 10:30 a.m. the Assembly Committee on Higher Education will hold a public hearing on new statewide teacher and school-building leader certification requirements in Hamilton Hearing Room B in the Legislative Office building. The committee seeks testimony on the impact of new teacher-certification requirements.
And in New York City:
Monday
The City Council's week kicks off with a few significant items:
The Committees on Public Safety and Public Housing hold a joint hearing, "Oversight: The NYPD's Operation Crew Cut and Crime Reduction Strategies for NYCHA," which could signal further changes in NYPD protocols and the City's treatment of NYCHA complexes and residents.
Also on Monday, the Council Committee on Cultural Affair, Libraries, and International Intergroup Relations will hold an oversight hearing to track how the Department of Design and Construction (DDC) spends, monitors, and discloses capital funding for library and cultural projects. While there is continued scrutiny into Queens Library president Thomas Galante and the capital work done to his office, the hearing will not be solely focused on the Queens Library. In fact, Galante is not expected to testify. Instead, the Council will take a broader look at the capital spending process for libraries and cultural institutions. This plays into broader themes outlined in the council budget response issued on April 23. Representatives from DDC are expected to testify.
Council Member Elizabeth Crowley is headed to Rikers Island on Monday - but it's not for doing anything wrong. She will be leading a group of council members to the prison for a tour and to meet with newly appointed Department of Corrections Commissioner Joseph Ponte.
Tuesday
The Council will hold its final Stated Meeting of the month beginning at 1:30 p.m. at City Hall.
Tuesday is the annual "Library Day." For the past several years the day has been used to rail against the annual "budget dance" over slashed library funding. With the funds now baselined (at least in the mayor's preliminary budget, which is without the outstanding municipal labor contracts completed), library advocates are expected to call for six day per week library service. Speaker Melissa Mark-Viverito and Council Members Jimmy Van Bramer and Costa Constantinides are expected to lend their support.
Wednesday
Early on April 30th, the Center for New York City Affairs at The New School is hosting "Youth Justice, Police and NYC's Neighborhoods," another event that may speak to a 'new NYPD' and one that will feature Gladys Carrion, commissioner of the Administration for Children's Services and Joanne Jaffe, bureau chief of the New York Police Department, among others.
At 10 a.m. on Wednesday the Council's Committee on Immigration meets to discuss the municipal identification card program that appears imminent.
At 1 p.m. Wednesday, the Council's Transportation Committee is holding a hearing. The monster agenda of 22 items includes eight bill introductions, many of which are related to Vision Zero. Don't forget to pack a snack.
Also at 1 p.m. on Wednesday, the Council's Committee on Civil Service and Labor meets to discuss "authorizing local governments to establish and enforce higher levels of minimum wage." Minimum wage home rule could be a key focus area in City-Albany negotiations this spring.
Thursday
May 1 is International Workers Rights Day (also known as May Day). Occupy Wall Street has events beginning at 8 a.m., according to the Facebook event page. Expect delays around the city due to marches and rallies.
Mayor de Blasio's affordable housing plan is due May 1. No word from the mayor's office if the report will be released to the public on Thursday or if the mayor will repeat the process of the recent Sandy rebuilding report and release it to the public several days after he receives it.
*Under the radar alert*
On Thursday the Committee on Finance will meet jointly with the Committee on Aging at 1 p.m. to discuss senior citizen rent exemptions. A bill, sponsored by Council Member Margaret Chin, would raise the exemption from $29,000 yearly income to $50,000. If passed, the law would make 24,000 more seniors eligible for rent exemptions.

***
by Kristen Meriwether and Ben Max in New York City and David King in Albany