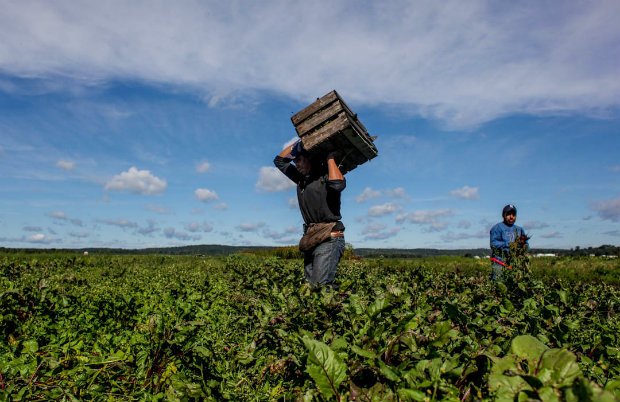 (Courtney Dudley for WNYC)
---
Advocates hope to see the State Senate address several bills that deal with equal rights and pay equity before legislators call it a day and return to their districts for election season. A bill that would create protections for migrant workers; one for additional protections to prevent pay discrimination based on sex or race; and one to allow counties and cities to supplement the state's minimum wage have all received attention recently, whether in the form of a committee vote or increased advocacy.
Each of the three bills has heavy support in the Assembly.
When the State Senate returned to Albany last week it got right to work - passing resolutions to honor local basketball teams, commending students for participating in dance-offs and celebrating Bronx Week. Then, this week, the now infamous debate over making yogurt the official state snack.
Senators admit that there isn't exactly a rush to get things done, despite the fact that there are 19 days left in session and an election ahead for most legislators. 'We're just getting our bearings,' was a familiar refrain from legislators when asked last week what their priorities were for the rest of session, which is set to end mid-June but could see its plug pulled even sooner.
But that doesn't mean there aren't plenty of controversial issues left to tackle; it just means that in the Senate, where the ruling coalition is leaders of the Independent Democratic Conference and the Republican Conference, finding common ground can be a difficult and frustrating mission.
Amidst all the Senate's ceremonial actions, though, the labor committee, chaired by the IDC's Sen. Diane Savino, voted to move two somewhat controversial bills out of committee. The Farm Workers Bill of Rights, sponsored by Sen. Adriano Espaillat, and Sen. Liz Krueger's New York State Fair Pay Act were both reported out of labor committee and referred to the finance committee with bipartisan votes - something that has advocates hoping Senate leadership may be interested in moving on both issues.
The Farm Workers Bill of Rights would provide for overtime, workers' compensation, the right to one day off a week, rights to collective bargaining, and standards for health and safety. The Assembly has passed this sort of legislation for years, only to see it stall or fail in the Senate. The Farm Bureau, a pro-business group that functions much the way the AARP does, but for farmers, stands against a number of the bill's measures because, it asserts, farms don't function under the rules of a standard workplace. The Bureau says migrant workers have to pack in as much work as they can while crops are in season and the weather is right.
Supporters of the bill have been heartened over the last few years because a number of Senate Republicans have expressed some interest in pursuing the legislation. Three Long Island Republicans voted to move the bill out of the labor committee last week. A number of Republicans represent districts on Long Island with growing Latino populations, where an issue like farm workers' rights plays big. Savino worked on bringing together legislators from both houses as well as the Farm Bureau last year to move on the issue, but the bill did not come to a vote.
Savino said it is up to the Farm Bureau to come to the negotiating table to balance protections for workers with amendments that can assist farms. "This has always had bipartisan support and opposition," said Savino, who notes that downstate Republicans, Democrats and IDC members seem basically in favor of the motion, whereas upstate members who represent more farmers are very hesitant to lend their backing. "We need the Farm Bureau to participate in negotiations in a real way," said Savino. "This is their chance to come in and support their workers."
Some legislators say they think the farm workers bill could be passed if the DREAM Act is not addressed in a year-end "big ugly" (massive deal on several pieces of legislation at once), but Espaillat said he thinks the bill "stands on its own."
Krueger's Fair Pay Act may not be that hard a push in the Senate; last year the measure passed as one of the ten planks of Gov. Andrew Cuomo's ten-point Women's Equality Agenda. But the Senate voted on nine of the measures, leaving out one that would have codified a woman's right to an abortion in state health law. The Assembly refused to pass the bills separately, and none of the other planks - which include fair pay, protections for victims of domestic violence, and strengthening human trafficking laws and sexual harassment prevention - became law.
"No one was more surprised when the Fair Pay Act passed the Senate unanimously last year," said Savino, "but the Assembly refused to pass it separately, so the question is 'what will they do this year?'"
Cuomo, facing a possible re-election challenge from the left, told a gathering of Democrats last week that he would push the legislature on The DREAM Act and the Women's Equality Agenda and make them campaign issues if they did not become law. The Cuomo administration has reportedly been telling advocates that he will target his campaign against the IDC/Republican coalition if it fails to act. And it is becoming more likely that the coalition will not act on those big-ticket items, as more legislators are talking about riding out the clock in Albany and then running their re-election bids on on-time budgets and tax relief. However, Sen. Jeff Klein is facing more pressure from advocates now that he is facing a primary challenge from former New York City Council Member Oliver Koppell, and fellow IDC member Sen. Tony Avella may face a challenge from former City Comptroller John Liu.
Advocates seem to be taking some of Cuomo's message to heart. A group of female legislators have taken up the cause of letting the State allow cities and counties to set their own minimum wages by framing it as an equality issue. They cited studies showing that 40 percent of women in the state make less than $15 an hour, while only 34 percent of men make so little. "A majority of minimum-wage earners are women, many of whom are simply trying to provide for their families and make ends meet," said Sen. Andrea Stewart-Cousins, who sponsors the bill. "We must use the remaining time in the 2014 legislative session to take decisive actions to raise the state's minimum wage and provide greater authority to local governments to address the needs of their constituents."
The measure has seen support from Mayor Bill de Blasio and City Comptroller Scott Stringer. But Cuomo has dismissed the idea, citing the state's plan to raise the minimum wage to $9 an hour by 2015 and saying that having different wages within the state could be a "chaotic situation." The bill remains in the finance committee.
***
by David King, Albany editor, Gotham Gazette
@DavidHowardKing