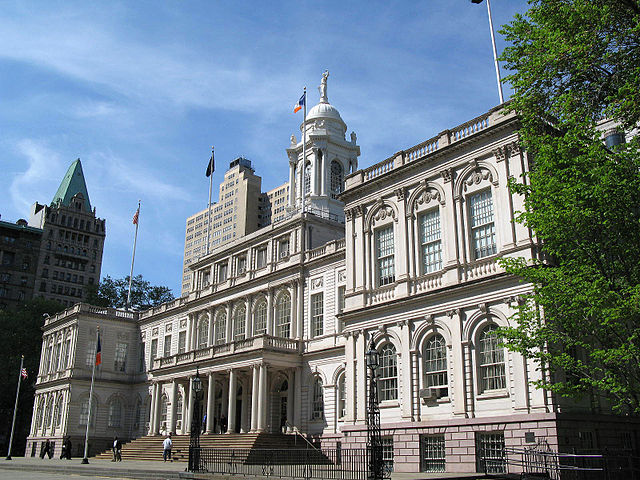 New York City Hall
---
What to look for this week, via the City and Albany:
New York City
This week features a visit from President Obama, who will be in New York City on Wednesday appearing near the Tappan Zee Bridge and advocating for increased infrastructure spending. Many, including the president, have advocated for upping government investment in infrastructure, both as a means to addressing the need of upgrading existing roads, bridges, etc., and as a job-creation and economic stimulus measure.
Other highlights of the week include Mayor Bill de Blasio speaking at a Monday forum sponsored by the federal Department of Labor; the City Council formally addressing the recent arrest of Council Member Ruben Wills, and the start of the council's executive budget hearings; and a Wednesday night Democratic primary debate in New York's 13th congressional district.
Here's the run of the week in more detail:
Monday
The mayor will speak at 9:15 on Monday morning in Lower Manhattan at one of several forums that the Department of Labor is hosting around the country leading up to a June 23 "White House Summit on Working Families." The local forums are meant to "identify initiatives that benefit America's working families, businesses and economy."
Later on Monday, the mayor visits another pre-K class and will deliver remarks at a school in Queens. According to his public schedule, de Blasio is also scheduled to meet with fasion icon Diane Von Furstenberg at City Hall.
Also on Monday, there will be a press conference on the steps of City Hall regarding "reforms on how college campuses address rape," according to a Sunday evening tweet from Council Member Helen Rosenthal.


Tuesday
A slow start to the week for the Council does include both a veterans committee meeting and a civil service and labor committee meeting on Tuesday at 10am.
The agenda for the veterans committee states that it will address a "resolution calling upon the United States Congress to pass, and the President of the United States to sign S.2182, the Suicide Prevention for American Veterans Act, legislation expanding and improving care provided to veterans and service members with mental health disorders or are at risk for suicide." It is unclear if other topics will be broached, such as the mayor's executive budget not including the additional $400,000 in funding for the Mayor's Office of Veterans Affairs (MOVA) that the Council had requested. A veterans committee executive budget hearing has not yet been scheduled as of 9 p.m. on Sunday, May 11.
The civil service committee resumes its work regarding minimum wage home rule, which could become a larger wedge issue between the City and Albany.
On Tuesday evening the New York City Campaign Finance Board and its Voter Assistance Advisory Committee will hold a meeting and public hearing on its 2013-2014 Voter Assistance Annual Report beginnng at 5:30 p.m.
Wednesday
At 1:30 p.m. on Wednesday the Council will hold a full-body "Stated Meeting." Among the bills being introduced is a bill to create an online portal for FOIL requests. Read the exclusive details of the bill, as well as how a similar system was rolled out in other cities here.
Before that 1:30 meeting, the council's rules committee meets again, with no agenda yet uploaded to the council website as of 9 p.m. Sunday evening. The rules committee is likely to pick back up on the rules reform package it discussed and heard public testimony regarding on May 7.
Also just before the Council's full-body meeting on Wednesday, its standards and ethics committee will meet on the "Matter of Council Member Ruben Wills pursuant to Section 10.80 of the Council Rules," according to the council site. Wills was arrested on corruption charges last week. It will be months before Wills has his day in federal court, but his case as it relates to the City Council will be heard on Wednesday. The ethics committee will discuss what, if any, further action will be taken against Wills. He stepped down as chair of the substance abuse sub-committee and Speaker Melissa Mark-Viverito stripped Wills of his member items. The County chairs and the Council will distribute the member items to Wills' district this year.
On Wednesday night in Harlem, the candidates for New York's 13th congressional district will meet at a forum sponsored by the Urban Justice Center and moderated by Dr. Christina Greer. Incumbent Democratic Congressman Charles Rangel is facing primary challengers State Sen. Adriano Espaillat and Rev. Michael Walrond. The rapidly approaching primary is June 24th!
Thursday and Friday
Several weeks of executive budget hearings begin on Thursday, a process that will continue through early June and lead to the adoption of the budget by July 1. Agencies and advocates will have the opportunity to formally lobby the Council for more funding and the Council will be questioning agency representatives about key issues of concern to council members and their constituents.
This week the committees on Transportation, Sanitation and Solid Waste Management, Higher Education, Community Development, Youth Services, and Consumer Affairs, will all meet, some jointly with the Committee on Finance.
Saturday
Bonus advocacy event: On Saturday, 5/17, City Hall Park will be home to a "Taking Back Our Schools" march and rally. The event is being organized by a large number of education advocacy groups and will feature a message from Diane Ravitch. According to the website event page, the rally welcomes all those "seeking to create & sustain a public school system that provides a fully funded, equitable, community-based education for every child. This means that decisions about our children's schooling would be made democratically by families and professional educators, free of corporate and political intervention."
And in Albany:
The president's visit to the Tappan Zee is a big victory for Gov. Andrew Cuomo following weeks of negative press over the Moreland Commission and the administration's secrecy.
The state is replacing the Tappan Zee after years of constant repairs thanks to a $1.6 billion federal loan. The state is also selling bonds to finance the new bridge. Obama's visit coincides with the state Republican convention in Rye Brook where Westchester County Executive Rob Astorino is expected to officially be named the party's gubernatorial candidate.
Public financing of campaigns will be a major issue in the backrooms as the Working Families Party's May 31st convention nears.
The Cuomo administration is expected to continue to work towards some sort of deal on campaign financing with the state legislature so that they can head off the WFP from backing a challenger to Cuomo's left.
Good government groups will meet with Republicans and Independent Democrats starting on Monday in an attempt to negotiate a deal on campaign financing. The groups and a Working Families Party official met with Cuomo last week.
In other state-wide campaign news, Republican attorney general candidate John P. Cahill, Sr. has officially announced his challenge to incumbent AG Eric Schneiderman and will be campaigning across the state on Monday. There are now official Republican challengers to the incumbent Democratic governor, comptroller, and attorney general. Stay tuned as election season heats up.
***
by Kristen Meriwether and Ben Max in New York City and David King in Albany
@GothamGazette