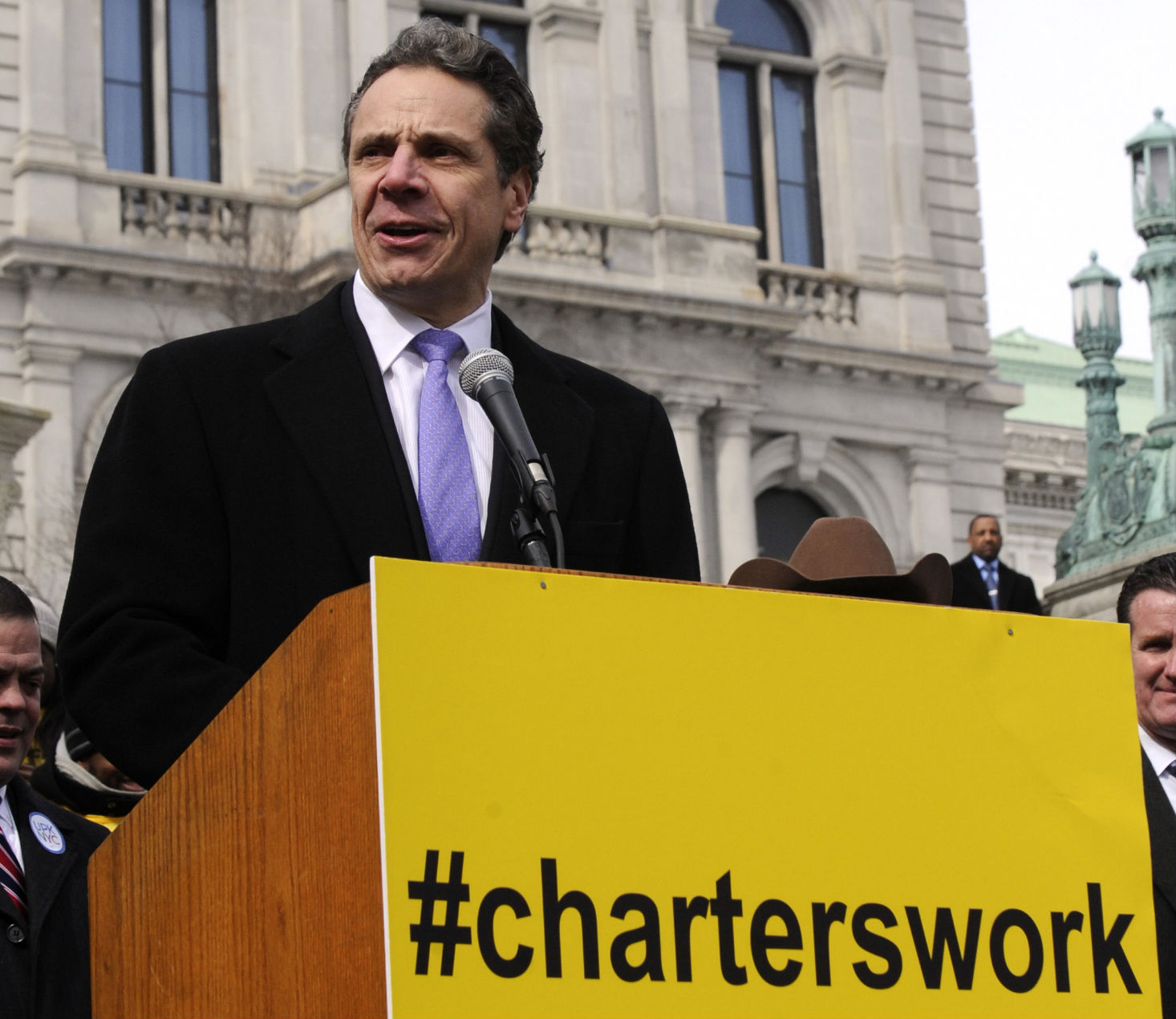 Gov. Andrew Cuomo at a pro-charter school rally (Tim Roske/AP)
---
A proposal, which would provide $300 million in state tax credits to those who donate to public schools or to scholarship funds that help poor and middle class students attend private schools, that seemingly died during budget negotiations in March now appears to have a second chance to become law as the Albany legislative session nears an end. A controversial bill from the start, news of its resurrection comes to the delight of some and to the dismay of others.
The education tax credit legislation is supported by Senate Republicans and over 90 Assembly members, and has been pushed by the New York State Catholic Conference and Cardinal Timothy Dolan. Dolan has said the measure will help reduce class sizes in public schools while keeping parochial schools open by allowing more students to attend them.
There are currently two versions of the bill: the Assembly version sponsored by Assemblyman Michael Cusick that has not come to a vote in the chamber and the Senate version sponsored by Sen. Martin Golden that has passed the Senate twice but would also apply the tax credit to donations to charter schools.
A compromise bill would be structured whereby a two week period of eligibility for the tax credit is created. Opponents of the bill say that the rich would monopolize the $300 million in available tax credits with major gifts before most other people had the chance to make donations. They insist the legislation is being pushed by conservative think tank ALEC and hedge fund billionaires who want more and better tax breaks. Both groups are proponents of charter schools and are generally anti-union.
"This is about cutting their income tax - it cuts it dollar for dollar and it will go straight to the hedge fund managers in the first two weeks it is available. The Catholic Conference is foolhardy if they think this will solve the parochial school problem," said Barbara Bartoletti of the League of Women Voters. Bartoletti says passing the legislation would be a major step to "the privatization of the education system."
The bill enjoys some labor support, from the Police Benevolent Association, for example, but the New York State United Teachers Union is vehemently opposed and have called it an "attack on public schools."
Opponents of the tax credit argue that it allows for $300 million headed for public coffers to be diverted into private hands.
Billy Easton of the Alliance for Quality Education, a critic of the bill, says that Gov. Andrew Cuomo has taken up several policy positions that give short shrift to public schools while benefiting charter schools that are backed by his largest donors.
Easton explains that there "were four fronts" in education during the budget battle this year - public school advocates, private school advocates, charter advocates and prekindergarten advocates.
Mayor Bill de Blasio's push for pre-k funding was a game changer on the budget battlefield. Easton says Gov. Andrew Cuomo went out of his way to support charter programs to attack de Blasio and punish him for demanding he be allowed to raise city taxes to fund pre-k. Suddenly Cuomo was rallying with charter interests and promising them protection as de Blasio was rallying for pre-k funding. In the end de Blasio got pre-k funding without a tax but his power over city charter schools was undermined by new state law. Others have connected Cuomo's support for charter schools to some of the governor's largest donors.
Jim Cultrara of the Catholic Conference of New York agrees. "I think had the mayor not pulled the rug out on everything charters wouldn't have had the focus they had from the governor," he said, referring to de Blasio's rolling back of three Success Academy schools and the city DOE's shift of more than $200 million earmarked for charter capital spending. Cultrara says the Catholic Conference had assurances that the Cuomo administration and legislators supported the tax credit bill and were shocked to see Cuomo abandon the issue in favor of his charter school crusade.
But, it isn't clear to everyone that Cuomo supports the tax credit even now.
Easton says Cuomo's support of the bill is obvious because he has been "aligned with the most conservative education elements across the nation." He notes that Cuomo has not complied with the Campaign For Fiscal Equity lawsuit where a judge ruled that the state had been underfunding the poorest school districts and ordered the state to provide $2 billion more funding annually to New York City schools. In fact, Easton says Cuomo has gutted the ruling by instituting education spending caps.
Bartoletti, on the other hand, says she has been assured by the governor's office that Cuomo thinks the bill is "bad policy."
Cuomo's office did not return inquiries about whether the governor supports the measure.
But both Easton and Bartoletti are concerned that the bill has been brought back to life in end-of-session negotiations sparked by Cuomo's new focus on campaign finance reform and desire to placate the Working Families Party.
A number of legislators say the bill is in play again in renewed negotiations over campaign finance and other end-of-session bills.
"There is still a lot of concern the education tax credit could still come up before the end of session," said Easton. "The governor is clearly concerned about his progressive bona fides but one place he can't make a quick change is on education - there's nothing he can do on that in the short term."
It is thought that Sens. Simcha Felder and Marty Golden both badly need the bill to pass because their constituencies are extremely supportive of it, both could face substantial electoral challenges, and both caucus with Senate Republicans. Neither returned call for comment. Republican Senate Spokesperson Scott Reif did comment, saying, "The Education Investment Tax Credit continues to be one of Senator [Dean] Skelos' priorities for the remainder of the legislative session."
While opponents fear the bill is close to becoming law, proponents of the legislation appear unsure the bill has a chance this session.
Cultrara said he thinks the bill will go nowhere without Cuomo's direct intervention. "The legislature is not likely to pick up the issue without a clear indication from the governor that he backs its enactment."
Cultrara says that the Catholic Conference is particularly dismayed by Cuomo's lack of action on the issue. "The anger is palpable. The budget was healthy enough for this kind of credit and to have another issue take precedence is very disheartening. The Governor acknowledged the impact this would have on Catholic schools, so to see him go out of his way for charters and ignore our issue leaves us scratching our heads."

***
by David King, Albany Editor, Gotham Gazette
@DavidHowardKing