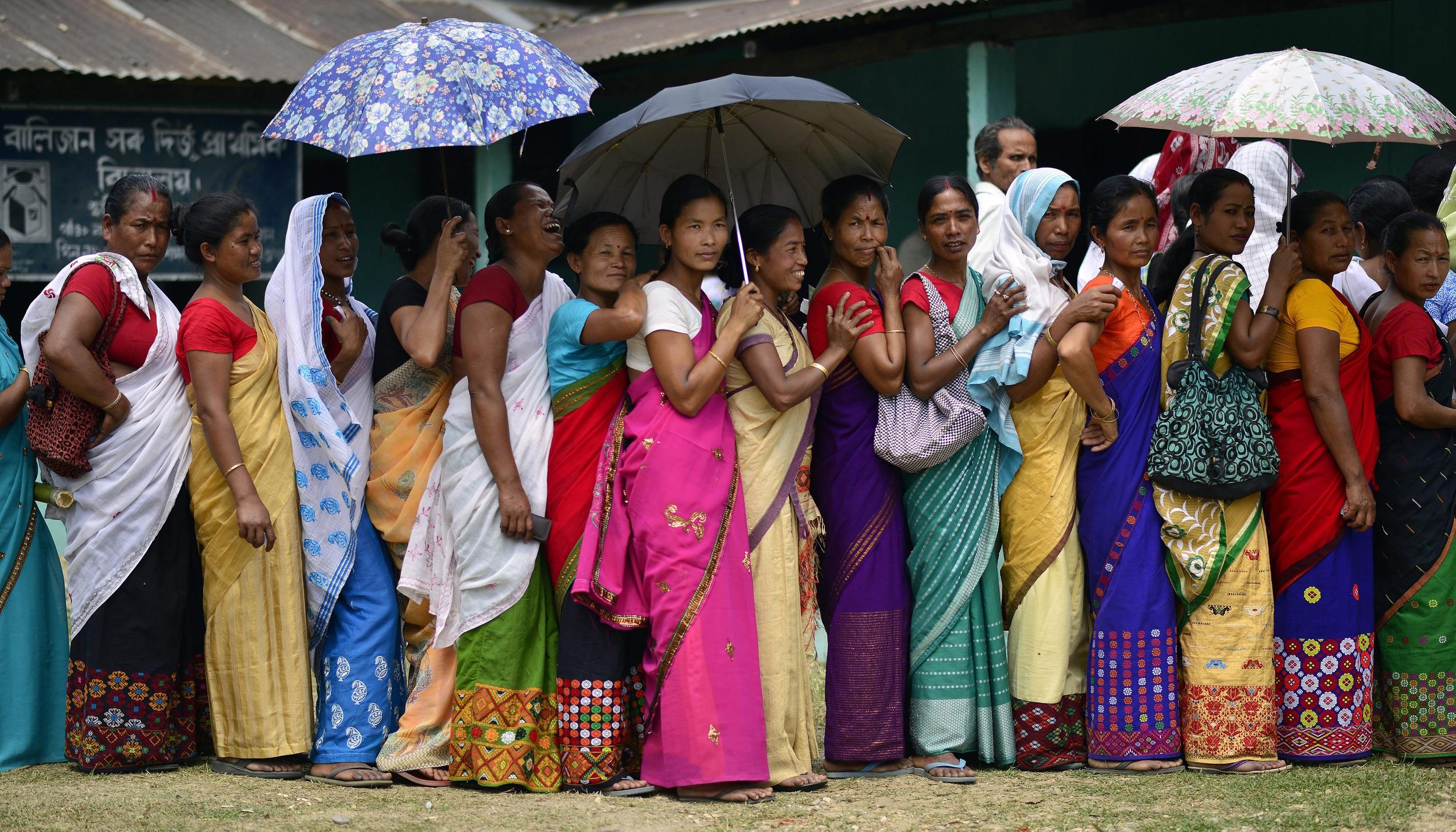 Voters in India wait to cast their ballots (Henry Austin/NBC News)
---
The world's largest ever election concluded in India on Monday with a record voter turnout. Almost 67 percent of 814 million registered voters cast a ballot for a new government. But what could the decisions of more than 540 million people mean for a city more than 8000 miles away?
New York City is home to 207,196 Asian Indians, according to the American Community Survey 2012. And 27,991 of them immigrated to the city between 2000 and 2011, looking for jobs, families and even asylum. If the results of the Indian elections, on May 16, are anywhere close to what multiple exit polls suggest, then the number of Indians migrating to the city is likely to increase.
Most Indian polls predict that the National Democratic Alliance led by the Hindu nationalist Bharatiya Janata Party (BJP) will come to power, with BJP leader Narendra Modi at the helm.
Modi, the current chief minister of the western state of Gujarat, has been a divisive figure in Indian politics. In 2002, communal riots ripped through Gujarat killing more than 1,000 people, mostly Muslims, and Modi faced accusations of inaction against the riots. The United States has refused to grant Modi a visa since 2005 citing the riots as a reason.
But the shadow of 2002 is starting to fade. Western nations that earlier shunned Modi are holding out the olive branch. Yesterday, President Obama, congratulating India on a successful election, said he looks forward to working with the new government. As the votes are tallied this week, New York may begin to anticipate the predicted Modi wave crashing against the shores of Manhattan, as changes in Indian policy are poised to affect immigration to the city.
On two issues that will likely lead more Indians to America, Modi and the BJP have made themselves clear.
First, Modi means business - literally. He is known for his lean towards industry and has promised to ramp up economic reform and development. India and the US already have a strong trade relationship. In 2013, the US exported $21 billion in goods to India, importing more than $41 billion worth. Modi has also said he will ease restrictions on trade and Foreign Direct Investment, so these numbers will certainly rise. With expanding economic ties, there's likely to be higher immigration through employment visas. Between 2002 and 2011, 95,914 immigrants came to New York City on such visas allowing lawful permanent residence. Of those, 7,579 were Indians (almost 27% of the total Indian immigration to the city between 2000 and 2011.)
The second, more controversial issue is India's law on homosexuality. A December 2013 ruling by the Indian Supreme Court overruled a lower court's order decriminalizing sexual relations between people of the same gender. Section 377, an archaic British-era law that made same-sex relationships punishable by the penal code, was a controversial issue that had people out on the streets, both in support and protest.
Modi's party has boldly spelt out its position. After the December ruling, the party president Rajnath Singh said in an interview to the Telegraph, "we believe that homosexuality is an unnatural act and cannot be supported." So India's approximately 2.5 million homosexual citizens (according to India's National Aids Control Program) would be considered criminals by a BJP government. It wouldn't be surprising then to see an increase in Indians seeking asylum in New York City. Almost 11 percent of the 27,991 Indian immigrants between 2000 and 2011 were refugees.
The BJP government's effects wouldn't only be limited to Indians. In typical conservative vein, the BJP has been extremely vocal on the issue of illegal immigration into India from its eastern neighbor, Bangladesh. Modi marked the day of election results, Friday, as the deadline for thousands of immigrants, mostly Muslims, to leave the country since, he says, their influx has led to ethnic tensions and even instances of violence. Where will those who listen go?
On this side of the globe, the most immigrants to New York City between 2000 and 2011 have come from Bangladesh, with a 74.2 percent increase in the city's Bangladeshi population. They are set to soon overtake Indians in their numbers. With home becoming hostile territory, more Bangladeshis might very well make their way west, where there are greener pastures of religious freedom.
During his November 2010 visit to India, President Obama, while addressing a joint session of the Indian parliament, said that the relationship between the United States and India "will be one of the defining partnerships of the 21st century." With the National Democratic Alliance back in power after ten years, the parameters of that partnership would change dramatically. As 1.2 billion people wait with bated breath for May 16, one can be sure that the world, the US, and New York City are watching carefully.
***
by Samar Khurshid for Gotham Gazette. Khurshid is a journalist from India currently pursuing a master's in magazine journalism at New York University.