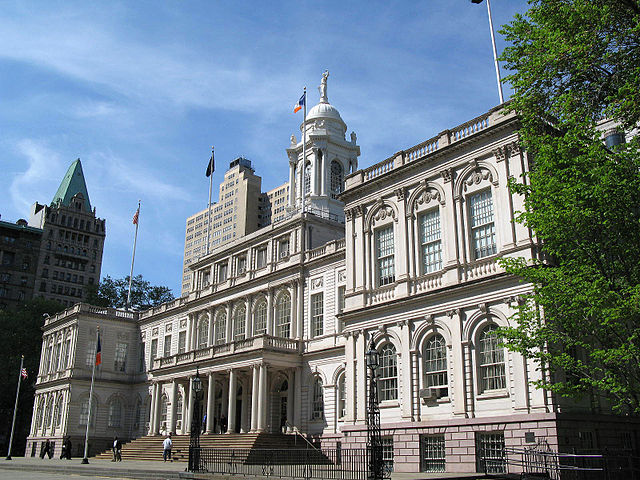 New York City Hall
---
What to look for this week, via the City and Albany:
In non-World Cup news, there's a great deal happening this week in New York City and a lot to watch for in Albany as the Legislature enters it's final few days of the session and Zephyr Teachout officially kicks off her Democratic primary campaign for governor. Details of many key New York City-based events can be found below. Meanwhile, many in the City or who represent the City in the capital are wondering what will come from Albany regarding medical marijuana, GENDA, the DREAM Act, campaign finance reform, and many other big-ticket items. For most followers, the money's on zilch, but when it comes to Albany, you never know. There's likely to at least be a small flurry of activity this week on bills with less buzz, per usual end-of-session action.
While it could be a raucous week in the state Legislature, the City's has its own busy one on tap as council members hold oversight hearings while continuing to negotiate in private with the de Blasio administration ahead of a final budget agreement, which must be in place by July 1.
Speaking of Mayor Bill de Blasio, he starts his week appearing on Hot 97. He'll also speak at "the Day of Action kickoff" in Manhattan, an event that launches reachout on pre-k programming.
Comptroller Scott Stringer starts his week by releasing another report, this one on "Need for Workplace Flexibility to Boost New York City Economy."
Meanwhile, fresh off reports of some bizarre behavior on Sunday, the candidates in New York's 13th congressional district will continue to push toward the primary finish line. The June 24th primary is one week from Tuesday!
Oh, and the United States kicks off its World Cup play on Monday evening against Ghana (here's the rest of the schedule - we aim to please every reader!).
And, the run of the week in more detail:
New York City
Also on Monday
Monday morning, the Manhattan Institute and Students First NY co-host a morning forum, The NYC Budget and the Teachers' Contract, at which panelists including Nicole Gelinas of MI and Charles Brecher of CBC will discuss the de Blasio budget in general and the specifics of the UFT contract. One question on the agenda: "what does it all mean for the schools and for the city's future?"
At 9 a.m. on Monday, PETA will be depicting a crime scene outside of a horse carriage driver's cruelty hearing at New York City Criminal Court. There will be "a life-size fallen horse surrounded by crime scene tape."
At 11 a.m. on Monday State Sen. Gustavo Rivera, State Assembly Member Karim Camara, and advocates, will unveil a new bill to "Help Nearly 3 Million Noncitizen New Yorkers Become State Citizens, and to Win State Citizenship for Noncitizens Across the U.S." The event will be held at Battery Park in Lower Manhattan, "with the Statue of Liberty as a backdrop."
Lunchtime features the Empire State Pride Agenda's annual Equality @ Work Awards. The awards celebration "honors businesses and individuals with inclusive LGBT practices and policies." Honorees include Hilton Worldwide, Moody's LGBTA Employee Resource Group, and Todd Sears.
The City Council has an oversight hearing on the issue of aging out of foster care - at which the Committee on General Welfare will discuss several new relevant bills. Prior to this hearing, at 9:30 a.m., Public Advocate Tish James, several council members and advocacy groups will rally on the steps of City Hall to call for passage of legislation aimed at tracking youth transitioning out of foster care and improving inter-agency coordination.
Monday at 5:30 p.m. is the next meeting of NYC Votes' New York City Voter Assistance Advisory Committee (NYC Votes is an arm of the NYC Campaign Finance Board). Also Monday evening, the Rent Guidelines Board holds another hearing, at which Comptroller Stringer is set to testify.
Tuesday
There is an incredible amount happening on Tuesday. It might be like this every Tuesday in New York City, perhaps we've just pulled more together this week - but even if so, wow:
Retire NYC, "a conference on retirement security," hosted by the New York Central Labor Council, AFL-CIO, and Schwartz Center for Economic Policy Analysis will take place at The New School from 8 a.m. to 12:30 p.m. Speakers include both state Comptroller Thomas DiNapoli, city Comptroller Scott Stringer, Public Advocate Letitia James, and many esteemed panelists.
Stroock is hosting all five New York City District Attorneys in another of its Government Leadership Forums. The prosecutors will "discuss the opportunities and challenges they face on a daily basis."
Crain's is hosting a "Real Estate Conference: What's really driving the market," at which Deputy Mayor Alicia Glen is set to speak at the start and there promises to be discussions on "midtown vs. downtown" in the competition for corporate office tenants and on opportunity in "the outer boroughs."
There's also a New York Building Congress breakfast forum on Tuesday morning, at which DOT Commissioner Polly Trottenberg will be speaking. And, there's the New School's Center for New York City Affairs hosting Big Dreams for NY's Youngest Children: The future of early care & education, which will includes remarks from Maria Benejan of the city's Administration for Children's Services.
But wait, that's just the morning.
Also on Tuesday, the City Council's juvenile justice and women committees hold a 1 p.m. oversight hearing on young women in the New York City juvenile justice system.
Tuesday evening is the first of five public hearings being held by the city's Department of Education on the Citywide Contracts For Excellence Plan. There will be one hearing in each borough, making for "a public process that will further encourage parental and community involvement...The DOE will use the feedback in refining its final Citywide Contracts for Excellence Plan." Tuesday's is in Manhattan at Stuyvesant High School at 7 p.m. (Brooklyn hearing on Wednesday; Bronx on Thursday; Staten Island and Queens hearings next week).
Comptroller Scott Stringer hosts another of his Sandy oversight hearing/town halls, this one in Manhattan at Two Bridges Neighborhood Council's Goldie Chu Community Room. Stringer and a large continent of local government representatives invite constituents to "share your concerns and questions regarding recovery and relief."
Shifting to 2014 eleciton politics, state Senate candidate John Liu is holding a "kick-off fund raiser" Tuesday night in Queens - an event co-hosted by a long list of Democratic state senators.
Lastly, Tuesday is one week til the primary in New York's 13th Congressinal District! Who's your money on? Tweet us @GothamGazette with predictions and use our guide to the race, which has key quotes from the candidates' four debate performances.
Wednesday
At the City Council on Wednesday, there is a mega-hearing being put on by the economic development, consumer affairs, and environmental protection committees "assessing the economic impact of New York City's failing infrastructure." It is the first hearing in a series. This one looking at "gas, steam, and water." 10 a.m., City Hall.
At 1 p.m. the Council's technology committee and its zoning and franchises subcommittee look at "DoITT's request for proposals concerning NYC WiFi and information hubs."
There are a few other council hearings on the schedule as well.
Wednesday evening, the Council hosts its 2014 LGBT Pride Celebration at the Great Hall at Cooper Union (doors 4:30, program 5:30).
And at 7 p.m. Wednesday evening, the Brooklyn Young Democrats meet for their second endorsement meeting, this one to look at Brooklyn state Senate and Assembly races. With turnout likely to be very low for the September 9th primary that will virtually decide every one of these seats (with a notable exception or two), backing from clubs who will help knock on doors and GOTV is as important as ever.
Thursday
The City Council's Thursday schedule features a civil service and labor committee hearing on "licensing car wash facilities," and, the economic development and small business committees meeting to discuss a resolution calling on the mayor to "revitalize the Mayor's Office of Industrial and Manufacturing Business and to expand the technical assistance the Office would offer manufacturing and industrial businesses in the City."
There are other council hearings on Thursday as well.
On Thursday evening, there is a Progressive NYC Fundraising Event being put on by Community Voices Heard and partners. The event, A Progressive Vision for New York City, will be hosted at 1199 SEIU and will feature opening remarks from Speak Mark-Viverito and a panel moderated by Dr. Christina Greer and including Council Members Brad Lander and Carlos Menchaca along with union and advocacy group reps.
Friday
Not much on our radar for Friday - stay tuned though! (And as always, feel free to send notice: This email address is being protected from spambots. You need JavaScript enabled to view it.)
And, more from Albany:
On Monday in the capital, Zephyr Teachout and her running mate Tim Wu will officially kick off their campaign seeking the Democratic nomination for Governor and Lieutenant Governor, respectively.
The Daily News reported last week that there will be a major "Capital Takeover" event on Tuesday in Albany as unions and advocacy groups call for passage of a bill to let New York City set its own minimum wage.
On Tuesday evening in Albany, City & State NY hosts its Albany Rising Stars 2014 event.
Generally speaking, the final week of the 2014 legislative session portends to be both busy and loud, if not actually productive. Both houses of the Legislature will likely move through a host of one-house bills while blaming each other for not passing companion legislation.
Advocates will be keyed-up and looking to pressure legislators into action. Last week State Police arrested 16 advocates for the disabled for demonstrating by disrupting Assembly session and staying in the Capitol after hours.
Three-way negotiations on medical marijuana could lead somewhere this week as the measure has grown in popularity and both the Senate and Assembly appear to be very close on language - but where Gov. Cuomo will land on the matter is unclear. Cuomo had his own medical marijuana proposal which was derided by advocates and ignored by the legislature.
A bill that reduces the speed limit on some city streets to 25 MPH could also pass both houses in some form as Sen. Jeff Klein stepped forward to sponsor a measure in the Senate. The Assembly bill already had a sponsor and is further reaching than Klein's so some negotiation will have to take place.
Don't expect to see action on The DREAM Act, campaign finance reform, the full Women's Equality Act, GENDA, another minimum wage increase, an education tax credit, or other hot button issues. The acrimony created by Cuomo's speech at the Working Families Party convention appears to have put an end to any major last-minute deals. Legislators are ready to focus on their re-election campaigns.
***
Have events or topics for us to include in an upcoming Week Ahead in New York Politics? Email Gotham Gazette executive editor Ben Max any time: This email address is being protected from spambots. You need JavaScript enabled to view it. (use "For Week Ahead" as a subject if you can).
***
by Kristen Meriwether and Ben Max in New York City and David King in Albany
@GothamGazette