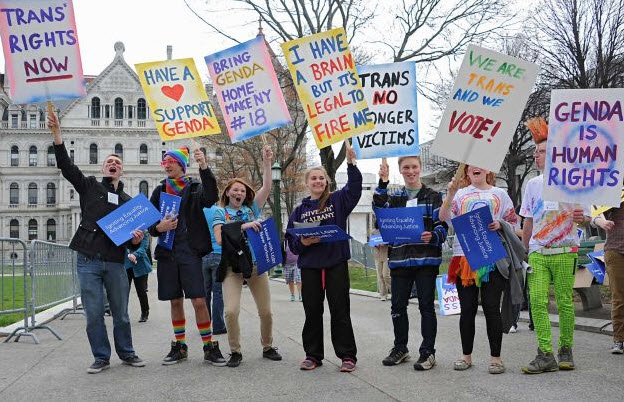 GENDA ralliers (Lori Van Buren/Times Union)
---
Supporters of the Gender Expression Non-Discrimination Act plan to launch a major end-of-session blitz targeting State Senate leadership and Gov. Andrew Cuomo in an effort to get the proposal to a vote this week. GENDA would make it illegal to discriminate against a person for their gender identity, whether it be in employment, housing, or public accommodations.
Nathan Schaefer, executive director of the Empire State Pride Agenda, says that his group plans to bombard Senate leaders with letters from elected officials and law enforcement heads from cities and municipalities across the state that have their own GENDA laws on the books. They also plan to take out advertising in City & State NY.
GENDA was first introduced in the Senate and Assembly in 2003 and has passed the Assembly eight times since 2007, but has never come to a vote in the Senate. With control of the Senate now split between Republicans and the Independent Democratic Conference (IDC) coalition, advocates have some hope that the IDC will use its influence to bring the bill to a vote.
"There has been progress, but the only progress that matters is a vote," said Sen. Daniel Squadron, who sponsors the bill in the Senate. When asked if there is enough support in the Senate to pass the bill, Squadron responded, "Every member's support on this matters, but I've continued to call on the leadership to bring this to a vote no matter how close it may be."
Advocates say they expect the support of all Democratic and IDC members except for Sen. Ruben Diaz, Sr. They are also unsure of Sen. Simcha Felder's stance - Felder was elected as a Democrat but conferences with Republicans.
The transgender community is particularly vulnerable as two out of three transgender New Yorkers have been homeless and thirty percent have been victims of violence, according to advocates.
Schaefer notes that almost 60 percent of New Yorkers live in localities with GENDA protections on the books. Cities including Albany, Binghamton, Buffalo, Ithaca, New York, and Rochester have GENDA laws, as well as counties including Westchester, Suffolk, and Tompkins. Sixteen states and the District of Columbia have GENDA laws - and President Barack Obama announced Monday that he will soon be signing an executive order barring federal contractors from discriminating based on sexual orientation or gender identity. New York supporters point out, though, that a transgender individual could live in a community with GENDA laws but commute to a job in an area where no such protections exist.
Opponents in the Assembly, such as Assemblyman Steve McLaughlin, have argued that the bill's language is too broad and could be used by sexual predators to gain access to women's restrooms. During the Assembly debate on the bill June 10th, McLaughlin said he "wasn't looking to discriminate," but neither was he "looking to hold the door open for a sexual predator."
Law enforcement heads from across the state support GENDA, including former NYPD Commissioner Ray Kelly, who wrote a letter to the Senate leadership in support of GENDA refuting opponents' claims that GENDA would decrease public safety.
"In 2002, the New York City Human Rights Law was amended by Local Law 3. Among other things, Local Law 3 protects against bias in areas including public accommodations," Kelly said. "I am not aware of any increase in crimes attributable to the passage of Local Law 3 in New York City."
Gov. Cuomo supports GENDA but has been particularly quiet on the issue. The New York Times editorialized in support of GENDA on May 26 of this year and put the onus to move the bill squarely on the governor's shoulders:
"The only real hope for enacting the bill this session rests on Gov. Andrew Cuomo, a supporter of the bill. "Working behind the scenes," as Mr. Cuomo's deputy secretary for civil rights, Alphonso David, says he and the governor are doing, is not enough. Mr. Cuomo needs to wage a strong and visible fight on this bill, as he did in his successful effort to push through same-sex marriage three years ago," reads the editorial.
Advocates agree that Cuomo's voice on the matter, let alone a major political push, could make all the difference.
Schaefer indicated that it is down to the wire this year and that the possibility that the Senate does not vote on the legislation is very real. The fight for GENDA could spill into the election season. "This represents our 12th year advocating GENDA. It is our top priority and we will be asking any candidate asking for our endorsement to support this bill."
***
by David King, Albany editor, Gotham Gazette
@DavidHowardKing