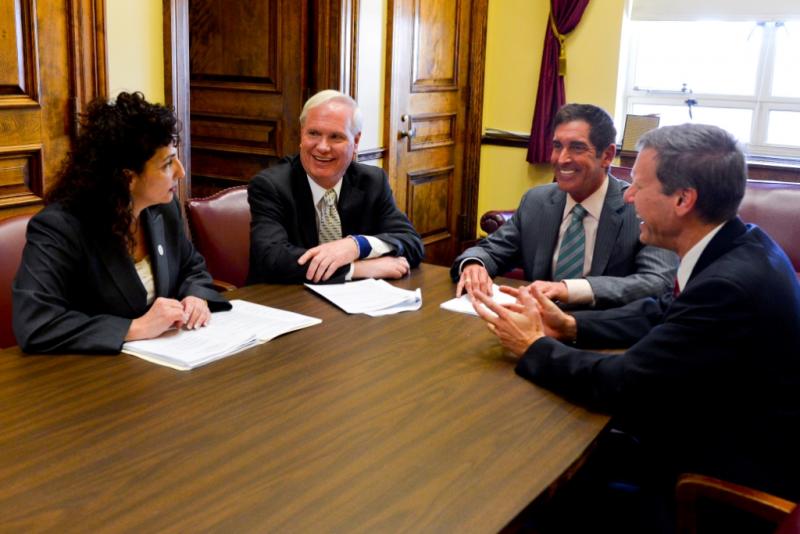 Members of the IDC (IDC)
---
Advocates Say What Matters Is Support of Issues, Not Conference Alignment
Tenant's PAC treasurer Michael McKee doesn't have any faith in the recent announcement that the Independent Democratic Conference (IDC) will abandon Senate Republicans to create a power-sharing agreement with Senate Democrats. Even if McKee trusted IDC leader Sen. Jeff Klein and the deal Klein and Gov. Andrew Cuomo announced on Wednesday, it wouldn't matter because he feels Klein has worked against pro-tenant legislation for his entire legislative career.
On tenant rights and protections, McKee wants a replacement for Klein, so he is aggressively backing Klein's primary challenger, former city council member Oliver Koppell.
In recent interviews, Klein has dodged questions about how he will work with Senate Democrats and focused on the fact that he and his fellow IDC members face or may face primary challenges. Klein says he will focus on the new coalition after he secures his re-election. The joint statement from Klein and Cuomo released Wednesday doesn't actually promise any particular result, just that "all IDC members are united and agree to work together to form a new majority coalition between the Independent Democratic Conference and the Senate Democratic Conference after the November elections..."
Critics of the deal, including Senate Republican Leader Dean Skelos, have characterized the promise as being a political ploy by Cuomo and Klein: Cuomo gets to say he is a loyal Democrat, supporting progressive issues and reigning the wayward Democrats back in, while Klein effectively kneecaps his primary challenger and perhaps wards off other challenges to the IDC. But, the announcement does not seem to have saved the IDC from primaries.
Saying he does not believe Klein will follow through on his promise, Koppell has said he plans to stay in the race. And he'll continue to have the backing of Tenants PAC, among others skeptical of Klein's intentions. Koppell told Capital New York that he feels responsible for Klein's promise to work with Democrats. "I have been successful in getting Jeff Klein to, at least for this moment, divorce himself with the alliance he made to Dean Skelos and work with the Democrats to get the agenda passed that I've talked about," Koppell told Capital.
Meanwhile, sources inside the campaign of former New York City Comptroller John Liu, who is challenging IDC member Sen. Tony Avella, said that Liu has always been focused on legislative issues and not on the IDC. Liu currently enjoys the support of 13 Senate Democrats as well as a host of labor unions.
It seems unlikely he will drop his campaign.
Along with many unions, control of the Senate is of monumental importance to tenant advocates: rent laws are set to expire on June 15th, 2015. These laws maintain rent-controlled apartments in the city, though advocates say the laws are so full of loopholes that affordable apartments are becoming extinct even with them on the books. There is a great deal at stake, says McKee. "We will be in real serious trouble if Skelos is in charge next year," he said. "However, our concern is that Jeff Klein is an operative of the real estate lobby and if the Democrats have the same deal with Jeff that the Republicans had and he has veto power, our bills won't come to the floor. We have a specific history with this legislator that he will vote for our legislation if it comes to the floor, but he works overtime behind the scenes to kill it."
McKee and tenant advocates want to see legislators push to end the practice whereby landlords jack up rents by various means, drive tenants out, and take apartments off rent control rolls. They say that 2015 will be of the utmost importance because the real estate lobby has been increasingly successful in blocking any efforts to keep apartments under rent control.
Rewind a decade and McKee had a different outlook on Klein when, in 2004, Klein was running to replace jailed Republican Sen. Guy Velella. In fact, McKee and his organization phone-banked for Klein, and McKee gave Klein's campaign $500. "Don't think we didn't know that we were getting a conservative Democrat," said McKee. "We supported Klein and [IDC Sen. Diane] Savino to get us closer to the majority, but we are way past supporting Democrats for the sake of electing Democrats - it hasn't worked."
Progressives say Klein has used his Republican partners as scapegoats while blocking more liberal legislation. McKee said that Klein has been perpetually unreliable and has broken promises at every turn. "The man has no political center," McKee said, "He is interested in power for power's sake and the trappings of power."
A number of Senate Democrats, while excited about their possible return to the majority, aren't holding their breath for it to happen and are dreading the idea of working with a man they feel stabbed them in the collective back and betrayed the party. Some Democrats have threatened to simply quit if Klein returns to caucus with them, while Klein has made it clear in recent interviews that tension still exists and he isn't exactly fond of mainline Democrats.
Democratic legislators acknowledge that if Klein and the IDC do coalesce with the mainline Democrats it could put focus back on inadequacies of the Democratic Conference. A number of issues that progressives have blamed the IDC for blocking in tandem with Republicans may not actually have the votes to pass even with an IDC/Democratic alliance - and Klein has already seized on that message, a message that is not dissimilar to McKee's assessment that all 'Democrats' are not necessarily going to vote from the left. In other words, advocates are hoping Democratic control will give them more leverage on issues, but it isn't nearly a sure thing.
Sen. Brad Hoylman said that he is "hopeful" that the new coalition would open up legislative possibilities, including for the passage of two bills he champions that were bottled up by Senate Republicans last year. "I think a coalition where Democrats are in charge of the chamber gives life to bills that have been stalled over several years, including GENDA and a ban on conversion therapy," Hoylman said.
Another mainline Democrat, Sen. Gustavo Rivera, has a contentious relationship with Klein (and faces a primary challenge from New York City Council Member Fernando Cabrera, who has said he would caucus with the IDC if he wins) and said that Democrats will be cautious in assuming the leadership of the Senate. Rivera notes that Democrats want to do everything they can to avoid the "dysfunctional" label they were saddled with the last time they held the majority. Rivera added that he plans to support Koppell "as long as he is in the race."
Both Hoylman and Rivera say they hope to see action on The Women's Equality Agenda, The DREAM Act, and a bill that allows the city to set its own minimum wage.
There is not absolute Democratic solidarity, though. Sen. Ruben Diaz is a staunch opponent of a woman's right to choose and an expansion of LGBT rights. His vote could matter on bills like the Women's Equality Act and GENDA. Democratic Sen. Cecelia Tkaczyk opposes farm workers' rights legislation that would protect immigrant workers from extraordinarily long work days and dangerous working conditions. These are two examples of several.
Despite these caveats Democrats are heartened by the possibility of a coalition with the IDC and hope that if these bills come to the floor that a number of them will enjoy some Republican support. But, they acknowledge Republicans may work in lockstep to defeat key legislation and weaken the new coalition.
During an interview on Wednesday with The Capitol Pressroom's Susan Arbetter, Klein focused on the idea that not all Democrats support issues like campaign finance reform, a woman's right to choose, and The DREAM Act. He dodged a question on whether Senate Democrats should no longer be considered "dysfunctional."
An IDC spokesman did not return a Gotham Gazette request for comment.
"We have to elect Democrats who support the issues the IDC stands for," Klein told Arbetter. "It's very clear it's not just about a Democratic majority; its about getting the things done that the IDC wants to get done." Klein noted that all members of the IDC support issues like a woman's right to choose and The DREAM Act.
Klein dodged questions about whether the IDC will be involved in challenging sitting Democrats, but said, "We are going to have a litmus test on who we support" and cited that candidates they back would have to support campaign finance reform, The DREAM Act, and other progressive issues.
McKee acknowledges that Klein's possible coalition with the Democrats isn't making it any easier to challenge him. "Fundraising is never easy with tenants," said McKee. "We don't have any money." But McKee feels that tenants need victories in the Legislature this year or more working families will find themselves unable to live in the city. "The real estate lobby is working very hard on this. There is nothing stopping them from jacking up the rent. I have three friends who have packed up and left the city."
***
by David King, Albany editor, Gotham Gazette
@DavidHowardKing