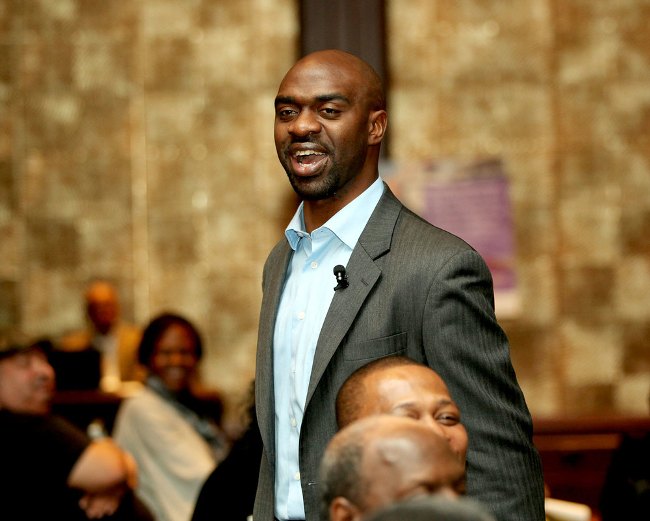 Michael Blake (votemichaelblake.com)
---
Michael Blake, a Democratic candidate for State Assembly in the Bronx and former aide to President Obama, is submitting what his campaign is calling a record-setting and "historic" fundraising filing to the New York State Board of Elections Tuesday.
According to information from his campaign, Blake will report having raised over $160,000 for his campaign to fill the now-vacant 79th Assembly District seat, last held by Eric Stevenson, who was forced to leave office earlier this year after being convicted on four counts of bribery. Blake's campaign is touting the three-month fundraising total as a sign of widespread support and enthusiasm about the candidate, who is a veteran of both Obama presidential campaigns and known as a strong organizer and public speaker. According to the campaign, the $160,000 Blake has raised is virtually what was raised in sum by the last three winning campaigns for the seat. It also dwarfs the filings of Blake's current competitors: another candidate, George Alvarez, has reported raising just over $41,000, with slightly more than $25,000 on hand. Marsha Michael, an attorney being backed by much of the Bronx political establishment, filed having received just under $33,000 in campaign donations, with slightly less than $23,000 cash on hand. The fourth candidate in the race, Raul Rodriguez, reported raising $70, with $30 on hand. The candidates head toward the Septmeber 9th primary looking to turn out votes in a district that has been marred by corruption and is home to deep poverty and low voter turnout.
Blake, looking to seize upon his childhood roots in the Bronx, experience working on the Obama campaigns, and the strength of his personality, enters the final eight weeks of the campaign with a decided advantage in money to spend getting out his name, face, and message. It seems that only a candidate with Blake's national network is capable of bringing this kind of money to a Bronx assembly race, and Blake promises to leverage that network to bring resources to the district and the borough if he is successful in his bid to fill the seat. As for the fundraising, the Blake campaign says that "the vast majority" of campaign donations came online and were under $200. A statement from Blake's campaign Tuesday says that the fundraising haul has allowed him to run "a spirited grassroots campaign and reach thousands of voters." Blake said by phone that he has run his campaign in the mold of the Obama's, with strong online appeals, a broad network of support, and an impressive fundraising total. He said that it has allowed him to spend money up front on "building a grassroots field infrastructure including a campaign field office, lit, and staff." None of the other campaigns immediately returned request for comment.
In a statement, Blake said, "People have responded to the idea that we can make The Bronx someplace to be proud of and accomplish it together. I know the spirit and the resolve of the people in The Bronx, and I want to help lead them to a better tomorrow. Today's milestones make me feel like that is possible, and I look forward to leading this campaign to victory."
A previous representative of the 79th Assembly District, Michael Benjamin, reacted to news of Blake's fundraising total with a laugh that indicated being impressed, "That's a lot of money for a New York City Assembly campaign," Benjamin said by phone on Tuesday. "He was true to what he said he could do, which is raise money. It will get him a lot of mail touches. When you're a first-time candidate, it will help him quite a bit. He needs to become the name they know, by the time they go to the polls on Septmeber 9th, to have the Blake name in their head."
When asked if it would make Blake the favorite, even against the County-backed Michael, Benjamin said that if Blake can survive a likely challenge to his meeting the residency requirements to be on the ballot, he will be formidable, especially in light of the fundraising filing. "It'll even the playing field, especially for him running against the County candidate," Benjamin said. "It makes him appear more legitimate in the eyes of leaders in the area, whether it's clergy or other leaders in the community who might not be disposed to a county-backed candidate."