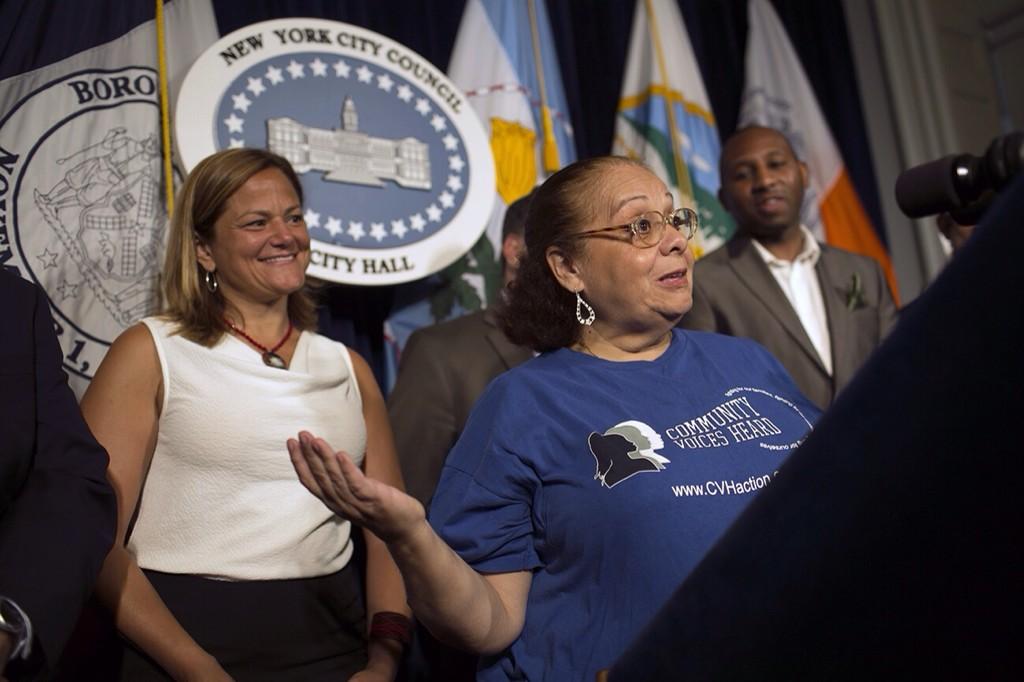 Agnes Rivera of Community Voices Heard at Wednesday's press conference (William Alatriste)
---
NEW YORK — In the three years since being introduced in the city, participatory budgeting's popularity among both city council members and their constituents has grown. This year, 22 council members will implement the program in their districts, more than doubling the number of members who will allow their constituents to directly decide how to spend roughly $1 million in capital funding.
The process allows youth (age 16 and up) and non-citizens, groups not part of the typical voting process, to engage in their communities in ways never done before. The engagement, praised by community groups, allows residents to become more invested in how their tax dollars are being spent and neighborhoods improved.
Participatory budgeting (PB) is a transparent process from the initial meetings each cycle where the process is explained and ideas are pitched, to when ballots are cast and project winners selected. But once the ballots are cast and winning projects announced, finding out where approved projects are in the completion process is less transparent.
Because all participatory budgeting initiatives are capital projects, many involve construction of one kind or another. Some, particularly those that need design and procurement, can take years before anything is actually built. Each type of project and each agency involved has its own set of criteria and steps to getting shovels in the ground - parts of the process not regularly made public. The Parks Department, which has been ridiculed for having a particularly slow capital process, announced it would be adding project status tracking to its website this summer (as of this post, it had not been added).
The City Council launched a new participatory budgeting FAQ web page on Wednesday, but there is currently no central page on the Council website that displays a list of approved participatory budgeting projects and the status of each in the completion process.
On Wednesday when announcing the major increase in council participation in PB, Council Speaker Melissa Mark-Viverito acknowledged the lack of a tracking system as a challenge, but added it is something she wants to see to make the process more transparent.
For now, she said, it is up to individual council members to interact with agencies to ensure the money allocated is being spent properly.
On his website, Council Member Brad Lander, who along with the speaker and two other colleagues has implemented participatory budgeting since its first New York City cycle, keeps a status update of all of his district's approved projects. Lander said he keeps tabs on the projects by checking in with each agency and gives updates to the site when he has them. Lander's site and system is the exception, not the rule, though.
Technology Fix?
The Participatory Budgeting website currently has an interactive map that shows the winning projects, in addition to proposed projects that didn't make it through. Constituents unable to make the meetings in their district can propose a project and even comment on other projects.
The map was build by a local tech company, Open Plans, which has also built maps for the city's Department of Transportation. The PB map lists location, description of the project, and cost, but not a status of the project.
Frank Hebbert, director of Open Plans, said adding status information would be possible, so long as the data was provided. He said the easiest way to pull that information into the map is to have it on the City's open data portal. Hebbert suggested pulling the capital project information, such as when an agency gives approval, for all city projects, not just those funded by PB.
"Council members could use the data to find out what's going on [with their PB projects], advocates could use it, we could use it [for the map]," Hebbert said by phone Wednesday. "The same data would serve multiple uses."
Speaker Mark-Viverito said the Council has been engaging with city agencies about making that information more readily available, but conversations are ongoing.
As with most government processes, getting from the current space to the ideal situation is much more complicated than a press of the button. Processes would need to be formalized, standardized, and centralized. While not impossible, it is a big task involving many moving parts.
Up until now, the motivation to take on such a chore has not necessarily existed. But with nearly half the City Council implementing PB and ever more New Yorkers emotionally invested in capital projects in their own neighborhoods, perhaps PB will be a catalyst for further change.
***
by Kristen Meriwether, Gotham Gazette
@MeriwetherK