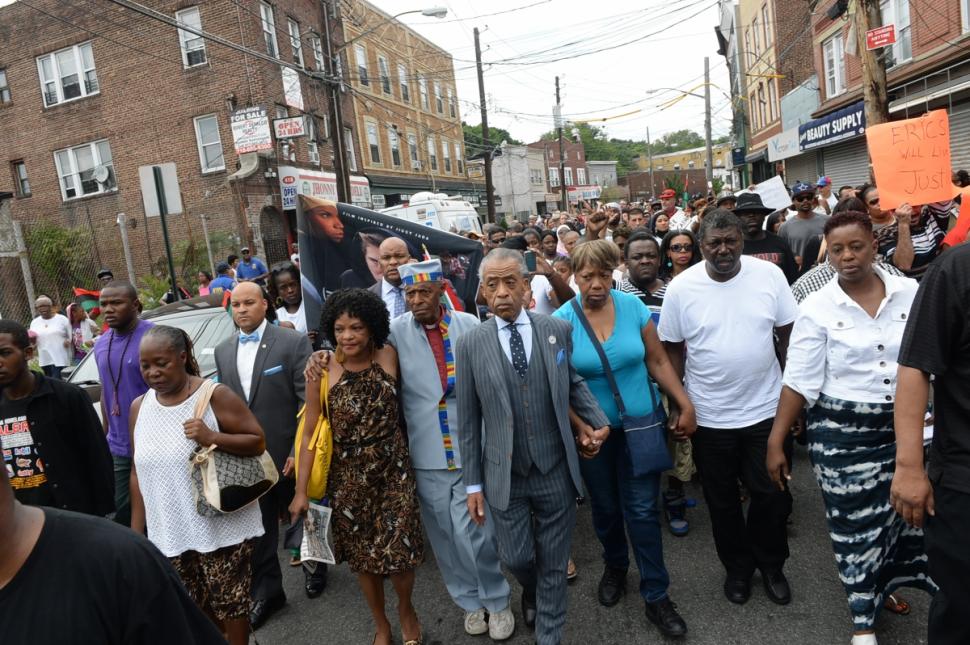 A march after Eric Garner's death (photo: @NationalAction)

---
The tragic death of Eric Garner, 43, while being arrested on Staten Island last Thursday has led to renewed scrutiny on the use of chokeholds by members of the NYPD. While chokeholds have been fully banned by the NYPD since 1993, one was used on Garner by police officer Daniel Pantaleo during the altercation that led to Garner's death. As questions are raised about charges that might be brought against Pantaleo, New York City Council Member Rory Lancman is offering his proposal for what the Council should do to close gaps between the NYPD ban on chokeholds and New York law.
In an op-ed published today in New York Law Journal, Lancman, an attorney and former member of the state Assembly, and his counsel Daniel Pearlstein offer two ways in which the City Council could pass legislation aimed at both further discouraging the use of chokeholds by police officers and civilians and making prosecution of those who use them more likely and potent. The authors were spurred, they write, by the "operational failure" of the NYPD to stamp out chokeholds twenty-plus years after their ban and the "legal system's failure to effectively deter chokeholds."
The first suggestion by Lancman and Pearlstein is for the City Council to simply write a local law that prohibits the use of chokeholds. Base the law on the NYPD's internal rules which ban chokeholds altogether, and make their use a misdemeanor offense, the two write. Currently, even a recently enacted (2010) state law aimed at preventing and criminalizing chokeholds "requires proof of intent to obstruct breathing or blood circulation."
Lancman and Pearlstein's second suggestion is "broader," the authors write, as it is for the Council to close a loophole in state law by creating a "new municipal offense of criminally negligent infliction of physical injury." According to Lancman and Pearlstein, this would give prosecutors "a new tool" to deter the use of chokeholds and other restraints that put people at great risk of harm, including death. As is, state law "fails to capture the unacceptably risky and unpredictably harmful consequences of submitting someone to a chokehold."
[Related: Lancman on Chokeholds, NYPD: Going to see 'whole series of bills']
To arrive at their proposal, Lancman and Perlstein trace the history of major chokehold-related cases in New York over the past thirty years as well as relevant aspects of NYPD protocol and New York law. Of special focus is the 1994 case wherein Anthony Baez was choked to death by police officer Francis Livoti in the Bronx. Lancman and Perlstein offer that the Livoti case offers a challenging "road map" for the Staten Island district attorney in his investigation of Garner's death.
Analyzing legal precedent around the use of chokeholds and anticipating charges against Pantaleo being filed, Lancman and Perlstein identify key places by which the NYPD patrol guide, state law, and federal law do not align. They then offer ways in which the City Council can legislate to bridge those gaps and thus, they argue, decrease the likelihood that chokeholds will be used and that those who use them and cause serious injury or death will go without sufficient punishment.
In the aftermath of Garner's death, police commissioner Bill Bratton has promised to review NYPD training around how officers take people into custody. While local investigations into the circumstances of Garner's death and the actions of police officers and EMTs on the scene are ongoing - it also appears evident that a federal probe into Garner's death is likely.
A husband and father of six, Eric Garner was laid to rest on Wednesday evening during an emotional and charged ceremony on Staten Island.
[Related: Lancman on Chokeholds, NYPD: Going to see 'whole series of bills']
***
by Ben Max, Executive Editor, Gotham Gazette
@TweetBenMax
@GothamGazette