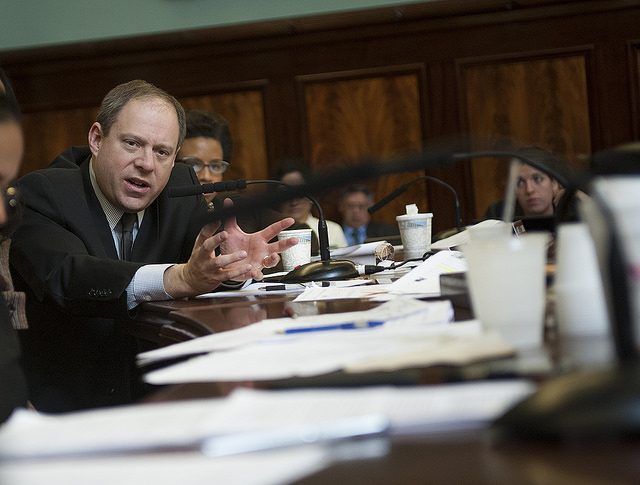 City Council Member Rory Lancman, of Queens (William Alatriste)
---
"We're introducing both," Council Member Rory Lancman said by phone Friday morning of two bills aimed at stopping the use of chokeholds by members of the NYPD.
After outlining the proposals in an op-ed for New York Law Journal, Lancman said that legislative requests have been put in on the bills that would make the use of chokeholds illegal in New York City and create a "new municipal offense of criminally negligent infliction of physical injury." This means that Council bill drafters will work on the language of the bills, including through dialogue with Lancman's office and assessments of any concerns around constitutionality, conflict with state law, and perspectives of other experts and affected parties. Lancman said that he is not sure the bills will be ready by the Council's next full-body stated meeting in August: "These are complicated legal issues," he said, "we must get it right, if we don't we aren't moving the ball forward."
Lancman, who is a trained attorney and has practiced law for years, also said Friday that he is looking at introducing a third chokehold-related bill and that he expects to "see a whole series of bills that council members put in."
"After Vanessa [Gibson, the council's public safety committee chair] holds hearings, I'd be surprised if there weren't a whole package of bills introduced," he explained.
The third bill Lancman plans to file a drafting request for is modeled after a Los Angeles law "related to reporting requirements." This bill will require greater detail from the NYPD regarding physical interactions with people officers arrest, Lancman said. "LA has a more detailed, more helpful reporting scheme for its police department, which allows policymakers to track use of force incidents better."
Lancman said he always views the introduction of a bill as "the start of a conversation" and noted that he expects that with ongoing discussions with council Speaker Melissa Mark-Viverito, additional council members, and other stakeholders, the bills he's proposing will be worked into effective law. Those other stakeholders, Lancman said, will include the NYPD and law enforcement unions, New Yorkers who have been affected by chokeholds, and advocacy groups.
The Garner Case
Of course, it is the death of Eric Garner that has spurred renewed scrutiny of the use of chokeholds by the NYPD - a practice which has been banned for over twenty years. In the case of the officers involved in Garner's death, which occurred during an arrest where a chokehold was used, Lancman expects legal action.
"I would be surprised if charges were not filed [against the officer] based on my review of the video and Commissioner Bratton's conclusion that a prohibited chokehold was used," Lancman said.
He added, "I'm not a cheerleader for prosecuting people, I'm just analyzing what I've seen and what I understand the law to be."
Lancman hopes that what he is offering through his article, which not only discusses planned legislation, but analysis of legal precedent around chokehold cases, will help the Staten Island district attorney's office in its investigation of the Garner case.
On the subject of other officers and EMTs on the scene where Garner died, Lancman said, "Everybody involved in the arrest has potential exposure to criminal liability. The criminal law doesn't penalize chokeholds per se, but rather the excessive use of force. Where the hammer might fall on individual officers, I can't predict, as you radiate outward from the officer who used the chokehold. But, I would think everyone on the scene there should probably get a lawyer, figuratively speaking."
***
by Ben Max, Executive Editor, Gotham Gazette
@TweetBenMax
@GothamGazette