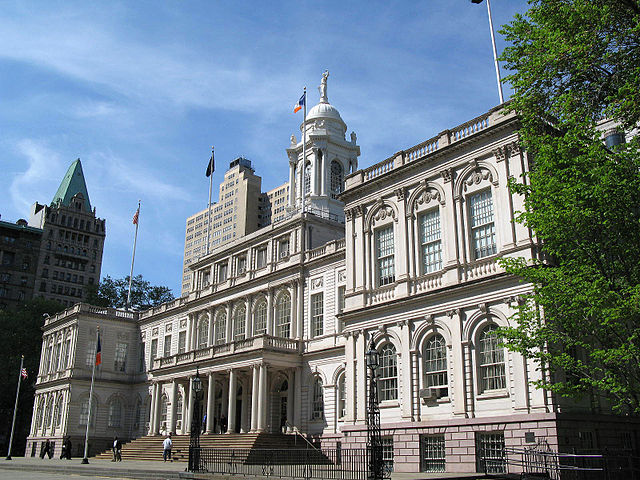 New York City Hall
---
What to watch for this week in New York politics:
Controversy is never far away when you're the Governor of New York or the Mayor of New York City. Old friends Governor Andrew Cuomo and Mayor Bill de Blasio know this well, of course, and each finds himself in the eye of a storm as this week begins.
The two men and many others actually begin the week awaiting word from a couple of government prosecutors:
The governor is in the midst of what is pretty clearly the most difficult stretch of his tenure. With his re-election bid at play, the governor is slogging through a mess of his own creation related to his starting, disbanding, and meddling in his Moreland Commission to Investigate Public Corruption. While the governor recently more or less said that no one should expect further comment from him on Moreland, watchers await word from U.S. Attorney Preet Bharara, whose office is investigating the interference in the commission's work by the governor's office. Meanwhile, the governor's opponents (both for primary and general election) are quite unlikely to be quiet on the matter. Both Democrat Zephyr Teachout and Republic Rob Astorino will surely look to continue slamming the governor over his handling of Moreland (as Republican attorney general candidate John Cahill will keep doing with regard to incumbent AG Eric Schneiderman over his involvement and subsequent response).
Just tonight, the Wall Street Journal is reporting that "Larry Schwartz, the highest-ranking aide to New York Gov. Andrew Cuomo, has agreed to voluntarily meet with federal prosecutors this month as their investigation into the disbanding of an anticorruption commission intensifies, a person familiar with the matter said."
The mayor is dealing with the aftermath of the death of Eric Garner, which occurred July 17th during Garner's arrest by officers of the NYPD. How much this controversy is of the mayor's own making is up for debate. Last week de Blasio returned from Italy to quite a bit of attention on the Garner case and the use of broken windows policing, and the week closed with the medical examiner ruling that Garner died via homicide by the chokehold one officer had placed around his neck. What the mayor and his police commissioner Bill Bratton might say or announce this week is unclear, but many are awaiting further word from the two leaders as well as word from Richmond County (Staten Island) District Attorney Dan Donovan about his office's investigation into Garner's death and any charges that might be brought against the officer who administered the chokehold on Garner. There is also the question of a federal probe. Stay tuned.
According to his public schedule released Sunday evening, the mayor starts his week meeting with state Senator James Sanders at City Hall. And, Monday evening, "the Mayor will speak at the Los Angeles Universal Preschool Dinner in Manhattan."
The mayor is expected to sign certain bills recently passed by the City Council into law this week, including one related to publishing the City Record online in machine-readable format. This is expected on Thursday, though it is unclear if that is set yet or which other bills may be signed into law.
Meanwhile, City Council Speaker Melissa Mark-Viverito and a small council delegation are back after a week in Taiwan. It's another slow week at the Council in terms of committee meetings and there are still two weeks until the Council's next full-body meeting. Council members continue to be busy in their districts or on summer vacations.
As usual, there are several one-off events to keep an eye on this week and plenty is sure to pop up. A lot to keep an eye on in terms of 2014 New York State elections: Tuesday marks FIVE WEEKS UNTIL PRIMARY DAY!
Peruse below to see a few items that might not yet be on your radar - and as always, be in touch with us in advance if you have items for us to include in future Week Ahead publications (email This email address is being protected from spambots. You need JavaScript enabled to view it. with relevant information).
The run of the week in more detail:
Monday
City Comptroller Scott Stringer begins his week with three events in the Bronx: according to his public schedule, Stringer has an interview with Bob Lee on Bronxnet's "Open," a meeting with the Westchester Square BID, and a visit to R.A.I.N. Parkchester Senior Center.
On Monday morning, New York organizations and businesses can purchase .nyc domains. Gotham Gazette previously wrote about the concept, the process, and the criticsms involved.
Monday evening features the monthly New York Tech Meetup (NYTM), 7pm at NYU: "Join fellow technologists for an evening of live demos from companies developing great technology in New York." See event details for the lineup of companies presenting. This NYTM comes on heels of the July 22nd Tech Talent Summit, held in partnership with City government and jointly organized by NYTM and other partners.
The mayor's office recapped the event noting that reps of over 75 community organizations, tech companies, foundations, and elected officials gathered "to discuss the future of the City's workforce development and its Tech Talent Pipeline."
Tuesday
As we mentioned, Tuesday marks five weeks until primary day! Get up to speed on the 2014 New York State elections through our Gotham Gazette Election Center.
On Tuesday, Green Party lieutenant governor candidate Brian Jones speaks at Riverside Church at 7 p.m. - part of the Uptown Hawkins/Jones Campaign Committee hosting "A Platform 4 the 99%." The public event will include a discussion of political representation, grassroots movements, and reform with Jones, as well as Nikole Gellineau, parent activist against police brutality and mass incarceration, and Karen Sprowal, public education parent and activist.
Also on Tuesday, Zephyr Teachout, Democratic candidate for governor, is hosting a rally on the Ossining Waterfront.
Tuesday is also slated to be the next public meeting of the New York City Voter Assistance Advisory Committee at 5:30 PM. The agenda for the meeting will be posted on the @NYCVotes feed on Monday.
Tuesday is the National Association of Town Watch (NATW) National Night Out. The event, which occurs across the country, will include a variety of anti-crime rallies in precincts throughout the City. To find out more about the event in your area, contact your local police precinct.
Wednesday
On Wednesday evening, the New King Democrats are hosting "Hangout With Teachout." The event will include a discussion of the upcoming gubernatorial primary. Zephyr Teachout, as well as other 2014 candidates, will be present.
Wednesday evening will also see Brooklyn Unites for Israel Rally/Concert, 6 p.m. at Asser Levy Park. Assemblyman Steven Cymbrowitz is co-sponsoring the event. Sponsors also include the Jewish Community Relations Council of New York (JCRC-NY), the Simon Wiesenthal Center and several others.
Also Wednesday evening is Capital New York's initial "Capital Cocktails" event at The Attic in Manhattan.
And, Manhattan Borough President Gale Brewer hosts her Summer Reception on Wednesday night. The event will be held at the David Findlay Gallery.
Thursday
On Thursday, City and State NY and the AARP are hosting "Boom Town: Why are Boomers Fleeing NYC and What's it Costing Us?" At the event, thought leaders will discuss recent findings from an AARP survey that found that more than half of Baby Boomers plan to leave New York City when they retire.
On Thursday morning in Manhattan, The Osborne Association will release "The High Costs of Low Risk" and host a reporter roundtable discussion focused on the crisis of America's aging prison population, featuring Elizabeth Gaynes, Executive Director, Osborne Association; Brian Fischer, former Commissioner of the New York State Department of Corrections and Community Supervision and Osborne Board Member; and an elderly formerly incarcerated individual.
On Thursday evening, Council Member Mark Levine will host the first District 7 Summer Fair. The Fair will give constituents an opportunity to visit the Council Member's office, learn about the office's services, and to interact with community organizations. There will be music, food, and activities for kids.
Also on Thursday evening, members of the City's government, including Speaker Melissa Mark-Viverito, Public Advocate Tish James, and Council Members Dromm, Miller, Constantides, Gentile, Lancman, and Weprin, will host an Eid ul-Fitr Celebration to mark the end of the month-long holiday Ramadan.
A Political Candidates Forum on Criminal Justice Issues is being hosted Thursday evening by Communities for Criminal Justice Awareness at The New York Society for Ethical Culture, 7 p.m.
Also on Thursday, 76th State Assembly District candidate Rebecca Seawright is having a fundraiser thrown for her in Sag Harbor, NY. The event will feature marriage equality and equal rights activist Edie Windsor, according to Seawright's campaign.
Friday and the weekend
It's the summer so of course Friday and the weekend are sparse - but if you have intel on events, please let us know!
Here's one: On Friday, August 8th, Jesse and Claudia Hamilton will host a "Summer Reception" in support of City Council Member Vanessa Gibson.
***
Have events or topics for us to include in an upcoming Week Ahead in New York Politics? Email Gotham Gazette executive editor Ben Max any time: This email address is being protected from spambots. You need JavaScript enabled to view it. (please use "For Week Ahead" as email subject).
***
by Kristen Meriwether and Ben Max in New York City and David King in Albany
@GothamGazette