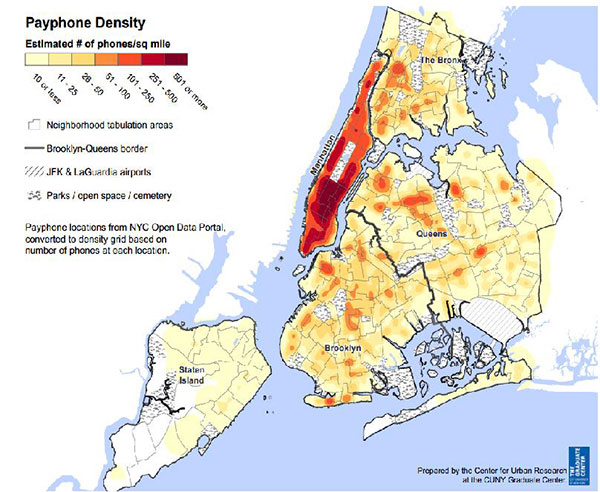 Pay phone density in New York City
---
New Yorkers are one step closer to seeing the city's antiquated pay phones turned into much more useful Wi-Fi hotspots. As the City's Department of Information, Technology, and Telecommunications (DoITT) pours over the responses to its Request for Proposals to select which company will be awarded the contract to implement the transformation, this reporter wondered: where exactly will all the new free Wi-Fi be?
DoITT provided Gotham Gazette with the raw data of pay phone locations and, using the free mapping software CartoDB, we mapped it (see the interactive map below). Not surprisingly, Manhattan has the highest concentration of pay phone installations, with one on nearly every block. With the increased use of cell phones, the majority of pay phone revenue has been coming from advertising sales instead of calls for years. Manhattan is also home to the highest concentration of tourists and office space, making the pay phones prime marketing real estate.
But as you move to the so-called outer boroughs, the density of pay phones decreases. In communities with high poverty such as East New York, East Flatbush, and Brownsville in Brooklyn, pay phones are almost non-existent.
The public Wi-Fi hotspot project, including turning the city's pay phones into free internet hubs, is one way Mayor Bill de Blasio plans to expand internet access to underserved communities. But, with so few pay phones in the areas of greatest need, it is not immediately clear how that will work. In short, the DoITT request for proposals (RFP) accounts for the answer, with new hubs to be built and community leaders deciding where.
There are currently just over 7,300 pay phone installations in the city and the RFP allows for expansion up to 10,000. To ensure that new Wi-Fi hotspots are installed equitably, the RFP requires installation in all five boroughs, not just ad-revenue-friendly Manhattan.
To figure out which spots would best serve a given community, not just the bottom line of the company given the contract, DoITT will take input from city council members, borough presidents, community board members, and business improvement districts about where the new units should be installed.
Once a list of proposed sites has been selected that list will be placed on DoITT's website and open for public comment for 60 days. DoITT, not the franchisee, will have final say in site selection, according to the RFP (it should be noted, though, that these are not the terms of the final contract, but language from the RFP that DoITT will base the contract on when awarding a franchisee).
City Council Member James Vacca, chair of the council's technology committee, said he is committed to ensuring the outer boroughs are not overlooked.
"I intend to work with community boards very closely and, at some point, intend to have an oversight hearing once a successful winner is chosen," Vacca said by phone July 30.
Once a contract is signed, the franchisee will be given four years to complete the installations. The RFP stipulates that the installations must be equitably spread over all five boroughs, but it does not say anything about specific borough locations. Vacca said it would be unacceptable for posh locations to see installations of the hubs without a simultaneous commitment to installations in underserved communities, a situation he will be monitoring.
"I think with proper community outreach and with very robust input from local community boards, I think this can be a win-win, not just for the rich, but for the poor and working class," Vacca said.
***
The interactive map below shows the location of pay phones (each represented by a green dot) using data provided by DoITT. Those points are laid over a map of median income - with areas of lower median income represented by darker color.
Want to see how many pay phones are in your neighborhood? Zoom in on the map and find out!

About the Maps
The map at the top of the article and the two maps place side-by-side directlly above this text were created by Steven Romalewski, Director, CUNY Mapping Service, Center for Urban Research at The Graduate Center, CUNY. The map to the left shows the density of pay phones using data provided by DoITT. The map to the right shows poverty rates using the American Community Survey data provided by the Department of City Planning.
The interactive map shows the location of pay phones (each represented by a green dot) using data provided by DoITT. Those points are laid over a map of median income - with areas of lower median income represented by darker color. The income data set was put together by Ben Wellington, a visiting assistant professor at Pratt Institute who runs the I Quant NY blog.
Concerned there won't be enough free Wi-Fi in your neighborhood when they begin to convert pay phones to Wi-Fi hubs and add new hubs? Contact your council member, borough president, community board and/or business improvement district.
[Related: As City Plans Pay Phone Wi-Fi, Council Members Wary of Monopoly]
by Kristen Meriwether, Gotham Gazette
@MeriwetherK