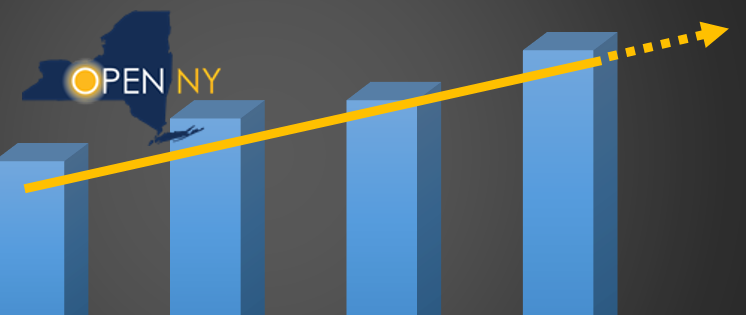 A new report hopes to enlighten Open NY's release of State data
---
In an age where nearly everything is digitized and data collection of all kinds is the norm, there is no shortage of information for governments to publish on open data platforms. But there is no magic button to get information online in clean and usable formats, so governments must decide what data has the highest value to the public.
Determining that can be tricky, but Reinvent Albany, a good government group, recently set out to show the way to making these important decisions. Using Freedom of Information Law (FOIL) requests as key indicators, the group selected the New York State Department of Environmental Conservation (DEC) to perform a case study.
Reinvent Albany submitted a FOIL request to obtain all the FOIL requests received by DEC in 2013, analyzed the results, and outlined its findings in a recently-released report entitled, aptly, "Listening to FOIL." The report shows that FOIL analysis can lead to identifying publicly-desired datasets not yet released.
"We think this is a great opportunity for Open NY and open data initiatives everywhere," Dominic Mauro, staff attorney for Reinvent Albany, said by phone on Tuesday, August 12. "The federal government has been a model for this for a while. Now that there is an open data movement at the state and city level, it seems like a great time to connect FOIL with open data."
DEC received 3,977 FOIL requests in 2013, of which 3,456 were made on behalf of organizations - primarily commercial entities, consultants, or lawyers. Spill incident requests accounted for 2,200 of the queries, despite the fact there is an Spill Incident Database Search on the DEC website. These spill requests may be so frequent because that database is quite hard to find and it does not currently provide as much information as can be obtained through FOIL. Petroleum storage reports, soil and water remediation and inspection records, air quality reports, and landfill reports made up the other 1,777 FOIL requests.
The information available through these information requests is extremely valuable for those seeking to purchase property, and to agents or consultants paid to evaluate property, as evident by the number and sources of the FOIL requests. It is data not currently on Open NY, the state's open data portal.
"FOIL is a good indicator for what the public is looking for," said Rachael Fauss, director of public policy at Citizens Union, another good government advocacy group. Fauss suggested the State look not only at FOIL records, but also catalogue all its information and allow members of the public to have more straighforward input on what they feel is important.
Both moves could not only give people information that they want, but could save taxpayers money.
"If government employees are spending all this time getting the same thing over and over and sending it to people, not only would creating it proactively online reduce the drain on government resources, but it would also be easier and faster for the public to get the information they are interested in," Bill Mahoney, of good government group NYPIRG, said by phone Tuesday.
The Reinvent Albany report indicates that DEC could reduce FOIL requests by 50 percent by publishing frequently FOIL-ed data. The report does not estimate a monetary cost savings.
There are some indications the State is at least open to using FOIL logs to determine what data to put on its portal. Executive Order 95, signed by Governor Andrew Cuomo in March of 2013, requires FOIL officers be consulted to provide guidance "on setting a schedule for initial and ongoing publication of data" to Open NY.
On November 6, 2013 the Open Data Handbook, a guidebook for agencies making data public, was released and had several references to using FOIL requests to determine what data should be put on Open NY.
"If the dataset is the type that is requested through FOIL on a recurring basis, then the agency may reduce duplication and obtain efficiencies by posting data on data.ny.gov," the Handbook stated.
A second reference stated, "These [FOIL] requests (particularly repeated requests for the same dataset) might be fulfilled by making the dataset(s) available on data.ny.gov."
These prior references and trends in open data, along with the new Reinvent Albany report, provide reason for optimism. Gotham Gazette reached out to Gov. Cuomo's press office, the DEC press office, and Barbara Cohn, the New York State chief data officer, to find out if there are plans to implement utilizing FOIL to inform open data releases. Multiple calls to each were not returned.
***
by Kristen Meriwether, Gotham Gazette
@MeriwetherK
Note: Gotham Gazette is published by Citizens Union Foundation, the sister organization of Citizens Union