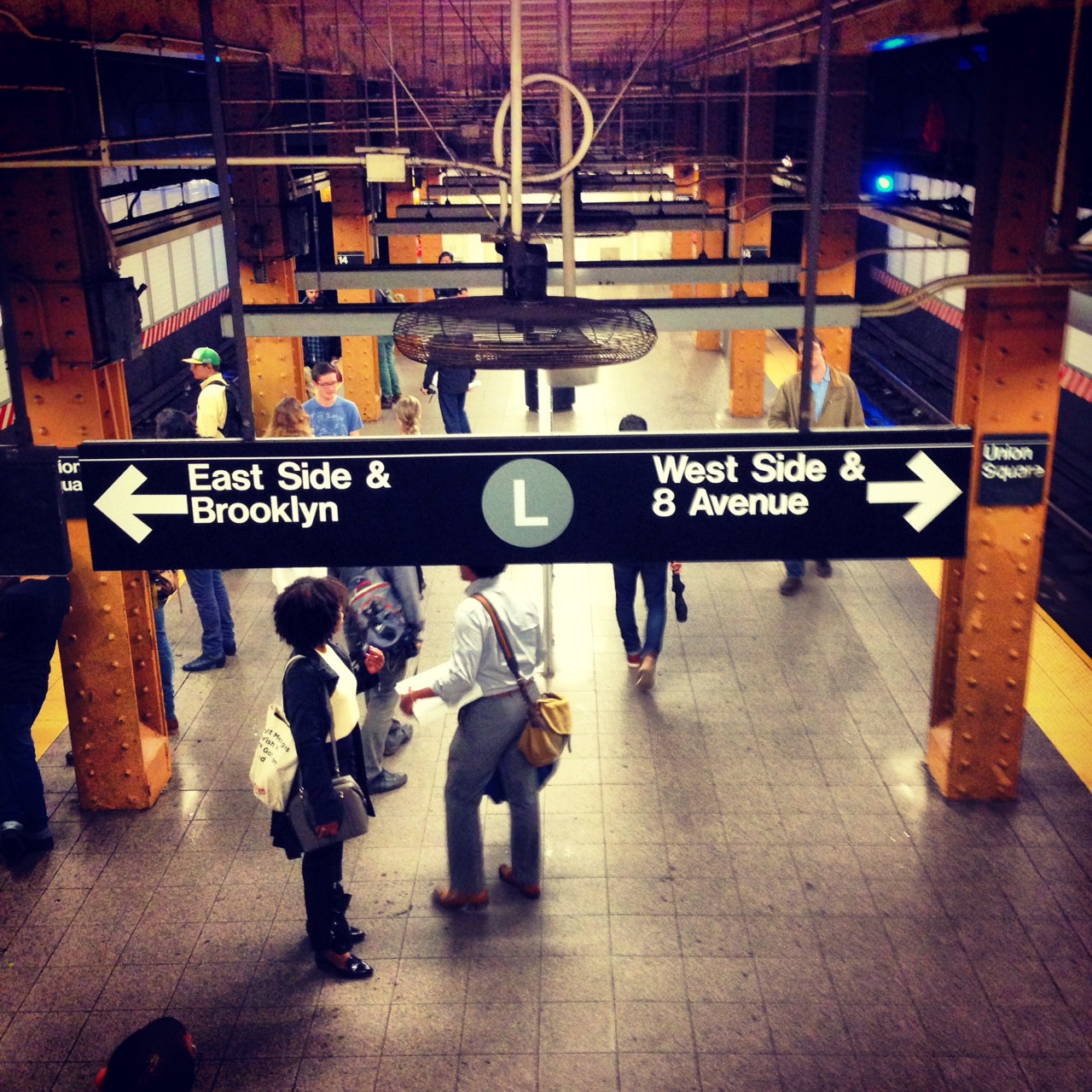 The L (all photos: Cody Lyon)
---
Almost every New Yorker has at least one horror story about riding the subway. With tales of infrequent arrivals, long mid-trip waits, crowded cars - and much worse - bad subway experiences are a major component of many a New York City conversation.
This month, it's G train riders who may be the most frustrated as the line is shut down for five weeks, from late July to early September, in order for repairs to be made. Though that dubious honor could also go to riders of the 2, which was just ranked the worst line in the city by the 2014 State of the Subways Report Card, performed by the NYPIRG Straphangers Campaign.
But, as much as city residents may complain about particular lines, brutal commutes, and more, the century old system run by the Metropolitan Transit Authority (MTA) is a testament to great ingenuity and access. While frustrating at times, the New York City subway system is extensive, efficient, and the fundamental transportation backbone of the nation's largest, most diverse, and most economically-vibrant city. Not to be overlooked, it also runs 24 hours a day and is inexpensive compared to those of many other major cities.
In large part because of its positive characteristics, the New York City subway system is now more burdened by ridership than ever before and the platforms, tracks, and signals mostly hidden inside dark tunnels that enable trains and their riders to traverse across the five boroughs are in constant need of repair. Updating aging infrastructure is expensive, of course, and comes with shutdowns, reroutes, delays, and their accompanying aggravation. Addressing subway infrastructure is also beholden to constantly challenged state funding and a stale internal bureaucracy that must negotiate with powerful unions. All told, many factors contribute to limit the MTA's ability to provide optimal service.
More and more, though, riders are taking matters into their own hands, and new advocacy efforts are pushing elected officials and the MTA to be more responsive, including by conducting an increasing number of thorough assessments known as "full-line reviews."
The city's transit advocacy community recently welcomed a new group to the fold. The coalition seeks to bring positive change through grassroots activism, taking a neighborhood-by-neighborhood approach. On the street and below in subway stations, in living rooms and elsewhere, concerned transportation advocates are rallying troops, soliciting rider feedback, and crafting and spreading their message of change.
Funded by member donations as well as grant money from organizations such as the Fund for New York City, Riders Alliance sprang onto the scene in 2012. Rather than focusing on the largesse of the complicated $13 billion MTA budget, the group takes a more localized approach, subway line by bus route, ridership issue by ridership issue.
"Our approach is to break it down to the community level and identify improvements we can win that will really resonate in people's lives," said John Raskin, executive director of Riders Alliance.
Through grassroots activism, Riders Alliance seeks to successfully pressure state and city officials to demand that MTA resources not only deliver service more efficiently and comfortably, but also make the necessary investments in readily available technology that could fundamentally transform the system altogether. The group has worked closely with state Senators Daniel Squadron and Martin Dilan, among others, to lobby the MTA. Raskin is former chief of staff to Squadron and the two continue to collaborate on transit initiatives.
Thus far, they've seen positive results. The most recent victory, an MTA promise to conduct full-line reviews of the notoriously irregular A and C subways. The A and C tied for next-to-last in this summer's straphangers rankings, just barely ahead of the 2 (the 7 is ranked best line in the city).
Among other victories Riders Alliance counts as its own over the past two-plus years: more frequent bus service in Astoria and Long Island City; station improvements for N and Q line riders; and additional services for commuters impacted by R and G tunnel construction. Riders Alliance teamed up with the NYPIRG straphangers campaign and several elected officials to win $18 million in funds that restored bus and train service cut in 2010 due to recession-related budget constraints.
This past June's A and C full-line review announcement came after a months-long effort to get better service on the C train. A full-line review, as it sounds, is essentially a complete and extensive check up of a particular subway or bus line. In the past, the results of full-line reviews have led to marked improvements in service.
Raskin discussed one of the group's first big campaigns, the effort to bring more frequent service to the G train after its own full-line review. The G had first been identified as a problem line by many of Riders Alliance's original members from Brooklyn and Queens. With its shorter trains, sporadic service, and status as the only line that doesn't cross into Manhattan, the G had been reduced to the butt of jokes, but an object of rage for Brooklynites and Queens residents who depend on its inter-outer-borough service.
It was the G train Riders Alliance campaign that first introduced one New Yorker to transit activism and she's now one of the group's most active members.
One autumn morning in 2012, Tolani Adeboye was standing on the subway platform at the Myrtle Willoughby station in Brooklyn where she catches the G to her job at the New York City Department of Education. Adeboye was approached by a Riders Alliance member and asked if she'd be interested in signing a petition to bring more frequent service to the G. She was also asked if she'd like to attend an upcoming Alliance meeting.
Adeboye, a Washington, D.C. native, says she'd never been much of an activist. She'd always had a casual interest in mass transit and was disgruntled by G line service, though, and the inquiry piqued her interest. A New Yorker for seven years, five of those spent riding the G, she'd come to realize just how critical a working transit system is to New Yorkers.
"When you live here, and you see how much you and your neighbors rely on it, it hits home in a different way," she said over the phone.
Despite low initial expectations for any tangible outcome, she started attending Riders Alliance meetings and events.
"I honestly thought I'd meet cool people, do something besides complain, and learn something about grassroots organizing - and maybe, the MTA will pay a little bit of attention," Adeboye said.
But it wasn't long before she began to believe the diverse group of commuters actually knew how to run an advocacy campaign. Adeboye and others saw the Alliance getting a wide variety of people interested, then involved at the neighborhood level. By providing New Yorkers with the opportunity to take action in response to their daily frustrations, the Alliance has shown broad appeal.
Riders Alliance's G campaign lasted several months: members held rallies, earned media attention, and enlisted the efforts of local politicians and other transit advocacy leaders. By April 2013, the MTA agreed to do a full-line review of the G - one which led to both increased service and the current shutdown for repairs, some of which are related to damage incurred during Superstorm Sandy.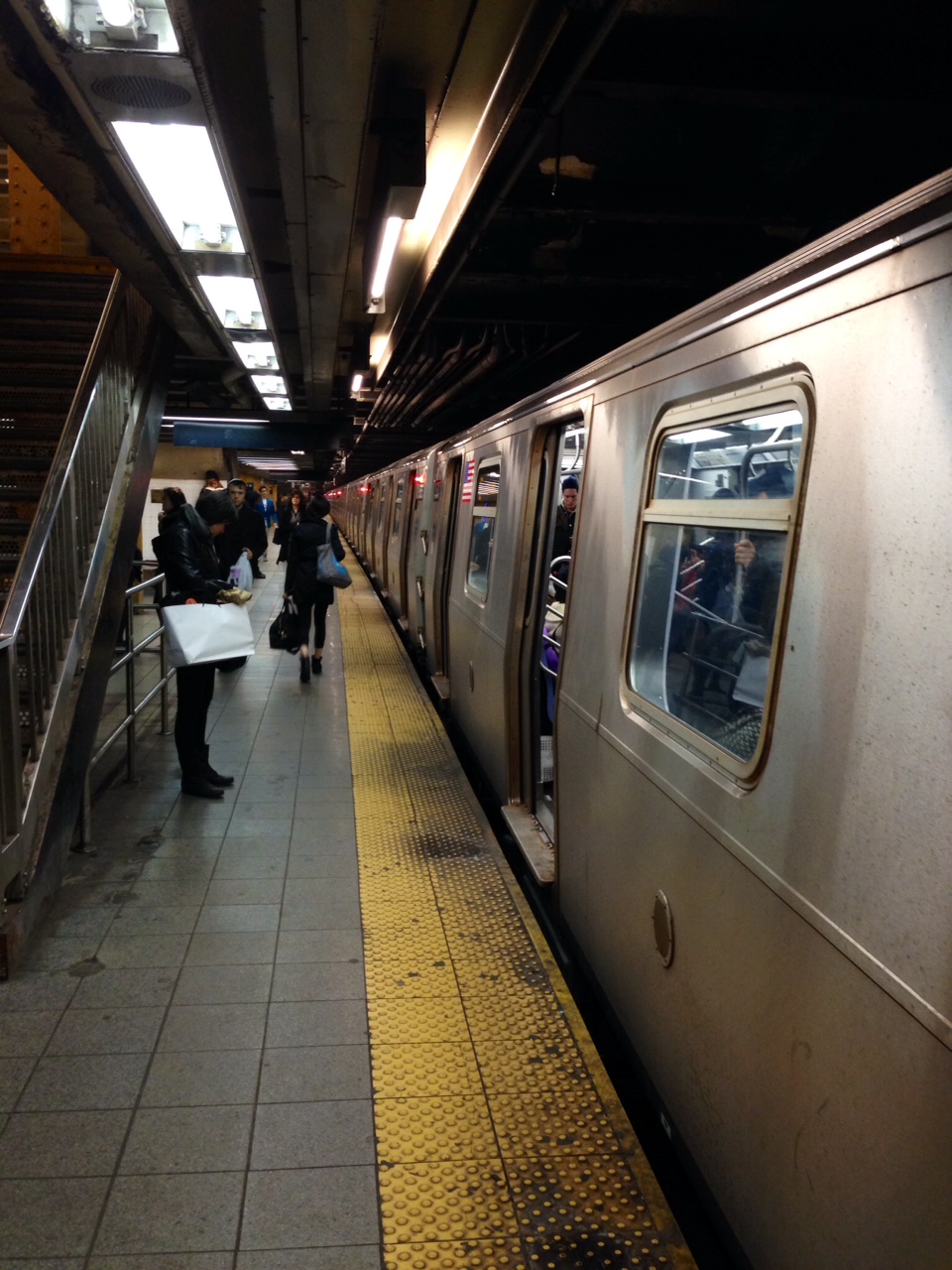 Chairman of the MTA Thomas Prendergast has said in the past that he supports an eventual full-line review of every line in the system and many activists have encouraged the chairman to make that happen.
However, MTA spokesperson Kevin Ortiz told Gotham Gazette that each full-line review is a massive long-term undertaking. Ortiz said the reviews require a significant number of staff and good deal of money. Those staff come from both the MTA's planning and operating units, financing is always a major challenge, and the reviews can not be performed quickly.
"The A and C line review is something that will take some time. We can't start that right away, so it will probably get completed at some point in 2015," said Ortiz.
Ortiz added that the cost alone would prevent any comprehensive review of all subway lines in the immediate future.
"That's just not going to happen," he said.
Explaining that a full-line review requires the MTA to examine every aspect related to a line's operation, Ortiz detailed that this includes ridership, infrastructure, scheduling, and service design down to the efficiency of shared trackage with another line.
The MTA capital program's sole job is to keep tabs on and maintain the system's infrastructure. Capital program staff examine every aspect of the physical system; detail the last time tracks or signals were replaced; perform structural tests on tunnels; and examine elevated tracks. "They are the people who go out and do the inspections and determine if work gets done on a certain corridor of track or tunnel," explained Ortiz. Afterwards, he said the MTA figures out what it can do in terms of quick fixes or, as needed, looks at dedicating more ample resources from the multi-billion dollar capital program.
In late July, State Comptroller Tom DiNapoli said that his office had determined that the MTA may very well be facing a funding gap of over $12 billion over the next five years. The Authority has outlined capital project needs of $26.6 billion for 2015-2019, but DiNapoli notes that adjustments to spending expectations will almost surely have to be made as the MTA's 2015-2019 five-year plan is formally established and executed.
Meanwhile, the MTA's planning unit measures the actual intervals between arriving trains; checks the passenger environment; and assesses cleanliness of cars and stations. Ortiz added that the planning unit watches ridership levels and can make scheduling adjustments if it observes a consistent spike at a given time.
The most significant full-line reviews the MTA has performed thus far were of the G, F, and L lines, according to Ortiz. Once the review of the G was complete in July 2013, the MTA released the results and agreed to make tangible improvements, not the least of which was a 25% increase in daily afternoon and evening service.
That left commuter and Riders Alliance member Adeboye with a new sense of optimism, accomplishment, and enthusiasm. "When I'm standing there at rush hour and that train is arriving on a much more regular basis, sometimes I want to turn around to people on that platform and say, 'You're welcome,'" she said, laughing.
Recently, Adeboye found herself testifying at City Hall, advocating on another Riders Alliance issue, pre-tax transit benefits. In one of its ongoing efforts, Riders Alliance is pushing for passage of City Council Member Dan Garodnick's Affordable Transit Act, which would mandate that companies with 20 or more employees offer workers the ability to purchase metrocards with pre-tax monies.
Riders Alliance's Raskin is quick to acknowledge that for most New Yorkers, public transportation is a huge and complicated issue, but that the organization seeks to identify more tangible targets. "Sometimes people get alienated from getting involved at the activist level because it feels like too big an issue to tackle," he said. "It's not an approachable issue that a lot of people can take time to wrap their heads around." Which is why, Raskin says, the group often takes a more hyper-local approach to issues.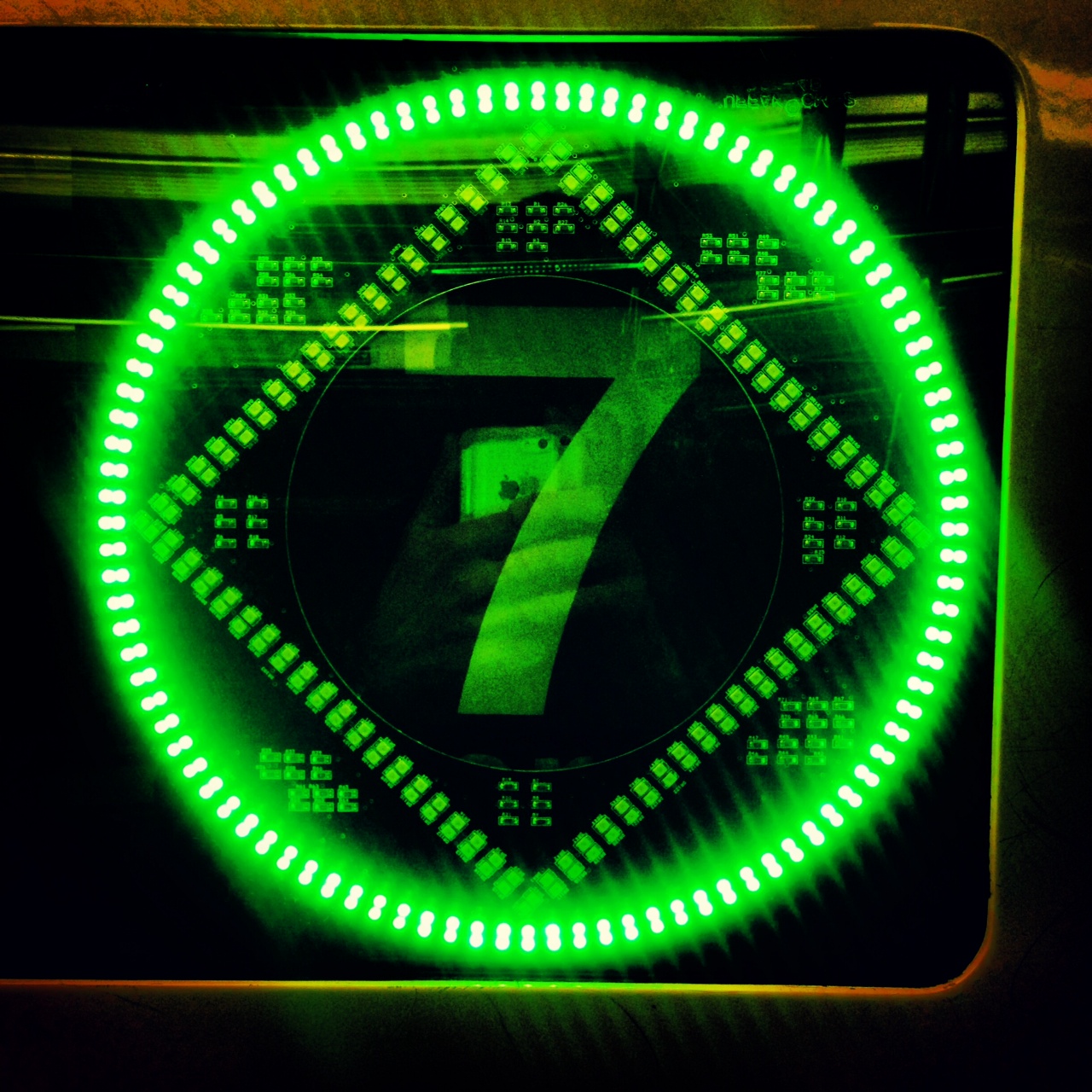 Much to the dismay of transit advocates, this past April the State took $30 million of unexpected surplus funds from the Mass Transportation Operating Assistance Fund. The money, revenue from MTA-dedicated taxes, was meant to be used to defray State underwriting costs for billions of dollars in MTA capital budget debt.
Originally, Governor Andrew Cuomo had intended to take $40 million, but Riders Alliance, Sen. Squadron, and Assembly Member James Brennan lobbied that the funds remain dedicated to the MTA. They were able to re-secure $10 million and the group declared a victory, but it was clearly a bittersweet one, if any.
According to analysis from Riders Alliance and The Straphangers Campaign, that $30 million could have been used to restore midday, evening, and weekend service on the 1,7, A, F, J, L, and M lines, all cut during the MTA budget crisis amid recession in 2010.
"With the budget, it's going to take a larger effort before it becomes a priority in Albany," said Raskin of re-dedicating funds for increased service.
Raskin, Squadron, and other transportation advocates talk about transit access as a social justice issue. "If we don't have public transportation that's broadly accessible, comprehensive, and also affordable, New York City stops being a place of economic opportunity for people coming to the city or people just trying to get ahead," Raskin said.
For now, he said the group isn't spending a lot of energy on all the abstraction surrounding the MTA budget. Instead, they focus on the people who depend on the system and their individual needs.
Squadron, who has worked with Riders Alliance since the organization's founding, brought it back down to earth when he said the biggest challenge is having a transit system that runs well, maintains a state of good repair, and expands when there's demand.
"At the end of the day, we all take responsibility: the MTA, the state and local city government, for a bus and subway system that works," he said.
To that end, Gov. Cuomo recommended the formation of the MTA Transportation Reinvention Commission, which empaneled recently "to bring together experts to consider two areas: challenges facing the MTA in the next century and investment opportunities to address these challenges." According to the MTA website, the commission includes 24 transportation, planning, financing, business, real estate and other experts. It held a three-day conference in mid-July, soliciting input from the public, including experts and key stakeholders. Raskin was among those to testify before the commission.
Also testifying was William Henderson, Executive Director of the Permanent Citizens Advisory Committee, the coordinating body and funding mechanism for the three riders councils created by the New York State Legislature in 1981. The councils were created to give users of MTA subway, bus, and commuter rail services a say in the formulation and implementation of MTA policy and to hold the MTA Board and management accountable to riders.
"Peoples' subway lines are an extension of their neighborhoods, people identify with the subway line they use the most," said Ellyn Shannon, who works with Henderson as Associate Director.
A daily experience for most New Yorkers, riding their most-traveled subway line is important and personal. The information obtained through full-line reviews, Shannon said, should be shared with subway riders, so they can begin to understand the specific findings, be they regarding tracks, signaling, or the conditions of the subway cars.
Shannon echoed something Riders Alliance members know all too well. "If you talk about the issues on a person's subway line they ride every day, it gets them interested," she said.
Despite the fact that full-line reviews are so extensive, most New Yorkers never really see, in clear, easy-to-understand language, what it is they reveal.
MTA's Ortiz notes, too, that despite the exhilaration activists and politicians may feel over improvements brought by full-line reviews, some of the more lasting improvements, such as the dramatic uptick in train frequency along full-line review veteran, the L line, were in fact due to multi-million-dollar investments in new infrastructure.
The Future: Automation through CBTC
In fact, Ortiz says the primary reason riders saw increased frequency of L service, with wait times cut to four minutes during rush hour, was due to the installation of automated signaling called Communication Based Train Control, or CBTC.
For now, most of the subway system is stuck operating on a fixed block system which was initially installed in the first half of the 20th century. Fixed block controls tell drivers via wayside signals when it's safe to move forward, but prevent system engineers from determining the precise location of trains. For safety reasons, extra time buffers are needed between the trains, often leading to bottleneck, and the familiar message, 'ladies and gentlemen, we have train traffic up ahead.'
Most of New York's transit peers, in particular cities with older transit systems such as Paris and London, have migrated much of their signaling apparatus over to CBTC. But in New York, the MTA continues to spend millions of dollars on replacing antiquated signaling parts, most of which have to be custom ordered, or rigged from salvaged components, many manufactured at the turn of the 20th century. Repairs to subway signals have to be carried out by hand, unlike computerized signals which allow for remote repairs.
Ortiz says most people's experience riding on the subway is limited to what they see and hear, and most importantly, they are focused on how efficiently they get to their destination. The vast majority of passengers are unaware of the flurry of work going on behind the scenes. All they know is that the conductor might say they have signal trouble or train traffic causing a delay, though the MTA has added repeated general announcements regarding delays caused by track fires that result from litter.
Today's signals and the potential impact of CBTC technology are prime examples of the disconnect between riders and the MTA, Ortiz says. The MTA has spent millions of dollars so far to bring the new technology to the L and it says it will invest millions more for signal upgrades including the CBTC installation on the 7 train happening now.
"That work is the work people don't see, because it's happening in dark tunnels. It's all vital work that goes into improving reliability and also being able to add new service such as we did on the L train," Ortiz said.
Ortiz went on to say that in terms of the MTA's ability to provide more frequent service, for example on the Lexington Avenue line, NYCTA is actually running as many trains as it possibly can at this point given the current system.
"That won't change until we can bring CBTC to the Lexington line, and that's a process that will take a lot of time. CBTC won't be completed on the 7 line until 2017. It (installation of CBTC) takes a lot of money, and it takes time," he said.
For now, the L train is running at capacity as well.
"We schedule 20 trains per hour in each direction in the morning rush hour, which is the most we can run with our available fleet of CBTC-equipped cars," said Ortiz.
But one organization says the technology could be installed system-wide if it were more of a priority. Such a move would require a full implementation strategy, according to the Regional Planning Association (RPA). Working on tri-state area issues under President Robert Yaro, RPA is "America's oldest independent urban research and advocacy organization."
The full implementation strategy would not only require system-wide CBTC, but also the retraining of a powerful transit workforce. That might mean shifting longstanding operational practices which could only happen after consultation with labor unions. In short, the current MTA labor status quo could become increasingly untenable.
Transit systems with strong labor unions that have moved to CBTC, some older than New York's, such as Paris', reached consensus between labor and management on new practices. Tension was evident when the L moved over to CBTC and unions raised concerns: in theory, CBTC eliminates the need for both a train operator as well as a conductor.
MTA tried to drop conductors from L trains after CBTC was installed, but the unions protested and after arbitration the MTA was required to keep both a conductor and an operator on the trains.
The Regional Plan Association said in a recent study that the conversion of the subway system to CBTC has been slowed by limited resources. While CBTC would save money in the long run, the RPA report says, full implementation would require around $13.8 billion for new systems and equipment. Equipping the cars alone would cost another $5.4 billion.
Regional Plan Association transportation director Richard Barone told Gotham Gazette that despite increased levels of citizen engagement, because of the current capacity constraints the old block system places on the system, MTA is essentially limited in how much service it can possibly add. "That's until you start making some big investments in infrastructure, and CBTC is one of them," he said. RPA created a video to show the CBTC process and its importance.
Barone said full-line reviews certainly have value. They direct the MTA to make adjustments based on demand and the actual ridership over time, he noted. Barone also said there are other places within the schemes of operations and improvements where advocates can also make a difference, such as pressuring local city council leaders to use discretionary funding for improvements at neighborhood subway stations. Several members have recently committed money toward bus time countdown clocks.
Barone also cited creative public-private partnerships, rooted in "value captures," whereby property owners contribute toward improvements to subway service knowing that upgrades will add to the value of their property.
Of the bigger funding issue and why cash is not more plentiful, Barone says the MTA is the 800-pound gorilla in Albany, where most MTA cash comes from.
"The governor is the governor of the entire state. Right now, the MTA gets billions from the State, mostly from dedicated taxes," Barone said. "Some comes from the general fund. But, upstate residents see the billion dollar figures and that presents its own set of political issues."
***
by Cody Lyon for Gotham Gazette
@GothamGazette