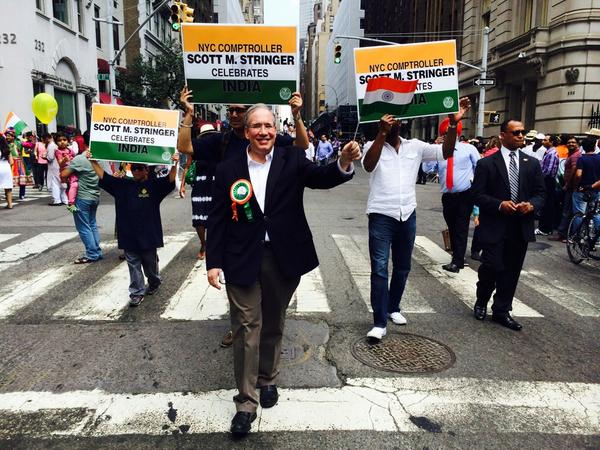 Comptroller Scott Stringer marches in the Indian Day Parade (photo: @scottmstringer)
---
Keeping tabs on City contracts just got a little easier thanks to two new features unveiled by Comptroller Scott Stringer.
Starting Monday, checks made to prime vendors contracted by the New York City Economic Development Corporation (NYCEDC) working on taxpayer-funded projects will be available on Checkbook 2.0, the Comptroller's interactive website that tracks City spending.
For the first time, New Yorkers will be able to see information about just over $1 billion in spending on over 260 contracts spanning fiscal years 2013, 2014, and 2015 - including on marquee projects like the rebuilding of the boardwalk in the Rockaways and renovations at the New York City Aquarium. Checkbook 2.0 will now include detailed information on NYCEDC vendors and payments, as well as the ability to see what contracts were modified and by how much. As with previous Checkbook 2.0 features, this data can be exported to a machine-readable format for web developers.
"This is a landmark moment for transparency in City government that will benefit all stakeholders," Comptroller Stringer said in a statement. "With this data, taxpayers and policymakers alike will be better equipped to assess the role of economic development spending to ensure that it is being used to strengthen our workforce and create new jobs."
NYCEDC is a non-for-profit corporation that operates under mayoral control. It is tasked with driving economic development in the city.
Not all of the planned NYCEDC data is currently available on Checkbook 2.0, but the comptroller's office is working with the agency to complete the task. As of Monday morning, data prior to fiscal year 2013 is not expected to be uploaded to the site.
"Via the new Checkbook measures, and as part of the de Blasio administration's commitment to transparency, New Yorkers can take a deeper look at how tax monies are being used to their benefit, fueling projects and programs that strengthen the economy and create new economic opportunity across the City," said NYCEDC President Kyle Kimball in a statement.
Additionally, for those wanting to keep track of these newly available contracts the comptroller's office is also rolling out the "Create Alert" feature on Checkbook. For the first time, visitors can sign up for emailed alerts if additional payments are made to vendors or if payments are made on a specific contract.
The alert feature, which is not exclusive to NYCEDC payments, could be useful in helping prevent fraud like that seen in the CityTime payroll scandal. The City originally budgeted $63 million to modernize the payroll system but it ballooned into a $600 million project before fraud was detected. In April three men were sentenced to 20 years in prison for their role in the scam. Even without fraud involved, the new alert system will allow watchers to keep an eye on a variety of City spending.
The Create Alert feature won't show why more money was being paid—that will be up to the watchdogs to discover. But by simply being alerted to increases, red flags can be raised earlier and years of contract mismanagement potentially prevented.
***
by Kristen Meriwether, Gotham Gazette
@MeriwetherK