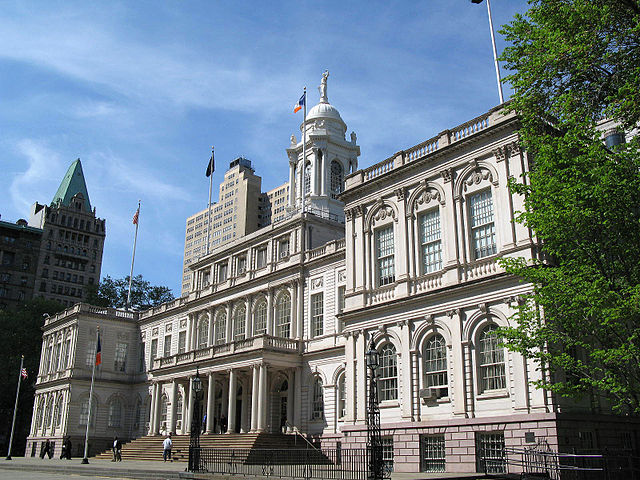 New York City Hall
---
What to watch for this week in New York politics:
After another festive weekend in which Mayor Bill de Blasio and other elected officials marched in Sunday's Indian Day Parade and participated in Brooklyn Mela's Pakistani Independence Day Celebration, things will refocus on business as the mayor has called a press conference for Monday at noon to make a personnel announcement, according to his public schedule.
Much of the week will be dominated by anticipation of the looming march on Staten Island set for Saturday, August 23rd. The march, organized by Reverand Al Sharpton and partners including unions 1199 SEIU and the UFT, is in response to the death of Eric Garner. The mayor has announced that he will not be marching.
Meanwhile, before he hit the Indian Day Parade, Comptroller Scott Stringer held a press conference on Sunday to unveil the results of an audit his office performed "that revealed potentially dangerous conditions on our City's streets due to poor oversight by New York City's Parks Department over its street tree pruning program." Stringer found that the parks department "has mismanaged the City's street tree pruning program responsible for maintaining approximately 650,000 street trees citywide, increasing the risk of personal injury and property damage from falling branches."
Council Speaker Melissa Mark-Viverito returned to New York City and prepares for the Council's busiest week of the month, leading to Thursday's full-body Stated Meeting, after having been in Puerto Rico this weekend, where she ceremonially officiated the marriage of one of her aides. The marriage was between two women and officiating it was a political move by Mark-Viverito aimed at pushing her homeland to legalize same-sex marriages. Upon returning to the city, Mark-Viverito on Sunday evening shared personal health news on Twitter, explaining news she had received at a recent doctor's visit and encouraging others to pay careful attention to their health.
Watch for a press conference Wednesday morning regarding a bill put forth by Council Member Brad Lander to require more disclosure around independent expenditures on political campaigns. See below for more details.
Elections approaching
Tuesday is three weeks until primary day for the 2014 New York State elections. Will Governor Andrew Cuomo debate his Democratic primary challengers Zephyr Teachout and Randy Creidco? Doubtful. But, lieutenant governor candidates Kathy Hochul (Cuomo's running mate) and Tim Wu (Teachout's running mate) might debate, according to statements by Wu. It's seeming more and more apparent that Hochul might continue to be the only Cuomo campaign presence out and about before the primary - other than the TV ads the governor is running, of course. Much, much more to watch for in these primaries throughout the state Senate and Assembly races.
And...
It's almost back-to-school time and the final week of free summer meals for NYCHA youth. The City is still encouraging families to sign up for pre-kindergarten at city community-based organizations.
Plenty more specifics to track this week. Here's the run of the week in more detail:
Monday
According to his public schedule, de Blasio will make a personnel announcement at noon on Monday. And, "in the evening, the Mayor will speak at the Wingate Park Concert Series: Gospel Night in Brooklyn." He will be joined there by other city officials, including schools chancellor Carmen Fariña, who will also be making remarks. Comptroller Scott Stringer is also set to be in attendance.
Earlier on Monday, the City Council kicks off its busiest week of the month. According to the Council's press office, on Monday "the New York City Council Subcommittee on Zoning and Franchises will hold a hearing on several land use applications in Manhattan and Queens" and "The New York City Council Subcommittee on Planning, Dispositions, and Concessions will also hold a hearing on land use applications in Brooklyn."
Tuesday
As we mentioned, Tuesday marks just three weeks until primary day! Get up to speed on the 2014 New York State elections through our Gotham Gazette Election Center. Speaking of those elections, there are at least two candidate forums Tuesday night...
In the hotly contested 11th state Senate district, candidates will assembly in Queens for a candidate forum at the Sheraton LaGuardia East Hotel. Senator Tony Avella and his primary challenger John Liu are expected, as well as Green Party candidate Paul Gilman, for a forum moderated by Russchell Boone and hosted by Chhaya CDC, Chinese American Planning Council, Flushing Jewish Community Council, Korean Community Services of Metropolitan New York, La Fuente, MinKwon Center for Community Action, New Immigrant Community Empowerment, OCA-NY Advocate, New York Civic Engagement Table, New York Immigration Coalition.
Also on Tuesday, El Diario's Marlene Peralta and City Limits' Jarrett Murphy will moderate a debate for candidates running for the 54th Assembly District. The candidates in the race include Eric Dilan, Kimberly Council, and Khorshed A. Chowdhury.
At 7 p.m. on Tuesday, the Four Freedoms Democratic Club is holding a fundraiser at Off the Rails (2nd Ave between 91st and 92nd). The club is "trying to raise some funds to help connect our candidates to the voters of the 76th Assembly District." The club says it will be joined at the event by Council Member Ben Kallos, State Senator Liz Krueger, and others.
Earlier on Tuesday is Crain's Techsytalk LIVE: "If you're a corporate or independent event planner that also detests boring events and craves the unconventional – techsytalk LIVE is for you! Techsytalk LIVE is the premier Event Tech Conference and Showcase – For Planners, By Planners – focused on educating planners and introducing them to new event technology companies. Check out our agenda, awesome speaker lineup and rockstar companies we're featuring this year!"
On Tuesday at 1 p.m., the City Council's education committee will hold a hearing on a new "Local Law to establish a program in relation to the employment of school bus drivers, attendants, dispatchers and mechanics by qualified employers."
New York City Council Member Jimmy Van Bramer is having a 45th birthday and over four years in office celebration on Tuesday in Long Island City.
Also on Tuesday, state Senator Diane Savino and environmental groups will announce the passage of legislation designed to prepare and protect Staten Island from extreme weather.
And, Council Member Andy King will announce the allocation of nearly $1.5 million from his discretionary and capital funding for projects in NYCHA's Boston Secor. The announcement will come in conjunction with a walkthrough of The Boston Secor by King and NYCHA Chair and CEO Shola Olatoye.
Wednesday
On Wednesday night The Real Affordability for All Coalition is planning a "March for Good Jobs & Affordable Housing."
Council Member Brad Lander's bill on independent expenditure disclosures in campaign communications will be voted on at a Wednesday morning meeting of the Council's Committee on Governmental Operations. Before that meeting, Lander, the bill's co-sponsors, and good government advocates will be holding a 9:30 press conference. Backers hope that the government operations committee will vote the bill out and that the full Council will then pass it at Thursday's full-body Stated meeting.
The government operations committee will also take up Council Member Dan Garodnick's bill to require "public-facing disclosure of campaign spending."
On Wednesday at 6:30 p.m. young professionals in support of L. Rickie Tulloch, Democratic candidate for the State Assembly in District 42 in Brooklyn, are gathering at Ditmas Park's Bar Chord. Tulloch is running to replace retiring Assembly Member Rhoda Jacobs, who has endorsed Tulloch.
Also on Wednesday, Brooklyn Borough President Eric Adams will host a reception in honor of Jesse Hamilton, candidate to replace Adams in the State Senate representing the 20th District.
Thursday
On Thursday afternoon, the City Council will hold its August Stated meeting. Prior to that, the Committee on Finance will meet at 10 a.m. to vote on a "resolution approving the new designation and changes in the designation of certain organizations to receive funding in the Expense Budget." The rules committee will also meet before the Stated.
Also on Thursday, The Fifth Avenue Committee and BrooklynSpeaks will host an event to help "win the fight for affordable housing and accountability at Atlantic Yards." The event will include food, music and dancing.
There will be a Public Meeting of the Panel for Educational Policy on Thursday at 6:00 pm.
The United African Coalition is hosting a candidate forum on Thursday evening with those running in the 77th Assembly District.
Also on Thursday evening, Mayor Bill de Blasio will host a reception for the City Hall press corps.
Friday and the weekend
As we mentioned in the introduction, much of the week will be spent anticipating the march in Staten Island planned for Saturday. Reverand Al Sharpton, 1199 SEIU, the UFT, and other organizers and participants will head to Staten Island for "A March For Justice For Victims Of Police Brutality." Marchers are seeking justice after the death of Eric Garner, who died after he was placed in a chokehold by a member of the NYPD who was part of a group of officers arresting Garner on July 17.
Also on Saturday, Bronx Borough President Ruben Diaz Jr. is hosting the Bronx Back to School Literacy and Health Fair. The event will include entertainment giveaways and health information.
And, Council Member Andy King's Community Health and Resource Fair will take place on Saturday from 11 a.m. to 4 p.m. in the Bronx. There will be mobile health and legal vans, health screenings, exhibits by community agencies and businesses, demonstrations and free giveaways.
Lastly, the Brooklyn Young Democrats let it be known that the club is supporting a "Weekend of Action for Domenic Recchia," who is running to unseat Rep. Michael Grimm. On both Saturday and Sunday, Recchia campaign volunteers and supporters will be knocking on doors, making phone calls, and more.
***
Have events or topics for us to include in an upcoming Week Ahead in New York Politics? Email Gotham Gazette executive editor Ben Max any time: This email address is being protected from spambots. You need JavaScript enabled to view it. (please use "For Week Ahead" as email subject).
***
by Kristen Meriwether and Ben Max in New York City and David King in Albany
@GothamGazette