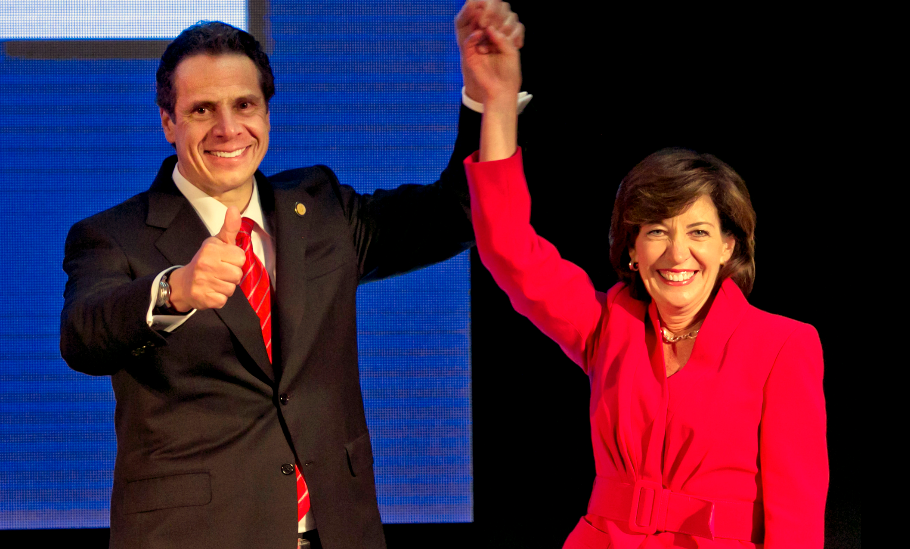 Governor Cuomo and his running mate, Kathy Hochul (photo: AP)
---
A look at Governor Andrew Cuomo's campaign might not give the impression that he is running for re-election - despite a few appearances at parades and fairs, he simply hasn't had an official campaign schedule.
The incumbent has kept his public appearances to a minimum since spring and all of them have been under the heading of official state business, including his recent trip to Israel.
"Clearly, Cuomo the gubernatorial candidate is not campaigning," said CUNY professor of political science Douglas Muzzio. "His Israel trip was a campaign trip. It was political, but this is part of his behavior. He doesn't go to the typical political meetings, or go to the Democratic convention, he doesn't go anywhere outside of Albany. He doesn't need to campaign. And he has his surrogates do media. He doesn't do the dirty work."
It's not surprising that Cuomo isn't on the campaign trail yet. During his run in 2010 he scattered a few appearances in late fall and waited to the last minute to endorse some of his fellow Democrats.
As it was then, Cuomo's opposition this year is fairly limited. Once again, polls indicate he will win handily. It appears that his strategy is to project an image of a governor consumed with running the state. He scarcely acknowledges his little-known challengers. But this year Cuomo isn't running just for himself. In his deal for the Working Families Party support, he pledged to help Democrats win back control of the Senate.
Senate Democrats insist that Cuomo has been stumping for them by proxy - in the person of his prefered lieutenant governor candidate, Kathy Hochul.
"It has been very heartening to have Kathy Hochul campaigning with the Senate Democrats and with the broader women's equality initiative," Senate Minority Leader Andrea Stewart-Cousins told Gotham Gazette. "She has been a real asset. She is a really exciting candidate to begin with and she has bolstered the profiles of our candidates. To have them campaigning with the next lieutenant governor is a boost for all of us."
Hochul has become the face of the Cuomo-created Women's Equality Party and pundits say her candidacy works on many political fronts. Hochul, who hails from Buffalo, replaces outgoing Lt. Gov. Robert Duffy, who has focused on the economic issues facing western New York. She has more conservative opinions on immigration and guns and has bipartisan appeal. She's also seen as a prominent female figure promising to join an administration that lacks prominent women and durign the campaign season she serves as a counterweight to Zephyr Teachout's insurgent Democratic primary challenge to Cuomo.
Hochul's focus on the Women's Equality Agenda takes a package of legislation that is popular with voters and demonstrates major ideological differences over abortion rights not only between Cuomo and his Republican challenger Rob Astorino, but between the New York Democratic Party and Senate Republicans who have stood steadfast against the abortion plank of the legislation.
"It really shows unity straight down the ticket," said Karen Scharff, executive director of Citizen Action and co-chair of the Working Families Party. "The fact that the Women's Equality Agenda is an election issue shows that Republicans are really out of touch with their constituents."
The Hochul camp issued a statement to Gotham Gazette in response to questions about her campaigning with Senate Democrats: "I have traveled across the state to stand with candidates who support the Women's Equality Party to send a clear message that voices of women will be heard and counted this fall. We are bringing together the strength and power of our state's leaders and advocates to put the issue of women's equality front and center because women deserve nothing less than full equality."
Hochul has appeared at Women's Equality events in Long Island with Democratic Senate candidates Adam Haber, Dave Denenberg, and Adrienne Esposito. She appeared at a similar event Upstate with incumbent Sens. Cecelia Tkaczyk and Terry Gipson, who face stiff Republican challenges this year. She's made two appearances this summer with Buffalo Sen. Ted O'Brien, who also faces a competitive race.
Muzzio acknowledges the political sense of Hochul's campaigning and the work she's done on the campaign trail but wonders if anyone has noticed.
"How visible is she really? It doesn't seem to be a very impactful campaign," he said. "A lieutenant governor candidate ain't the governor." In fact, Muzzio thinks that the Senate Democrats are doing Hochul a favor by introducing her to their constituents.
Some Democrats fear that Hochul could lose to her primary challenger, Tim Wu, who has a prominent profile thanks to his work on net neutrality.
Hochul has acknowledged her limited profile in certain areas of the state. She said as much during a campaign rally for John Liu, who is challenging incumbent Independent Democratic Sen. Tony Avella. When asked if her appearance counted as an endorsement of Liu, Hochul said: "I gotta tell you, I don't think my endorsement at this point means a lot to anybody. I'm just here standing with people who have stepped up early, agreed to make it happen."
Democrats and the Independent Democratic Coalition (IDC) have agreed to work together to form a majority coalition in the fall, so Liu's candidacy, which has taken off, is a touchy subject for both parties.
And yet, as a surrogate for the Cuomo campaign, Hochul has embraced the Senate Democrats in a way that Cuomo has gone out of his way to avoid. She also has presented a more liberal front than the governor.
"This has been an aberration the last few years to have people elected as Democrats... acting as Republicans," said Hochul, referring to the Independent Democratic Coalition. "Yes, there were some accomplishments, but I'm always raising the bar."
Hochul's liberal leanings could be a reflection of the Cuomo administration's new stance given the likelihood that Democrats will win control of the Senate this year, or it could be posturing given that Hochul is facing the possibility of a tough Democratic primary.
Christina Greer, professor of political science at Fordham University, said that she expects Hochul will be a good foil against Republicans, but must first survive the Democratic primary. Cuomo has avoided addressing Teachout on the campaign trail - instead trying to knock her off the ballot over residency questions - but he has had to take policy positions to plant himself in a more liberal light which could in the end bolster Senate Democrats who share those positions.
"This race is turning out to be more of a headache than he expected," said Greer. "He's had to think of ways to utilize [Hochul] in ways he didn't plan on when he selected her."
It seems unlikely that Cuomo himself will actually campaign for Senate Democrats. Stewart-Cousins said she knows Cuomo supports the issues her conference wants to act on, such as the DREAM Act, campaign finance reform, and the minimum wage.
"When he does come out I'm sure he'll be campaigning on the issues we support," she said.
Muzzio is a bit more circumspect. "I'm sure there will be a few very staged, very scripted events where they can control the message that will expose the governor in no way," he said.
Hochul downplays Cuomo's absence from the campaign trail. After a Women's Equality Party event at City Hall on Tuesday, she told Gotham Gazette that the governor has been focused on his trip to Israel and his announcements Upstate about economic development.
"I guarantee you, you are you are going to see plenty of us in the coming weeks right before the election," she said.
***
by David King, Albany Editor, Gotham Gazette
@DavidHowardKing