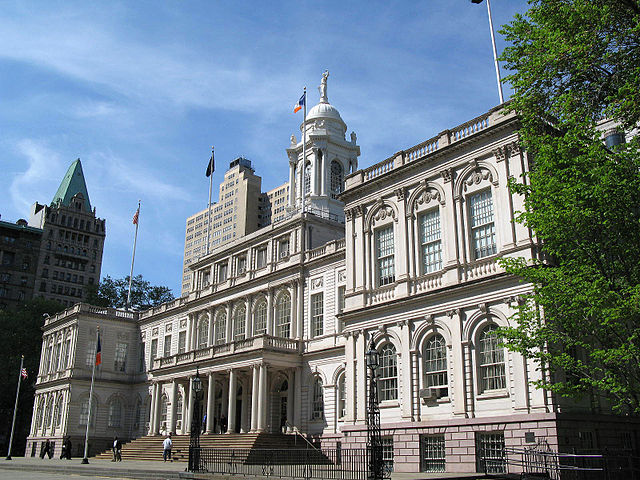 New York City Hall
---
Summer's over; time to get serious again. Here's what to watch for this week in New York politics:
After a Labor Day spent parading in Brooklyn, New York politicians return this week to governing and running for office, with plenty of attention being paid to the state primary elections set for a week from Tuesday. And, both the regular New York City school year and Fashion Week kick off on Thursday. Lots more:
The New York City Council resumes more regular business after it's typically slowed-down July and August: council committee meetings get going in earnest again on Wednesday and the Council will have two full-body Stated meetings this month (on 9/10 and 9/23). There will be much anticipation this week for the hearing the Council is set to have on Monday, 9/8, aimed "to learn more about the New York City Police Department's review of current police department training and its plans to enhance officer trainings. The NYPD's decision to evaluate current training procedures was a result of the incident that took place in Staten Island with Eric Garner," according to a release from Council Speaker Melissa Mark-Viverito's office.
On Tuesday morning, Mayor Bill de Blasio will "host a press conference in the Bronx to make an announcement related to traffic safety." The presser is set for 9:30 a.m. in front of P.S. 95 - which is, of course, a school - and this week marks the first day of classes for almost all of the city's schools on Thursday, including lots of expanded pre-kindergarten. The roll-out of de Blasio's signature initiative will be watched quite closely, especially in light of revelations from last week that the Department of Education (DOE) has not submitted the bulk of pre-k provider contracts to City Comptroller Scott Stringer for review. While this has been chalked up to standard practice by many, watchers are on high alert as so many new facilities, teachers, and students begin their pre-k work. School registration, including for pre-k, is ongoing!
While there's plenty else to look for this week in terms of city-focused issues, including Tuesday's release of the New York City Campaign Finance Board's "2013 Post-Election Report," the eyes of New York politics watchers will be highly focused on the final days before the September 9 state primary elections:
Elections approaching
Tuesday marks one week until primary day for the 2014 New York State elections. Get caught up or continue to prepare using our Elections Center, which includes our debates tracker, where we're aggregating video and audio of debates as well as print coverage - and we list upcoming debates in this final week. Debates include those The Manhattan Neighborhood Network's "Represent NYC" began airing hosted by either our Ben Max or Marlene Peralta of El Diario. You can also catch debates for Bronx-based seats on BronxTalk (including a debate in the 79th Assembly District race airing Monday night at 9) and NY1 continues hosting debates on Inside City Hall this week. Details and lots of links here.
Nowhere in our debate listing will you see anything for the Democratic primary races between Gov. Andrew Cuomo and challengers Zephyr Teachout and Randy Credico or Cuomo's running mate Kathy Hochul and her opponent Tim Wu. Cuomo and Hochul have opted not to accept invitations to debate leading up to the primary. Interestingly, Teachout and Republican Rob Astorino are set to engage in a debate on Thursday's Brian Lehrer Show on WNYC radio.
Keep in mind, in almost every race that affects New York City voters, the primary is the key. In this overhwhelmingly Democratic city, there are few strong Republican or third-party challengers awaiting Democratic primary winners. There are, though many competitive Democratic primaries.
Here's a bit more to watch for day-by-day this week:
Tuesday
As we mentioned, Tuesday marks just one week until primary day! Get up to speed on the 2014 New York State elections through our Gotham Gazette Election Center.
In addition to the also-aforementioned de Blasio announcement in the Bronx and release of the CFB's post-election report, Tuesday includes candidate debates (including one in the 72nd Assembly District race) and more.
Look for a new Quinnipiac University poll on Tuesday at 10 a.m. that focuses on issues such as Airbnb, the DNC coming to NYC in 2016, and more.
On Tuesday at noon, Manhattan Borough President Gale Brewer is set to attend the "Downtown Alliance/LMDC opening of a temporary plaza 1 block from the 9/11 Memorial and Museum at Albany and Greenwich Streets."
Also on Tuesday, Queens elected officials will visit the "only pre-K in Queens to Receive State UPK Funds." State Senator Stavisky and City Council Member Dromm wil visit Emilia's Kids in Elmhurst and "recognize the center's staff for their exemplary service and call for more UPK funding for Queens, especially in neighborhoods with significant populations of students who are English Language Learners."
Wednesday
The City Council swings back into action on Wednesday with several meetings: Subcommittee on Zoning and Franchises 9:30 a.m.; Committee on Transportation 10 a.m.; Subcommittee on Landmarks, Public Siting and Maritime Uses 11 a.m.; Subcommittee on Planning, Dispositions and Concessions 1 p.m.
Wednesday was set to be the day for the first court hearing in Davids v. New York, a lawsuit challenging New York's teacher tenure laws, but the judge has recused himself.
There will be candidate debates, including one on NY1 between the 20th State Senate District candidates, one in Queens between candidates for the 14th State Senate District, and one airing on BronxTalk between candidates for the 77th Assembly District seat.
There's a forum on Wednesday at Pace University looking at upcoming issues related to New York's energy and environment. "Beyond Gridlock: State Leadership on Energy and Environmental Issues will feature a panel of leaders in the energy and environment community. New York State Attorney General Eric T. Schneiderman - the highest ranking law enforcement officer in the state - will deliver the keynote address."
On Wednesday, Council Member Laurie Cumbo "will host extended office hours with pre-k enrollment experts" at 1 Hanson Place in Brooklyn.
State Sen. Jeff Klein and the Bronx Chamber of Commerce are hosting a jobs fair on Wednesday from 4-7 p.m. at Hutchinson Metro Center.
On Wednesday evening, Mayor de Blasio will host an event to kick off Fashion Week, according to Women's Wear Daily, courtesy of Capital New York: "De Blasio will welcome the Council of Fashion Designers of America to Gracie Mansion on Wednesday night for a cocktail party to launch Fashion Week...Whether de Blasio plans to unveil any fashion-related initiatives next week remains to be seen."
And, NYCLASS will protest a Fashion Week event on Wednesday, "Animal cruelty is never in style, and horse carriages are so 1814. A local designer is planning to parade models around in horse carriages on a "runway" in the middle of dangerous city traffic. Please join us for a peaceful protest. September 03, 2014 at 5:30pm - 7:30pm Outside NY Athletic Club, 180 Central Park S."
Also Wednesday evening: "BetaTalk - The future of New York State's Open Government." According to the event listing, "This fall, New Yorkers will vote for who will represent them in the Governor office, Lt. Gov, and Comptroller; at the federal level, US Senate and Congressional seats. For those of you who find these campaign hard to monitor, you are not alone. For this Wed, we will feature advocates who are working to improve the future of Open Government in our State House. Our friends at Reinvent Albany will walk us though several of theirreports and outline the transparency issues at stake."
Thursday
The City Council's Thursday includes the following meetings: Committee on Aging 10 a.m.; Committee on Health 10 a.m.; Committee on Land Use 11 a.m.; Committee on Environmental Protection 1 p.m.
Thursday will see more candidate debates, including Astorino-Teachout debate on The Brian Lehrer Show, a forum with candidates vying for the 55th Assembly District seat in Brooklyn, a forum in the Bronx for candidates in the 79th Assembly District, and candidates for the 31st Sendate District on NY1's Inside City Hall.
Teachout will hold an education rally on Thursday on Long Island (to be followed by one on Friday in Manhattan): "A large rally for education that highlights how Andrew Cuomo's policies have hurt our students. Speakers will touch on testing, APPR, and Common Core." Including Teachout and "Long Island leaders, including: Kevin Glynn of Lace to the Top, Jeanette Deutermann of Long Island Opt Out, Beth Dimino of Port Jefferson Station Teachers Association, Tom Dolan, superintendent of Great Neck Schools, and Carol Burris, high school principal and author of "On the Same Track."" 4:30 p.m. at H Lee Dennison Bldg., 100 Veterans Hwy, Hauppauge, NY. (Don't forget, everything we list in this preview is subject to change!)
At 8 p.m. on Thursday, Green Party gubernatorial candidate Howie Hawkins will hold a conference call on climate change.
And, as we mentioned, Thursday is both the first official day of school for most New York City public schools and the first day of Fashion Week.

The NYC DOE has ten registration centers for new and re-entering students in case pupils are still looking to register. These centers will be open from 8/27-9/12, in all 5 boroughs, 8 a.m. to 3 p.m.

Soon (but not this week): open houses at all NYC public schools as the DOE looks to fulfill promises of more and better parental engagement.
Friday and the weekend
You can bet Friday and the weekend (and into Monday and Tuesday) will be filled with get-out-the-vote efforts for candidates and their campaigns seeking to secure victory in Tuesday, September 9's primary elections. Watch out for those door-knockers.
But first: catch a "CityLaw Breakfast with Carl Weisbrod, Chair of the NYC City Planning Commission" on Friday morning at New York Law School.
Friday will also see the Teachout campaign's Manhattan education event.
Also on Friday, "360 Degree Communications and the Pay 2 Play team are excited to announce the dynamic new film about the corrupting influence of money in politics, Pay 2 Play is releasing in New York on September 5. The film is coming off a spectacular premiere in Los Angeles, where a variety of groups, organizations, and like minded individuals engaged in a lively screening and post screening discussion to a sold out crowd!"
Council Member Mark Treyger "is hosting a ceremony at the Coney Island Parachute Jump to have it light gold in support of Childhood Cancer Awareness. This is part of a major initiative called the Gold World Project. It is open to the entire public and press." Friday at 7 p.m., off boadwalk at 16th street.
On Saturday September 6, there will be a "Citizenship Now! Application Assistance Event with Council Member Laurie A. Cumbo, New Americans Campaign and NALEO (Brooklyn)."
And on Saturday, Council Member Stephen Levin will host a 'Councilman on the Corner' event at the McCarren Park Farmer's Market.
***
Have events or topics for us to include in an upcoming Week Ahead in New York Politics? Email Gotham Gazette executive editor Ben Max any time: This email address is being protected from spambots. You need JavaScript enabled to view it. (please use "For Week Ahead" as email subject).
***
by Kristen Meriwether, Katrina Shakarian, and Ben Max in New York City and David King in Albany
@GothamGazette