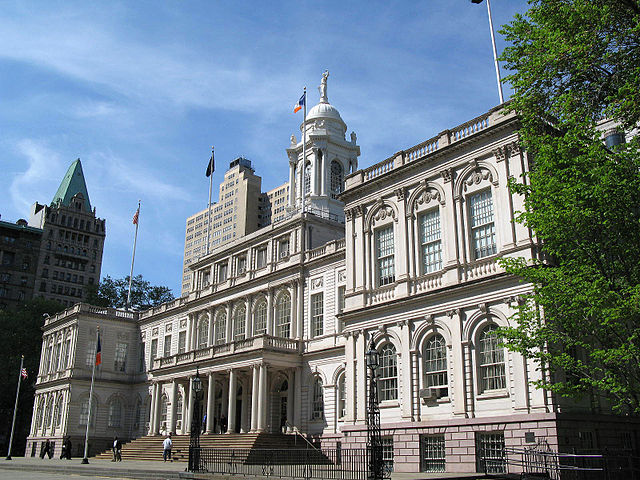 New York City Hall
---
What to watch for this week in New York politics:
This week includes a high-profile New York City Council NYPD oversight hearing on Monday, Tuesday's primary elections, Thursday's 13th anniversary of September 11, 2001, and a great deal more to keep an eye on.
As September 11, 2014 approaches, Sen. Kirsten Gillibrand, Rep. Carolyn Maloney, Rep. Jerry Nadler, Rep. Peter King, Mayor Bill de Blasio, labor leaders, advocates, and 9/11 first responders and survivors will urge Congress to reauthorize the James Zadroga 9/11 Health and Compensation programs. The aforementioned will gather at Ground Zero on Monday morning at 11:15 a.m. to begin their push in Congress to reauthorize the programs that were originally passed in December 2010. The congressional lawmakers will be introducing legislation later this month to continue these programs for 25 more years.
Meanwhile, coming off a weekend that saw Gov. Andrew Cuomo do a bit of campaigning, especially as his camp seeks to firm up support for his lieutenant governor (LG) running mate Kathy Hochul, and snub a hello from his main primary opponent Zephyr Teachout at Saturday's Labor Day parade, all eyes are on Tuesday's results to see what margin Cuomo defeats Teachout by (barring some kind of shocking upset) and whether Hochul can fend off Teachout's LG running-mate Tim Wu. Tune into The Brian Lehrer Show on WNYC Monday morning at 10:15 to hear the LG candidates (Hochul, followed by Wu) discuss the race.
The weekend also saw Mayor Bill de Blasio campaign for some of his endorsed candidates, including Assembly candidate Pete Sikora and Senate candidate Dell Smitherman. Lots to watch for on Tuesday as we see if the mayor's preferred candidates like Sikora, Smitherman, and Rubain Dorancy, among others, come out on top in their races.
This is also the first full week of school and watchers will continue to see how the rollout of the city's massively expanded pre-kindergarten program goes. Reviews of day one and two on Thursday and Friday were strong and this week will see the opening of a handful pre-k sites that were not quite ready to open last week. Along with pre-k, those interested in education, especially the changes under the new mayor and his schools chancellor are awaiting word on a variety of new policies and programs, including what, exactly, the DOE will be doing to help the most struggling schools.
All that said, New York politicos have all eyes on Tuesday's election results as the week begins. The headliners including the Democratic gubernatorial primary and several Democratic primaries for seats in the State Legislature. See our Guide for the Last-Minute Primary Voter for a lot more detail. And, use our Gotham Gazette-WNYC Election Guide to see which races will be on your ballot, key races to watch, and a whole lot more.
Elections Tuesday!
Tuesday is primary day for the 2014 New York State elections. Get caught up or continue to prepare using our Elections Center, which includes our debates tracker, where we're aggregating video and audio of debates as well as print coverage. Debates include those The Manhattan Neighborhood Network's "Represent NYC" began airing hosted by either our Ben Max or Marlene Peralta of El Diario. You can also catch debates for Bronx-based seats on BronxTalk; NY1 has hosted several debates on Inside City Hall, as has WNYC's Brian Lehrer Show. Details and lots of links here. Also: read our Guide to the Last-Minute Primary Voter to prepare for Tuesday's elections and use the Gotham Gazette-WNYC Election Guide to see which races will be on your ballot and much more.
Keep in mind, in almost every race that affects New York City voters, the primary is the key. In this overhwhelmingly Democratic city, there are few strong Republican or third-party challengers awaiting Democratic primary winners. There are, though many competitive Democratic primaries.
Here's more to watch for day-by-day this week:
Monday
Chancellor Carmen Fariña continues her start-of-the-school-year school visits, heading to Eagle Academy for Young Men of Staten Island at 9 a.m. to meet with the middle school's new principal.
Before participating in Monday's aforementioned press conference with congressional representatives at Ground Zero, "Mayor de Blasio will deliver remarks in Manhattan at a Taxi and Limousine Commission ceremony honoring drivers with outstanding safety records," according to his public schedule. The event will occur at 10 a.m. at Borough of Manhattan Community College.
Comptroller Scott Stringer starts his week with one public event, according to his schedule: at 10 a.m. he'll discuss the City's Housing Maintenance Report at Amsterdam Houses in Manhattan.
On Monday, the City Council Committee on Public Safety will hold an oversight hearing on the New York City Police Department's plan to enhance officer trainings. At 10 a.m. Speaker Melissa Mark-Viverito will deliver an opening statement in Council Chambers at City Hall. This hearing is happening in direct response to the death of Eric Garner while being arrested by NYPD on Staten Island in July and promises from both Police Commissioner Bratton and Mayor de Blasio that a re-examination of NYPD trainings would be taking place.
Later, the Council's Committee on Women's Issues, jointly with the Committee on Cultural Affairs, Libraries and International Intergroup Relations and, separately, the Committee on General Welfare will hold hearings on a variety of items.
On Monday at 1 p.m. Council Member Andy King and the Times Square Alliance, along with other electeds, city agency reps, and local business reps, will rally at Duffy Square (46th and Broadway) "to announce new Costumed Individuals legislation that will be introduced" at Wednesday's City Council Stated meeting. "Following mounting reports of bad behavior and arrests of costumed individuals in the Times Square area from community members and tourists, local and citywide officials have identified a need to regulate the costumed individuals. The new legislation, which calls for a simple licensing and regulatory scheme regarding the commercial activity conducted by the individuals, was drafted with input from Tim Tompkins, President of the Times Square Alliance, and other elected officials and city agencies."
Also at 1 p.m. on Monday, New York City officials will call on the federal government to "build long-overdue National Women's History Museum." According to a release, "Congresswoman Maloney, Council Members Ben Kallos and Laurie Cumbo, Former Congresswoman, Comptroller and DA Elizabeth Holtzman," and other electeds will push for a "National Women's History Museum in DC..Following a hearing of the City Council resolution in support of building a National Women's History Museum in DC, elected officials and advocates call for the Senate to end delays and pass legislation to advance the museum's formation. Maloney successfully passed her legislation in the House of Representatives 383-33, but two Senators, Mike Lee of Utah and Tom Coburn of Oklahoma, are holding up the legislation, which has the support of all 20 women senators."
Meanwhile, on Monday in Albany, it's "BoomState: Why Boomers are fleeing New York and What's it costing us? How keeping Boomers in New York could be the Empire State's Economic Savior," presented by City & State NY and AARP. The conference begins at 8 a.m. at Taste Penthouse.
It will feature welcoming remarks by David McNally, Manager of Government Affairs, AARP and opening remarks by Tom DiNapoli, New York State Comptroller. Those remarks will be followed by presentations and panels.
Council Member Peter Koo, along with representatives of the NYPD, will be leading Vision Zero flyering on Monday at the Flushing Library.
And, Zephyr Teachout and Tim Wu will roll out their technology policy platform on Monday afternoon, "their plan to create a 21st century economy and digital infrastructure that promotes opportunity, innovation and opens access to information."
Later Monday, Teachout and Wu will hold an "Election Night Eve Rally" in Union Square starting at 6:30 p.m.: "Zephyr and Tim will be there to meet with supporters, address the crowd and help with GOTV efforts. Supporters can pick up voter lists, literature and election day assignments."
For their part on Monday, Gov. Cuomo and Kathy Hochul are having two get-out-the-vote rallies: 1:30 p.m. at the New York Hotel Trades Council in New York City and at 5 p.m. at IBEW, Local 41 in Orchard Park.
Tuesday
As we mentioned, Tuesday is primary day! Get up to speed on the 2014 New York State elections through our Gotham Gazette Election Center or through our Guide for the Last-Minute Primary Voter or through our Gotham Gazette-WNYC Election Guide that lets you enter your address to see which races will be on your ballot or simply explore any and all races you'd like.
On Tuesday morning, the New York City Food Policy Center at Hunter College and Doctor of Public Health (DPH) Program/CUNY School of Public Health present "Climate Change, Food and Health: From Analysis to Action to Protect Our Futures." According to the event listing, "As scientists warn of escalating global warming, how can we take action to ensure that food supplies and health in New York City and around the world are protected?"
On Tuesday starting at 9:30 a.m., Staten Island Borough President James Oddo is hosting a 9/11 Memorial Blood Drive at SI Borough Hall.
Tuesday evening will see "Embrace the Common Core" - a reception and debate.
Also Tuesday night: primary returns! Watch NY1, follow WNYC's Data News Team, and see what happens in all of the contentious primaries we've been tracking for months now.
Wednesday
Wednesday morning will see NYPD Commissioner Bill Bratton at a Crain's Business Breakfast Forum. According to the event listing, he'll discuss: "How fighting crime has changed under a progressive mayor; Whether the NYC media covers police issues fairly; Why crime plunged but poverty didn't; The past and future of urban policing."
The Manhattan Institute for Policy Research Center for Local Leadership asks, "Are Unions Democratic?" at a panel event on Wednesday at noon.
The City Council holds its first of two full-body Stated meetings of the month on Wednesday - expect a slew of new legislation to be introduced, including King's regarding costumed characters, as well as several bills voted on. There will also be meetings of the finance committee and the rules committee on Wednesday morning before the Stated meeting.
Wednesday evening will see "Bus Rapid Transit: Solutions for Outer Borough Travel" an event with a roundtable discussion: "Up on the Streets, Bus Rapid Transit can shorten commutes for thousands of New Yorkers and provide increased access across the boroughs...the Transit Museum and Streetsblog team up to consider plans for BRT expansion and the design and implementation of new routes."
New Yorkers for Police Reform will meet on Wednesday evening: "Open to all interested persons, these meetings generally attract a diverse group of New Yorkers - all ages, races, ethnicities, genders, sexual preferences, communities, and constituencies represented. At this session we will discuss and decide upon steps for carrying out plans for: PROP's on-going court monitoring initiative, our September 21st Petition Day and Campus Action Network's fall outreach campaign."
"The CUNY Institute for Education Policy at Roosevelt House Invites you to Attend: Are Private Schools Good for America?" More specifically, an expert panel will discuss, "Do private schools serve the public good, or private interests? Do they train for democratic citizenship, or do they further divide an already plural­istic society?"
Wednesday evening will see one of Gov. Cuomo's "Citizen Preparedness Corps training sessions...The Citizen Preparedness Corps program, administered by the New York National Guard, aims to provide approximately 100,000 New Yorkers with the tools and resources to prepare for emergencies and disasters, respond accordingly and recover as quickly as possible to pre-disaster conditions."
The Civilian Complaint Review Board (CCRB) will hold a public meeting on Wednesday evening on Staten Island - an event with serious significance in the aftermath of Eric Garner's death in the borough.
Thursday
Thursday is the 13th anniversary of the September 11, 2001 terrorist attacks on New York City and Washington, D.C. The day will be marked by remembrances of all kinds, public and private; silent, quiet, and loud. This will be the first time that the new National September 11 Memorial & Museum is open. The institution will host private ceremonies on Thursday and then open to the public in the evening.
Friday and the weekend
On Friday, the City Council's civil rights committee will consider "the Stop Credit Discrimination in Employment Act (Intro. 261). The bill, which was introduced by Council Members Brad Lander and Deborah Rose, has 39 sponsors and would prohibit the use of credit history when making hiring, firing, and other employment related decisions. Prior to the hearing, at 9:30, council members will be joined by community, labor, and student groups for a press conference in front of City Hall." This is a new iteration of a similar bill that was introduced in 2012, but never made its way through the Council.
Gotham Gazette is told there will be an "Airbnb Illegal Hotels Campaign Launch" happening on the steps of City Hall on Friday at 11 a.m.
And on Saturday, Council Member Paul Vallone is hosting a 9/11 remembrance ceremony honoring fallen soldiers from Fort Totten at 10 a.m. in Queens.
***
Have events or topics for us to include in an upcoming Week Ahead in New York Politics? Email Gotham Gazette executive editor Ben Max any time: This email address is being protected from spambots. You need JavaScript enabled to view it. (please use "For Week Ahead" as email subject).
***
by Kristen Meriwether, Katrina Shakarian, and Ben Max in New York City and David King in Albany
@GothamGazette