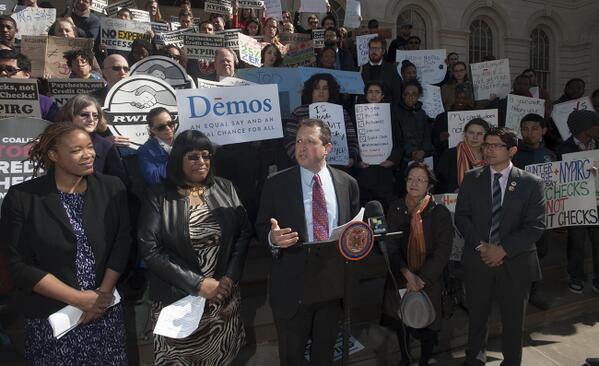 Council Members Lander and Rose lead a rally in favor of their bill (photo: William Alatriste)
---
New York City council members are picking up where state legislators left off by pushing a bill that would ban the use of credit history checks in hiring decisions.
The Stop Credit Discrimination in Employment Act, Intro 261, co-sponsored by Council Members Brad Lander and Debi Rose, is being considered by the Committee on Civil Rights on Friday morning. The hearing could decide the fate of the bill that aims, its backers say, to end the harmful and, at times, discriminatory practice of screening an applicant's credit history to make a hiring decision.
Intro 261 is an updated version of a bill that was introduced to the City Council in 2012, but failed to pass. A similar bill was passed by the New York State Assembly in 2012, but not by the State Senate and has since languished, prompting the City Council to take matters into its own hands. The city bill is backed by 40 co-sponsors, including Public Advocate Letitia James, which means it will likely be heading out of committee, through the full council, and to the desk of Mayor Bill de Blasio - who is said to support the principle of the bill.
"Last time, the bill wasn't allowed to come to the floor for a vote," said Council Member Lander by phone on Thursday. "The Bloomberg administration didn't support the bill and neither did the Speaker (Christine Quinn)."
Nearly half (47 percent) of all employers in the United States require personal credit history checks for new workers, according to a 2012 study by the Society for Human Resource Management (SHRM). It is perfectly legal and is cited by businesses as a means to protect themselves and even consumers against financial fraud. The SHRM states that these checks are usually conducted near the end of the hiring process and that employees are given the opportunity to explain their record. The checks are federally regulated and medical history debt, says the SHRM survey, is ignored.
But the practice raises complex ethical and legal questions.
Senior policy analyst Amy Traub, of Demos, an organization that advocates for public policy, has addressed these issues at length and has even advised legislators in states such as Colorado, Vermont and Washington, D.C. Traub's report, Discredited: How Employment Credit Checks Keep Qualified Workers Out Of A Job, asserts clearly that worthy applicants are often denied jobs because of credit checks. These checks, which cannot judge a potential employee's character or job performance, can be linked to medical debt, lack of health coverage and unemployment. Traub cites evidence to show that credit reporting errors are common, occurring nearly once in every five reports, and that they can have a discriminatory impact on people of color. Finally, she says, they are an invasion of privacy.
With record levels of poverty and unemployment in New York, credit checks can create a cyclical problem. The catch-22, as Traub puts it, adversely affects unemployed workers: "Job-seekers are unable to secure work because of damaged credit and are then unable to escape debt and improve their credit because they cannot find work," she wrote in a Demos article.
This issue is neither new nor unrecognized. The federal Fair Credit Reporting Act (FCRA) makes it legal for employers to ask for credit histories before employing an applicant. But in the last few years, many states have enacted legislation limiting this seemingly discriminatory policy including Arizona, California, Connecticut, Vermont, Oregon, Hawaii, Maryland and Washington. Just last year, laws were passed by the Colorado and Nevada legislatures. The only city with a law is Chicago.
At the federal level, efforts are also being made to abolish the use of credit checks for employment decisions. The Equal Employment for All bill was introduced in the Senate late last year by Senator Elizabeth Warren (D-MA). Based on a bill submitted by Representative Steve Cohen in 2011, the new bill seeks to amend the FCRA and end employment credit checks. "This is also about basic fairness," said Warren in her floor speech to introduce the bill. "Let people compete for jobs on merit, not on whether or not they have enough money to pay all their bills." In January this year, President Obama mentioned the problem in his speech on long-term unemployment.
The bill has found little traction in Congress however.
Making matters worse for the fate of the bill is a recent decision by the U.S. Court of Appeals for the Sixth District. The Equal Employment Opportunity Commission (EEOC) had in 2010 filed a lawsuit against the Kaplan Higher Education Corp., a for-profit education company, for rejecting a higher number of African-Americans than white job applicants because of personal credit histories. This, the EEOC argued, was a violation of Title VII of the U.S. Civil Rights Act.
In April this year, the Court ruled in favor of Kaplan, allowing them to continue screening credit histories of job-seekers. The court also pointed out that the EEOC's case was tenuous since they themselves hired employees based on similar background checks. The ruling could serve to undermine efforts by national and state legislators to abolish the practice.
In New York City, however, the bill seems well on its way to becoming law. Proponents of the bill will hold a press conference at 9:30 Friday morning before heading into the civil rights committee hearing.
Opponents of the bill are wary of the impact it would have on the city's business environment. "With the increasing problems of identity theft and cyber-fraud, it is more important than ever that employers ensure that employees in highly sensitive positions – financial or technological – are carefully vetted," said Jessica Walker, vice president of government affairs at the Partnership for New York City. "Ten states and the City of Chicago have passed similar bans, but those all contain commonsense exemptions for these types of positions."
Unlike laws passed in other states, and even the bill pending in the New York State Legislature, the City Council legislation has only one exemption, for when a credit check is mandated by federal or state law. "It is stronger than any law passed so far," said Demos' Amy Traub.
"In the absence of action in Congress and Albany," said Lander, "we have taken action to protect the residents of New York City."
***
by Samar Khurshid, Gotham Gazette
@GothamGazette