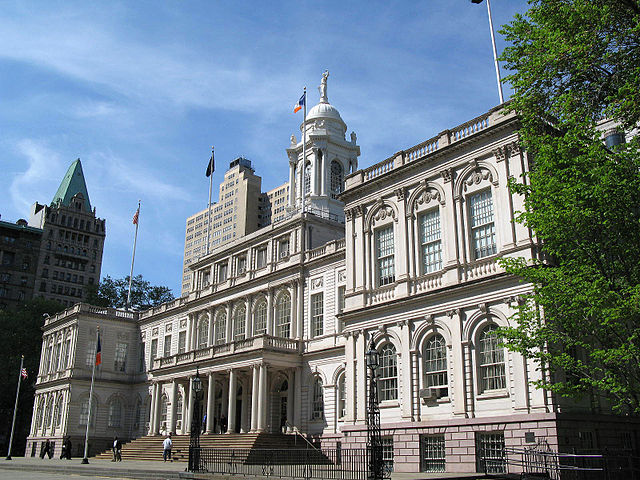 New York City Hall
---
What to watch for this week in New York politics:
This week will be another busy one for the New York City Council and full of attention shifted from the primaries to the state-level general election races, along with including a softball game featuring Mayor Bill de Blasio and members of his administration versus Council Speaker Melissa Mark-Viverito, her fellow council members, and staff. There will also be a good deal of attention in the lead up to The People's Climate March planned for Sunday, September 21 - and a great deal more to keep an eye on.
To start the week, "Mayor de Blasio will join Secretary of Homeland Security Jeh Johnson, New York Governor Andrew Cuomo, and New Jersey Governor Chris Christie for a bi-state meeting with top officials from federal, state and local law enforcement and public safety agencies to discuss enhanced security and preparedness throughout the New York-New Jersey region...Following this meeting, the Mayor will participate in a joint media availability," according to the mayor's public schedule. The meeting will take place at 3 p.m. at 1 Penn Plaza.
After a Sunday that saw Gov. Cuomo and others announce that the R train's Montague Tunnel will reopen on Monday, many happier commuters will be watching to see what the governor's approach to campaigning is this week. Last week included, of course, the 2014 New York State primary elections, with Cuomo securing the Democratic Party nomination in his gubernatorial re-election bid (among many other key results). Cuomo's main challenger in the primary, Fordham law professor Zephyr Teachout, is not fading from the public eye, leading a 'Save the Internet' rally at City Hall on Monday, making media appearances, and embarking soon on a book tour that will keep the buzz around her going. Teachout, who returned to the classroom the night after the primary, has also said that she does not plan to endorse in the gubernatorial general election until the end of October. Expect Cuomo, Republican gubernatorial candidate Rob Astorino, and Green Party candidate Howie Hawkins to all continue to push for the support of those who backed Teachout in the Dem primary.
In other election news, Sunday also saw the New York City campaign launch rally for incumbent Attorney General (AG) Eric Schneiderman, a Democrat. Both Schneiderman and incumbent Comptroller Tom DiNapoli, also a Democrat, face several general election opponents after not being opposed in the primary, but both are expected to be re-elected fairly easily. Schneiderman has additional kick-off events planned for Yonkers, Buffalo, Suffolk, Nassau, Syracuse and Albany, according a campaign press release. Thus far, his Republican oppenent John Cahill has done a great deal of campaigning focused on attacking Schneiderman regarding his role in the Moreland Commission.
As the week begins, New York politicos will keep an eye on the campaigns, and there's a great deal happening at the City Council and all over the city, with many events to be aware of.
The run of the week in more detail:
Monday
NYCLASS, the group that has worked vigorously to ban the use of horses pulling carriages in New York City, has a new enemy: City Council Member Rafael Espinal. Espinal is the chair of the council's consumer affairs committee, which has oversight over the horse carriage industry, and recently announced he is not supportive of a ban on the horse carriages. So, NYCLASS has quickly organized a protest for Monday morning in Brooklyn outside Espinal's district office. The Facebook event page reads: "Disgraceful Councilman Rafael Espinal supports the inhumane, unsafe carriage horse industry?! Just this week, hours after a carriage driver was in court for animal cruelty charges, Councilman Espinal had the audacity to DEFEND the abusive, corrupt carriage horse industry and even threatened to block the Mayor's efforts to help the horses! Let's send Councilman Espinal and the rest of the City Council the message that humane voters will NOT stand for elected officials who defend animal cruelty. Join us Monday to picket his office!"
At 10:30 a.m. Monday on the steps of City Hall, Public Advocate Tish James "will release a report on improving nail salon safety for both workers and customers. In New York City alone, it is estimated that there are 2,000 businesses licensed to practice nail care and design."
At 11:30 a.m., outside the Department of Labor offices on Varick St., "As Gov. Andrew Cuomo's wage board convenes for the first time on Monday, workers and advocates will hold a press conference and rally in New York City calling on the Wage Board to eliminate the sub-minimum wage for the 230,000 tipped workers in New York State. Tipped workers and advocates will also be available for interviews in Albany following the Wage Board meeting. The event is being organized by Raise Up NY, fighting for #1FairWage, a coalition comprised of tipped workers, the National Employment Law Project, Make the Road New York, the Center for Popular Democracy, Fast Food Forward, New York Labor-Religion Coalition, New York Communities for Change, ROC-NY, ROC-NY affiliate of Restaurant Opportunities Centers (ROC) United, Strong for All, United New York, Citizen Action NY, and other community groups and advocates."
On Monday at noon, City Council Speaker Melissa Mark-Viverito will host a Hispanic Heritage Month Small Business Roundtable at City Hall with Small Business Administration Administrator Maria Contreras-Sweet and Council Small Business Committee Chair Robert Cornegy.
On Monday at 12:30 p.m. there will be a "Rally to Save the Internet" at City Hall's eastern plaza: "Internet freedom supporters will gather in City Hall Park to demand real protections for Net Neutrality and a rejection of Comcast's proposed merger with Time Warner Cable." Speakers are said to include Zephyr Teachout and Tim Wu, among several others. [A recent Gotham Gazette look at protests regarding Net Neutrality]
A little earlier on Monday, at 11 a.m. at Brooklyn Botanic Gardens, Council Member Laurie Cumbo and other electeds and cultural leaders will announce capital funding allocated by the de Blasio administration, the New York City Council, and Brooklyn Borough President Adams to several arts and cultural institutions in Cumbo's council district.
On Monday afternoon, DOE Chancellor Carmen Fariña will visit a professional development session at elementary school P.S. 295, the Studio School of Art and Culture, in Brooklyn.
Manhattan Borough President Gale Brewer's office is sponsoring a "day of action" to raise awareness for the NYC Organics Collection Program. The program, which collects food scraps for composting, is in over 100 DOE schools in Manhattan and will reach all Manhattan schools by October.
Also Monday, Brewer is hosting a dialogue on the Mayor's NYCHA safety plan with officials and tenant leaders from St. Nicholas Houses, Polo Ground Towers, and Wagner Houses, which were selected for the initiative.
State Senator Liz Krueger and Manhattan Community Board Six are sponsoring a forum on senior issues on Monday evening at NYU Langone Medical Center.
On Monday evening, there will be an event in "Preparation for People's Climate March with Howie Hawkins supporters" at the CUNY Grad Center.
Brooklyn Borough President Eric Adams has a busy Monday planned: at 12:30 PM, "Adams will announce the details of his capital budget funding for education for Fiscal Year 2015, an investment of more than $3.1 million...at the New York City College of Technology (City Tech), which is set to receive $400,000 in funding for the College's Fabrication Laboratory, an innovation engine in 3D printing technology for the College and the borough's emerging tech industry...Adams will also take time to promote some of his initiatives in early childhood learning, technology in the classroom, physical education, and other issues affecting the borough's youth."
Brooklyn's Borough Hall Goes Gold: "When Brooklyn Borough President Eric Adam's office heard about the Empire State Building saying no to kids with cancer, they were in disbelief and offered to light Brooklyn Borough Hall GOLD this coming Monday night! First Coney Island, now Downtown Brooklyn!" 6:30pm at Brooklyn Borough Hall.
According to his office, Adams "will also introduce legislation to use proceeds from vanity license plate sales to raise money for research and treatment that will help combat the disease."
Tuesday
At 8:30 a.m. on Tuesday the Flatiron Speaker Series will welcome Manhattan Borough President Gale Brewer.
Elected officials, environmental advocates, and students are holding a rally on Tuesday morning at 9 a.m. at City Hall: "Student Advocacy Day for the Environment and rally for #BYOBag Week campaign (rally/press conference will be followed by students meeting with City Council members to promote legislation to put 10-cent fee on disposable plastic/paper bags)." Along with middle school and high school students, the event will feature "the New York League of Conservation Voters; Citizens Committee for New York City; Citizens Campaign for the Environment; Addison (a creative agency currently marketing an innovative reusable bag); and Council Members Margaret Chin and Brad Lander and others."
Council Member Andy King will be joined by students and their parents at a press conference on Tuesday at 10 a.m. on the steps of PS 41 in the Bronx "to make an important announcement about school uniforms for public school students."
The City Council's committee hearing schedule on Tuesday includes a meeting of the Subcommittee on Zoning and Franchises at 9:30 a.m.; a meeting of the Committee on Public Housing 10 a.m. at Breukelen Houses Community Center, 715 East 105th Street, Brooklyn: "Oversight - A Safer NYCHA and the Mayor's Plan to Reduce Violent Crime at Public Housing"; and a meeting of the Committee on Youth Services to look at afterschool programs at 10 a.m. at City Hall.
Tuesday will feature "VOCAL NY Push to End NYC's Overdose Crisis," 11 a.m. on the steps of City Hall: attendees are expected to include State Sen. Gustavo Rivera, Council Members Stephen Levin, Corey Johnson, and Andrew Cohen, and other elected officials, along with the Drug Policy Alliance and NY Civil Liberties Union.
The John Cahill for NY State Attorney General campaign is hosting a "Women for Cahill Luncheon" on Tuesday at noon at the Women's National Republican Club in midtown Manhattan.
On Tuesday evening, the Manhattan Young Democrats are holding their monthly general meeting - this one will feature Council Member Dan Garodnick as guest speaker.
Also Tuesday evening, Public Advocate Tish James and Council Members (Speaker) Mark-Viverito, Carlos Menchaca, and Julissa Ferreras, the council's BLAC, and leaders from the Mexican community will celebrate the 204th Anniversary of Mexican Independence, 5:30 p.m., City Hall Council Chambers.
Tuesday evening will feature "The Mayoral Agenda: Affordable Housing and Historic Preservation" an event put on by The Center for New York City Affairs at The New School: "Historic Districts Council and the Greenwich Village Society for Historic Preservation are working together to present a panel discussion about affordable housing and historic preservation."
There will be an Emergency Preparedness Forum on Tuesday evening hosted by Brooklyn Borough President Adams and featuring Office of Emergency Management Commissioner Joseph Esposito for a "discussion of hurricane resiliency and safety procedures. Workshops including training tips for limiting storm damage will be provided in partnership with FDNY, Con Edison, the American Red Cross, NYPD, National Grid, and FEMA." Brooklyn Borough Hall, registration begins at 5:30pm, program runs from 6 to 8 p.m.
There will be a Queens Bus Service Transit Forum on Tuesday evening at 8 p.m. put on by ATUs 1056, 1179, and 1181 in partnership with the Queens Civic Congress: "Queens residents can voice their concerns for public bus transit and share proposals to enhance service."
Wednesday
Wednesday will feature the aforementioned softball game between the de Blasio administration and city council members and staff in Coney Island.
Prior to the game, the City Council schedule includes a meeting of the Committee on Cultural Affairs, Libraries & International Intergroup Relations (jointly with the Committee on Civil Service and Labor) "to resolve support for the Justice for Jazz Artists Campaign" at 10 a.m. - "the Justice for Jazz Artists Campaign which seeks through collective bargaining to improve the lives of musicians working in New York City's jazz clubs by addressing workplace issues, including providing retirement
security."
Also on Wednesday will be a meeting of the Committee on Rules, Privileges and Elections at 1 p.m. to evaluate candidates for appointment by the City Council to the Board of Elections. Via the Council: "For the first time ever, the Council will conduct a public, transparent process, including a public hearing on September 17th, to consider direct appointments to the Board of Elections by the Council's political party, including: Convening a public hearing of the Council's Committee on Rules, Privileges and Elections, at which candidates will testify and answer questions, and where the public will have an opportunity to testify; Providing potential appointees with a detailed written questionnaire which will be available at the public hearing; Asking nominees to review and analyze the NYC Department of Investigation's report on problems at the Board of Elections."
Council Member Chin, Assembly Speaker Sheldon Silver, State Sen. Daniel Squadron, and Manhattan BP Brewer are hosting a forum and clinic on Deferred Action for Childhood Arrivals (DACA) on Wednesday afternoon into evening.
On Wednesday morning, there's "Crain's Arts and Culture Breakfast: a New Future for NY's Culture Industry," 8 a.m. at Con Edison Conference Center: "Tech experts are the new "it" executives of the arts and culture world. To give their institutions an edge, several industry leaders are successfully using technology to help expand their audiences, enhance programming and increase fundraising in a rapidly changing environment. Crain's will explore how institutions are building brands, boosting donations and gaining followings in the digital age."
Wednesday evening, The Stonewall Democratic Club is hosting an Educational Policy Forum at the LGBT Community Center at 8 p.m. Schools Chancellor Carmen Farina will make remarks and several city officials, including City Council Member (and education committee chair) Danny Dromm are expected to attend and participate in a panel discussion.
Also Wednesday evening, Make the Road New York celebrates the 15th Anniversary of its Youth Power Project.
Thursday
Thursday morning Stroock is hosting "21st Century Technology and the Economy of New York City" and asking, "Is high tech a driving force in today's New York economy and for the foreseeable future?" The event is set to include "William Floyd, Head of External Affairs at Google, Maya Wiley, Counsel to Mayor de Blasio with a special focus on investing in the City's technology and infrastructure and expanding broadband access across the City, Andrew Essex, Vice Chairman of Droga5 and Andrew Rasiej, Chairman of NY Tech Meetup."
Thursday's City Council schedule includes a meeting of the Committee on Health at 10 a.m. on a "Resolution Recognizing September as Ovarian Cancer Month in New York City"; a meeting of the Committee on Housing and Buildings at 10 a.m.; a meeting of the Committee on Land Use at 11 a.m.; a meeting of the Committee on Recovery and Resiliency at 1 p.m. regarding "Oversight: Update on Progress of the Build It Back Program"; and a meeting of the Committee on Consumer Affairs at 1 p.m.: "Oversight: Price Displays at Gas Station in New York City. Introduction: Local Law to amend the administrative code of the city of New York, in relation to gas station road signs."
Thursday evening sees a Riders Alliance event, "New York City Transit Reporters" featuring Pete Donahue of the Daily News and Dana Rubinstein of Capital New York: "From budget cuts to hurricanes to kittens on the train tracks, hear the stories that bring out the best and worst in New York City transit. Learn about the vital role of expert journalists in improving transit policy." [A recent article from Gotham Gazette on Riders Alliance]
There is a fund-raiser for incumbent Rep. Michael Grimm taking place in Brooklyn at 7 p.m. on Thursday. Grimm, who is under indictment, is being challenged in November's 11th Congressional District election by former City Council Member Domenic Recchia.
And on Thursday evening City Council Member Donovan Richards "Hosts Public Workshop with DOT & MTA on Future of Rockaway's Public Transit" in Rockaway. The event will include Richards, DOT and MTA representatives, transit advocates, and concerned members of the public. "Residents of the Rockaway Peninsula face few options as it pertains to public transportation. Council Member Richards is bringing representatives from DOT and MTA directly to the community to discuss their transportation related needs."
Also on Thursday, but not in New York, former NY gubernatorial candidate Zephyr Teachout is discussing her new book Corruption in America at Harvard Law School.
Friday and the weekend
On Friday, the City Council schedule includes a meeting of the Committee on Sanitation and Solid Waste Management at 10 a.m. at Brooklyn Borough Hall and will look at a bill on "regulating publicly accessible collection bins."
The Murphy Institute at CUNY presents "Policing in Communities of Color: Turning Protest into Policy Change with the Rev Al Sharpton" on Friday morning.
Saturday is Student Voice Live, an event focused on improving education policy and practice through increasing the role students play in decision-making.
Saturday is the early registration deadline for New York State 4th Annual MWBE Forum, which will be Wednesday and Thursday; October 1 and 2 in Albany (online registration ends September 26th; on site registration is possible)
On Saturday, Brooklyn City Council Member Vinny Gentile will have a ribbon cutting at his new district office on 5th Avenue at 11 a.m.
Saturday Green Party gubernatorial candidate Howie Hawkins holds "A Green Alternative to the Two Parties" at Graffiti Church on E7th Street at 9 a.m.
And on Sunday, September 21st, "New Yorkers and people from around the world, will convene in New York City for what is being advertised as the "Biggest Climate March in History." The People's Climate March, which will occur two days before UN Secretary Ban Ki-moon has called on world leaders to discuss the climate crisis at the UN, will attempt to display to the world that it is possible to live in a sustainable world safe from "the ravages of climate change."
"On Sunday, September 21st, from 1 to 5PM, PROP volunteers will travel to different locations in the city to carry out our ongoing petition drive. This effort will add to the 17,000 signatures already gathered to show policymakers and the press that the support for sweeping NYPD reforms is diverse and widespread."
Sunday will also see the African American Day Parade.
And: "After years of advocacy work, design, and construction, the park's northernmost section – the High Line at the Rail Yards – is finally opening on Sunday, September 21. In celebration, we're hosting a week of special programs for visitors of all ages. You're invited to participate in a morning wellness class, stop by for a lunchtime concert, let the kids play with cool new design features, and so much more."
***
Have events or topics for us to include in an upcoming Week Ahead in New York Politics? Email Gotham Gazette executive editor Ben Max any time: This email address is being protected from spambots. You need JavaScript enabled to view it. (please use "For Week Ahead" as email subject).
***
by Kristen Meriwether, Katrina Shakarian, and Ben Max in New York City and David King in Albany
@GothamGazette