CM Menchaca speaks at Mexican Independence Day celebration (William Alatriste)

---
NEW YORK - For the first time ever, the grito – a traditional cheer that marks Mexican Independence Day – echoed through City Hall on Tuesday night.
"Viva Mexico!" shouted Sandra Fuentes-Berain, the Mexican consul general in New York. About 250 New Yorkers assembled in the lavish City Council Chambers returned her cry: "Viva Mexico! Viva Mexico!"
Local Mexican-American leaders hope it's a call that will soon reverberate throughout New York political circles. Some say Mexicans – the fastest-growing Latino group in New York City – are poised to take a larger role in city and state politics, pointing to recent trends and milestones as evidence.
But challenges like geography, citizenship, and educational achievement remain for the political ambitions of the Mexican community, which is New York's third largest Latino ethnic group after Puerto Ricans and Dominicans.
"We are trying to send a clear message that the Mexican community is here in a big way, and that our contributions are central to the diversity of the city," said City Council Member Carlos Menchaca, who became the first Mexican elected official in New York State when he won his seat last year.
Menchaca, 34, is from El Paso, TX and represents the Brooklyn neighborhoods of Sunset Park and Red Hook, which have large Mexican populations. His election is seen as a marker of things to come.
"Carlos Menchaca is the first Mexican-American in the City Council, but he's not going to be the last," Fuentes-Berain said. "We have to have many more Mexicans in elected office in order to make public policies that will benefit the Mexicans in the city and the state."
While legislation like The DREAM Act has stalled in Albany, New York City recently passed into law a municipal identification card program intended to benefit undocumented immigrants. Additionally, Mayor Bill de Blasio announced that "the City is stationing representatives at the federal immigration court to directly address the needs of unaccompanied minor children undergoing deportation proceedings," according to a September 16 press release.
The grito is celebrated across Mexico on the night of September 15 to commemorate the 1810 speech of Father Miguel Hidalgo, who called upon his countrymen to rise up against Spanish rule, leading to the Mexican War of Independence.
Several events around New York marked the holiday in the past week. At City Hall, dancers and a mariachi band performed, proclamations were read, and a parade of politicians and community leaders - including City Council Speaker Melissa Mark-Viverito and Public Advocate Tish James - expressed pride in Menchaca.
"I had goosebumps," Menchaca told Gotham Gazette. "It felt like home."
He said Mexicans in New York need more political representation.
"Today really marks an important moment for our city as we continue to define what it means to be Mexican, what it means to be Mexicano-Americano in the United States, in New York City," Menchaca said. "We are one of the largest growing populations in the city, and we are eager - eager to make an imprint."
Quickly-growing community
There are more than 319,000 Mexicans in New York City, according to data from the 2010 census. According to a 2013 CUNY study, the Mexican population of the New York metropolitan area grew 6.5% annually from 2000 to 2010.
Mexicans are expected to overtake Puerto Ricans and Dominicans as the largest Latino group in the city sometime in the 2020s if similar growth rates continue.
"The Mexican population is one of the fastest growing in the city," said Daniel R. Fernández, the director of CUNY's Institute for Mexican Studies. "It is a very recent group here, but we're building up."
The growth over the past two decades is due to a rising immigration rate and a higher birth rate than other Latinos in New York. Mexican New Yorkers also have a lower median age than many ethnic groups.
So why is Menchaca still the only Mexican-American elected official in the city?
It's not that others aren't running for office. Ceasar Zuniga, a Sunset Park non-profit official and Community Board member, challenged State Assembly member Felix Ortiz in last week's Democratic primary, and lost 70.7% to 29.3%. Menchaca endorsed and campaigned with Zuniga leading up to the primary.
Despite his defeat, Zuniga said he was proud of his campaign, especially because he was going up against a well-funded incumbent.
"We're a community that is awakening to the fact that we need political representation," he told Gotham Gazette. "We motivated the community, and you know, I'm not going anywhere."
The "secret weapon" for future Mexican political success is "all of the kids, born in '95, '96, who are now becoming eligible to vote," said Zuniga (pictured below).
"That's going to be instrumental in the next few years," he said.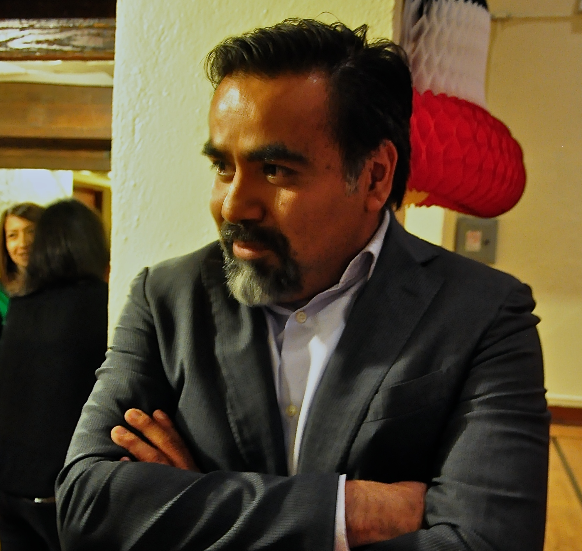 Zuniga (photo: Shen Qiu)
Geography, citizenship, education
Part of the reason that more Mexican-Americans haven't been elected in New York is geography, said Juan Carlos Aguirre, executive director of Mano a Mano, a local nonprofit that promotes Mexican culture.
"Mexicans are scattered all over the city," he said, in neighborhoods like Sunset Park, Corona in Queens, and East Harlem in Manhattan.
"They're not concentrated in one area like other immigrant groups," Aguirre said. "For other immigrant groups, it has been easier for them to gain political power. For Mexicans, it's going to be very difficult unless there's a strategy for them to work together."
That's a strategy that hasn't been figured out yet, he said.
Many Mexicans in the city are also not eligible to vote. The number of U.S. citizens age 18 or older of Mexican descent more than doubled from 2000 to 2010. But in 2010, only 51% of Mexican-Americans in the New York metro area were citizens, according to the CUNY report.
"My parents are immigrants. They came from Mexico to give us a better life," said Yhasmine Moran, a Sunset Park resident who volunteered on Menchaca's campaign. "They deserve a voice, a vote."
Another major challenge is educational attainment. Mexicans have the lowest college graduation rate among Latino groups in New York and the lowest high school graduation rate, the CUNY report found. Forty-nine percent of adult New Yorkers of Mexican descent – mostly those born outside the U.S. - had not graduated high school in 2010.
CUNY's Institute for Mexican Studies, which received a major donation last week, awards scholarships to students who can't get other financial aid because they aren't citizens.
"This is one scholarship that doesn't ask for your social security number," Fernández said, adding that many of his students at CUNY's Lehman College have "a very strong political consciousness."
"They care about giving people access to education, and they believe they can go out and change the community," he said.
If more Mexican candidates do start running for office, they could end up facing other Latino politicians. Both Zuniga and Menchaca ran against Puerto Rican incumbents with long political histories.
But they say they don't want to create divisive ethnic politics. "I don't ever want to be perceived as the Mexican candidate who's just a candidate for Mexicans," Zuniga said. While some politicians "want to divide and conquer," he said, "we can't play into that tension if it exists."
"We need to make sure we honor the pathways that were opened by our other Latino brothers and sisters, the Puerto Rican, Dominican, Ecuadorian community," Menchaca said.
Uptown surge
Many of the neighborhoods that have the largest Mexican communities are also home to Latino groups who have been in New York for longer. Take Washington Heights, in Upper Manhattan. Long a Dominican enclave, more Mexicans are moving in, locals say.
At another grito celebration on Friday night, about 250 people, many wearing red, white, and green clothing, gathered at the Church of the Intercession on 155th Street. Locals sipped horchata and tamarindo while mariachi music filled the church and children ran through the aisles. Unlike the City Hall event, in which many of the dignitaries gave speeches in English, almost all of the speakers at the Washington Heights event spoke in Spanish.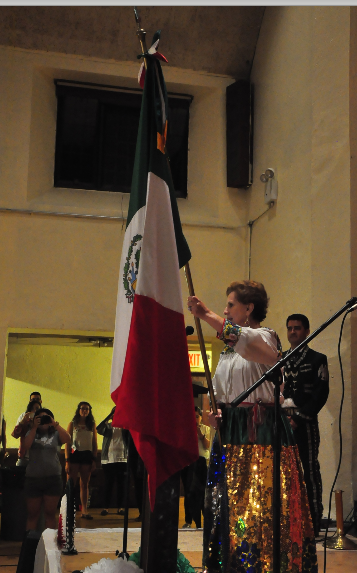 Fuentes-Berain (photo: Shen Qiu)
"In West Harlem, Washington Heights, and Inwood, the Mexican population has skyrocketed," said Juan Rosa, a West Harlem resident who helped organize the celebration. "We wanted to do this so the Mexican community can come and celebrate this important event in their own backyards."
Mano a Mano, which offers language classes and helped put on the grito, moved to Washington Heights in order to serve its growing Mexican population.
"In this area there are many Mexicans who don't speak English or Spanish – they speak indigenous languages," Aguirre said.
As the night went on, Fuentes-Berain led the "Viva Mexico" refrain, hoisted the Mexican flag (pictured above), and directed a rendition of the national anthem. Some attendees sang the song by heart, while others read the lyrics off a program. A few wiped away tears.
Mark Levine, the city council member who represents the area, said he had visited schools in his district where 70% of the students are Mexican-American.
"You are the future of our neighborhood," he told attendees in Spanish, noting that he had spent summers in Mexico as a kid.
Rebeca Madrigal, who lives in Riverdale in the Bronx, brought her whole family to the event in Washington Heights, where she teaches English and Spanish.
"It's important to cultivate the roots here," said Madrigal (pictured below), who came to the U.S. from Mexico City when she was 14. "Now, Mexicans are more represented in schools, in our neighborhoods. I'm proud to be Mexican."
Madrigal and her son (photo: Shen Qiu)
***
by Casey Tolan, Gotham Gazette
@CaseyTolan