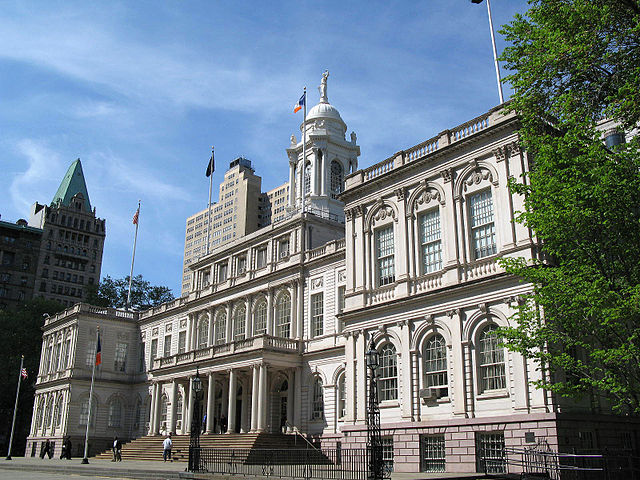 New York City Hall
---
What to watch for this week in New York politics:
The week starts busy after a packed Sunday of politically-related activity, with a lot happening Monday and Tuesday, including a "Flood Wall Street" action planned on Monday, and a City Council Stated Meeting on Tuesday. Then, as the Rosh Hashanah holiday arrives on Wednesday, Mayor Bill de Blasio heads to England to speak at the Labour Party's annual conference in Manchester and things are set to quiet down here in New York. Read on.
After a Sunday spent marching, New York politicos head into another busy week. The People's Climate March was the headliner, of course, as (according to organizers) over 300,000 people marched on the west side of Manhattan to demand attention and action on the issue of climate change. Most of the city's elected officials took part, including Mayor Bill de Blasio, Comptroller Scott Stringer, Public Advocate Tish James, City Council Speaker Melissa Mark-Viverito, and many others at various levels of government. Leading up to the march both de Blasio and the City Council announced major environment-related commitments and pledged to work together on legislation and more. Read de Blasio's announcement here and the City Council's here. Also on Sunday, Gov. Andrew Cuomo "designated the week of September 22-28 as Climate Week in order to encourage New Yorkers to think forward about the challenges of a changing climate, as well as to highlight the progress being made to prepare New York State for the new reality of extreme weather," according to a release from his office.
Sunday was also the African-American Day parade, in which many city officials also marched. At a pre-parade breakfast event earlier Sunday, Tish James reviewed her push for the NYPD to begin wearing body cameras - a pilot program for which is set to begin in the near future [Gotham Gazette recently tested out one of the models that will be used].
As Tuesday's full-body City Council Stated Meeting looms, watch for what new bills are introduced (as well as which previously-introduced bills are voted through the Council and to the mayor's desk) - much-anticipated bills related to the use of chokeholds are expected at some point soon, but might not be ready for this meeting.
Along with participating in the two parades on Sunday, de blasio also was set to "meet with President of Mexico Enrique Peña Nieto in Manhattan" and to "speak at a reception in honor of Italian Minister of Foreign Affairs and International Cooperation the Honorable Federica Mogherini," according to his public schedule.
Election Watch
Tuesday also marks six weeks until the general election. It seems that Gov. Andrew Cuomo has agreed to debate his Republican opponent Westchester County Executive Rob Astorino, but nothing specific has been announced - while we do expect at least one debate to occur sometime before November, we advise you not to hold your breath on this announcement. Either way, the gubernatorial race is certainly heating up.
Meanwhile, watchers are carefully following key races that will determine control of the State Senate. The Senate's make-up is quite complicated and its future unclear, but if the elections result in enough mainline Democrats to form a majority if they coalesce with the Independent Democratic Conference (IDC), we're very likely to see Democratic control of both houses of the Legislature. If not, well, things are going to get tricky. No matter, the IDC and Gov. Cuomo are all-but-certain to continue holding the cards throughout the next legislative session.
And, everyone's keeping at least one eye on the only competitive congressional race in a New York City-based district: Rep. Michael Grimm, a Republican, is trying to hold onto his seat despite a 20-count indictment, an incident where he threatened a NY1 reporter, a strong challenge from Democrat Domenic Recchia, and a major fundraising disadvantage. Recchia didn't do himself any favors last week by appearing quite weak on foreign policy. The race is the 11th Congressional District is neck-and-neck according to a recent poll. This one should only become more intense as Election Day approaches and the Democratic establishment does everything it can to flip a seat in the House.
As the week begins, New York politicos will keep an eye on the campaigns, and there's a great deal happening at the City Council and all over the city, with many events to be aware of.
The run of the week in more detail:
Monday
Sunday's "People's Climate March" will be followed on Monday by a mass act of civil disobedience being called "Flood Wall Street." Protesters dressed in blue will gather at Battery Park at 9 a.m. and march to the steps of the New York Stock Exchange where they will engage in a collective sit-in at noon "to confront the system that both causes and profits from the crisis that is threatening humanity."
Green Party gubernatorial candidate "Howie Hawkins closes out his four day Climate Change campaign tour in New York City with an appearance at Zuccotti Park...in support of #FloodWallStreet. Hawkins will also discuss his plan for 100% clean energy by 2030 and the stock transfer tax," according to a release from Hawkins' campaign.
Mayor Bill de Blasio's Monday is a busy one: according to his public schedule, de Blasio "will meet with the Mayor of Paris Anna Hidalgo...speak at an NBA announcement on Staten Island [to] announce an unprecedented NBA Cares effort to leave a lasting legacy throughout the five boroughs...speak at the United Nations Sustainable Development Solutions Network Mayors' Luncheon at Columbia University...attend the C40 Leadership Awards in Manhattan."
On Monday, Comptroller Stringer attends the Clinton Global Initiative Opening Plenary Session in the morning and then speaks at Queens Community Board 13's Installation of Officers and Monthly Meeting in the evening, according to his public schedule.
City Council Speaker Mark-Viverito's Monday schedule is packed: at 10 a.m. she "testifies at Chief Judge Lippman's Hearing on Civil Legal Services"; at 11:45 a.m. she "speaks at EMILY'S List Eastern Regional Conference"; at 2:30 p.m. she meets with the Mayor of Taipei after holding a 2 p.m. welcome reception; and at 6 p.m. she speakers at the Council's "Russian Speaking New Yorkers Celebration" at City Hall.
Monday also sees the start of a week of "free civil legal services" being offered by Mark-Viverito's office via "The Mobile Legal Help Center" outside her district offices in El Barrio/East Harlem and the Bronx.
The Council itself has several committee meetings happening Monday: the Committee on Governmental Operations meets at 10 a.m. to review the findings of the New York City Campaign Finance Board's 2013 Post-Election Report. [Our recent look at that report and its analysis of outside spending flooding the city's 2013 elections]
Also at 10, the Committee on Transportation will meet to introduce (harsher) sanctions "for leaving the scene of an incident without reporting."
At 11 a.m., the Committee on Health will meet to pass a resolution recognizing September as Ovarian Cancer awareness month in New York City.
Also Monday, the Committee on Housing and Buildings will meet at 1 p.m. to introduce several amendments to the city's administrative code and to make adjustments to already existing construction codes.
Meanwhile, on Monday morning at 10:45 at Brooklyn Borough Hall, "The Brooklyn Delegation of the New York City Council is announcing a partnership with the Brooklyn Community Foundation to advance workforce and economic development programs across the borough. Brooklyn Community Foundation is the first and only foundation dedicated to New York City's largest borough. Since its founding in 2009, the Foundation and its donors have provided over $20 million in grants to more than 300 nonprofits throughout the borough."
At noon on Monday, Council Member Stephen Levin is announcing "clean-up funding" for his 33rd council district: "Levin will announce new City Council funding for the 33rd District that will go towards cleaning up local neighborhoods, including Williamsburg and Greenpoint. The funds, which are part of the City Council's Cleanup NYC Initiative, will be used for maintenance of streets and parks and to beautify public space, as well as to introduce new high-end litter baskets. Center for Employment Opportunities will partner with Council Member Levin to do the clean-up work in the Williamsburg and Greenpoint neighborhoods."
Also mid-day Monday, "Her Majesty Queen Letizia of Spain will be joined by New York City Schools Chancellor Carmen Fariña at PS 103 – Dos Puentes Elementary to welcome four New York schools as members of the International Spanish Academies (ISA)," according to Fariña's public schedule.
On Monday, Democratic candidate for lieutenant governor Kathy Hochul speaks at the New York State Democratic Committee Fall Meeting in Albany; tours downtown Troy with its mayor, Lou Rosamilia; and speaks at the Saratoga Democratic Rally, according to her public schedule.
Monday evening, there will be a fundraising event for Democratic candidate James Kemmerer, running for State Senate District 22 against incumbent Sen. Marty Golden, hosted by fellow Democrats in Brooklyn. Hosted by: Assembly Members Peter Abbate and Alec Brook-Krasny, Council Members Vincent Gentile and Alan Maisel, several District Leaders, the Bay Ridge Democrats and others.
At 6 p.m. on Monday, "Southeast Queens Leaders to Call on the Taxi & Limousine Commission to Reform Commuter Van Standards." The call will be led by Council Members I. Daneek Miller and Donovan Richards, other elected officials, local civic organizations, Disabled in Action, local community leaders and transportation groups and will take place by the intersection of Parsons Blvd and Archer Ave, near the Social Security Administration building. The call is being made "in light of an incident that occurred Sunday, September 14th, where an illegal commuter van engaged NYPD in a high speed chase that left a 22-year old passenger in critical condition...the proliferation of illegal vans in Southeast Queens and throughout the City is well known, and even many vans that have attained the necessary legal paperwork often operate in illegal manners."
Tuesday
Rep. Michael Grimm and his challenger, Democrat Domenic Recchia, were invited to appear at a Tuesday night debate, but word is that Recchia has declined the invitation due to previously scheduled events and only Grimm will be in attendance at the "Bay Ridge Great Debate" set for 7:30 p.m. at the Holy Angels Catholic Academy in Brooklyn.
It is worth noting, of course, that Tuesday will see world leaders, including President Obama, convene in New York City for a discussion on climate change at the United Nations. The summit will focus on the ongoing climate crisis and the steps that world leaders can take to reduce emissions. Mayor Bill de Blasio is set to speak at the summit at 8 a.m. Tuesday morning.
Tuesday is National Voter Registration Day, a nationwide day of action to register as many new voters as possible. It comes six weeks from Election Day, November 4.
NYC Votes, an arm of the City's Campaign Finance Board, will celebrate National Voter Registration Day with free public events on Tuesday, including "Just Say Yes to Voting" with music by Hot97, 10 a.m. to 2 p.m. at City Hall Park. Full list of events here.
Tuesday morning, Crain's New York's "The Business Of" series will examine the legalization of medical marijuana: "The Business of Pot: the Stakes are High" at John Jay College of Criminal Justice, "Medical marijuana is now legal in New York state, presenting a unique series of business opportunities for a select group of manufacturers, dispensaries and consultants. However, this financial potential comes with great risk and regulations. Businesses and doctors will face bureaucratic hurdles and possible prosecution. Additionally, the program can be shut down at any time and sunsets after seven years. But for those willing to invest, it could pay off in a big way."
The City Council has a couple of committee meetings before the full-body State in the afternoon: the Committee on Housing and Building will meet again on Tuesday to resume the introduction of technical corrections and revisions to the NYC construction codes. The Committee on Finance will hold a meeting to approve funding of certain organizations and to discuss/review proposed land use applications.
The Council Chambers will open for the Stated meeting at 1:30 pm - to be presaged, as usual, by the Speaker's pre-stated press conference at 12:30.
As council members arrive at City Hall, they will again be greeted by members of NYCLASS, the main group pushing for a ban of horse-drawn carriages in the city: "We're back, as we are at every single City Council Stated Meeting, and will continue to show up at every meeting until the carriage horses are off the streets!"
There will be a public organizational meeting for the newly-formed New York City Voter Assistance Corporation (affiliated with the New York City Campaign Finance Board): 3:30 pm, CFB Board Room, 100 Church Street, 12th Floor: "This not-for-profit will enable the CFB to receive outside donations for the benefit of its voter assistance activities. Please note that this is an organizational meeting held for the purpose of electing directors and officers, adopting internal policies, and other housekeeping matters."
New York City Comptroller Scott Stringer will be hosting an event to celebrate Hispanic Heritage Month on Tuesday, 6 p.m. at Surrogate's Courthouse on Chambers Street. [Our recent look at the city's rapidly growing Mexican population and the political implications thereof]
There will be a public meeting of the Panel for Educational Policy (PEP) on Tuesday evening in Brooklyn.
On Tuesday evening, Inside Schools (a program and (InsideSchools.org) publication of The New School Center for NYC Affairs), is hosting "High School Choice: Busting Myths" aimed at helping parents and students.
Also Tuesday evening, City & State NY will celebrate the launch of its Buffalo Bureau.
Wednesday
Mayor de Blasio will be in England on Wednesday. According to a release from the mayor's office: "New York City Mayor Bill de Blasio will be the International Speaker at the Labour Party's Annual Conference in Manchester, England on Wednesday, September 24th." More: "The Labour Party invited the Mayor to speak to discuss "the twin challenges of rising inequality and declining standards of living," drawing from his "work in New York and his commitment to tackling the 'affordability crisis' affecting ordinary New Yorkers." In addition to delivering a speech on the urgent need to develop and execute strategies to tackle income inequality on the final day of the conference—the last before Britain's General Election in May 2015 – Mayor de Blasio will also hold a private meeting in Manchester with Ed Miliband, Leader of the Labour Party."
Wednesday will see a National Yoga Month Celebration at Brooklyn Borough Hall hosted by Brooklyn Borough President Eric Adams.
Wednesday at sundown marks the beginning of Rosh Hashanah and things will quiet down in the city through Thursday.
Thursday
Thursday appears quiet in the city as the Rosh Hashanah holiday is celebrated.
Friday and the weekend
Also looking quiet at this point, but things often materialize as the week progresses - but, a couple of interesting items for now:
It was reported that there will be a rally on Staten Island to support police on Saturday the 27th.
On Sunday, the 92nd Street Y will have an event with Senator Gillibrand and Gloria Steinem, looking at Gillibrand's new book "Off the Sidelines."
***
Have events or topics for us to include in an upcoming Week Ahead in New York Politics? Email Gotham Gazette executive editor Ben Max any time: This email address is being protected from spambots. You need JavaScript enabled to view it. (please use "For Week Ahead" as email subject).
***
by Rati Mukhuradze, Katrina Shakarian, and Ben Max in New York City, and David King in Albany.
@GothamGazette