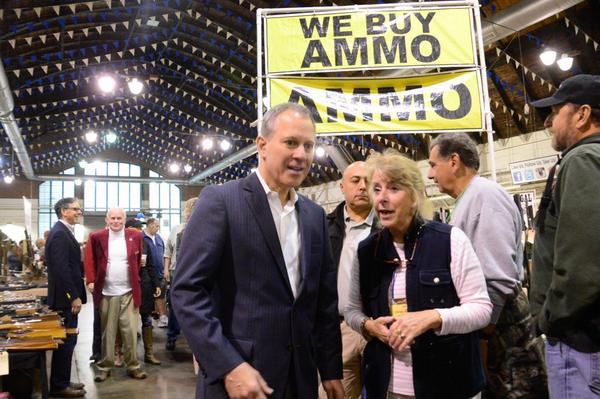 AG Eric Schneiderman at a Syracuse gun show (photo: @AGSchneiderman)
---
The New York State Attorney General's office has been known in recent years as a place where major political careers are built on national headlines. Cases brought against Wall Street's big banks and student-loan lenders have garnered high-dollar settlements and progressive applause. And yet there is nothing in state law that says the office has to be used this way.
Come November, voters will have to decide between competing visions for the office, staying the course with an incumbent who has racked up some of those headline-grabbing 'wins,' or going with a critical challenger offering a new approach. A key question is whether it is better to have an Attorney General (AG) who is independent of the state's dominant (Democratic) party or someone who belongs to it. As with all elected offices and leadership positions, ideology matters, even when it comes to law enforcement.
At its core the AG's office is tasked with being the people's lawyer, representing the state in legal matters. But over the years the men who have occupied the office (there has never been a female New York Attorney General) have shifted its focus to high-profile issues that play well with the public - and bolster further political ambitions. "The office has been redefined by the people who have done it," said Gerald Benjamin, professor of political science at SUNY New Paltz, who noted that the role of the AG is not spelled out in the State Constitution, but instead in the state codes, rules and regulations.
Former AG Robert Abrams, who held the job from 1979 to 1993, focused on consumer fraud and anti-trust cases. Former Gov. Eliot Spitzer became known as the Sheriff of Wall Street for his tenacious pursuit of the financial sector as AG. Current Gov. Andrew Cuomo used the office to pursue student-loan lenders and now-AG Eric Schneiderman ran on addressing the roots of the 2008 financial collapse by dealing with mortgage fraud and a promise to address corruption in Albany.
As Albany corruption has continued to run rampant and more New Yorkers view the AG's as a position used as a stepping stone to the governor's office, some insiders have started to argue that it would behoove New York voters to elect a Republican to the office so as to have a better check on the dealings of the Democrats who control most of the seats in the Legislature and, as of now, all of the statewide elected positions.
It is, of course, an argument embraced by Republican AG candidate John Cahill, who served as former Republican Gov. George Pataki's chief of staff from 2002 to 2006.
"The Attorney General position is one where people look beyond party registration," Cahill told Gotham Gazette. "They look for someone who will exert the independence of the office and they look for it in the Attorney General more than in any other state role."
Cahill has laced into Schneiderman for not speaking up about his role in Cuomo's Moreland Commission on Public Corruption and the governor's alleged interference with it. Schneiderman only recently said that he is working with federal prosecutors on cases generated from Moreland as well as the conduct of the commission.
Members of Schneiderman's administration insist that the commission was Cuomo's and their boss had no role in shuttering it or in interfering in subpoenas that targeted groups close to Cuomo - a charge that U.S. District Attorney Preet Bharara is investigating. Nevertheless, Cahill's attacks have been relentless as he's traveled the state holding press conferences and making a slew of radio appearances knocking Schneiderman. For his part, Schneiderman has hit the campaign trail hard the past week since kicking off his re-election campaign in New York City the Sunday following the primary (for which neither candidate faced a challenger).
While early polls show Schneiderman with a commanding lead, they also show both candidates with fairly low name recognition around the state, though Schneiderman's is higher than Cahill's. A recently-released internal Cahill campaign poll showed Cahill within 7 points of Schneiderman - and showed over 33 percent of voters undecided. However, an August Quinnipiac poll saw Schneiderman with a 51-29 lead over Cahill, with over 70 percent of respondents saying that did not know enough about Cahill to form an opinion.
"I think in the global sense party registration matters very little. I think members of both parties are capable of acting in their party's best interest rather than the peoples," said David Grandeau, the former head of the state ethics commission and a registered Republican. However, Grandeau said he felt that Albany has a culture that protects itself - especially among members of the same political party.
"The way it was described to me by someone in law enforcement is that the Albany political scene is a lot like the mafia," he continued. "They may have their inner squabbles, but as soon as an outsider comes into play they circle the wagons. They protect the guys who feed at the trough."
Schneiderman and Cuomo have a notoriously icy relationship, but is unlikely either will do anything to undermine the other's re-election chances.
Cahill agrees, naturally, with Grandeau's take: "I think we've seen that kind of behavior with Moreland where the commission was disbanded when donors were being scrutinized. I believe the attorney general was complicit in that." Cahill also attacked Schneiderman for not being vocal about or taking action against Assembly Speaker Sheldon Silver or former Assembly Member Vito Lopez, both Democrats, for the sexual harassment scandal that rocked Albany in recent years.
Benjamin notes that while AG candidates have run on being great prosecutors of corruption, the office's powers are limited in that role. "The bottom line is the Attorney General's prosecutorial role is very limited," said Benjamin. "They play them up because the people expect the Attorney General is a prosecutor when in fact the state's District Attorneys are the prosecutors. But everyone feels the need to be the man in the white hat."
Schneiderman's office has pressed the governor and the Legislature to increase his power to fight legislative corruption with no success. Cuomo himself promised to issue a blanket referral for matters of Albany corruption to Schneiderman if the problem did not abate, but he later changed his tune with members of his inner circle claiming such a move would be illegal.
Nevertheless, Schneiderman's team says their boss has done his best with the tools he has. "Attorney General Schneiderman believes there needs be one set of rules for everyone, no matter how rich or powerful," said Schneiderman spokesperson Peter Ajemian by email. "That's why he prosecuted more than 50 corrupt officials who violated the public trust, held accountable big banks that engaged in fraudulent financial practices, and recovered $17 million in stolen wages for more than 14,000 workers. He plans to continue taking on these tough fights on behalf of working families across New York."
Schneiderman's allies question whether a Republican candidate would effectively represent the values of a state where 60 percent of registered voters are Democrats. "Would a Republican work to hold accountable big banks, unscrupulous employers like Eric has - recovering $17 million in stolen income for low-wage workers?" asks one Schneiderman ally, who requested not to be identified. "Would a Republican Attorney General do those things? I hope so. Would a Republican Attorney General fight for women's reproductive rights by expanding buffer zones and investigating crisis pregnancy clinics?"
Cahill told Gotham Gazette that pursuing Wall Street would not be as big of a priority for him as it was for previous AGs. He said in the past fighting Wall Street has been used "for headlines" and the time would have been better spent "going after consumer protections for the most vulnerable in society." However, he added, "That doesn't mean I would ignore Wall Street."
Cahill has also expressed his support for hydrofracking, the controversial gas-extraction process that is extremely unpopular in parts of the state and has yet to be approved in New York. As the head of an energy consulting firm, Cahill has represented clients in the energy industry with ties to fracking. Schneiderman appears opposed to fracking. He sued the federal government for not properly studying its effects in the Delaware River Basin, stopped gas companies from extending expiring leases, and has said he is paying close attention to lawsuits brought by gas companies against municipalities that have banned fracking.
Cahill has also said he is opposed to the 10th plank of Cuomo's Women's Equality Act that would codify Roe v. Wade abortion protections into state law. Schneiderman has expressed full-throated support for the entire Women's Equality Act and consistently touts and receives praise for his progressive bona fides.
Schneiderman advocated for gun control legislation throughout his career as a legislator and since becoming the AG he has supported the SAFE Act and had his office conduct spot checks at gun shows to ensure background checks were being carried out on gun sales.
Cahill said he does not support the SAFE Act, but has acknowledged that if elected AG he would uphold the law in court. However, he said Schneiderman should have been more active fighting against it before the law was passed.
"When something's gone awry, when the state is acting in a way that is contrary to the people's interest, the people's lawyer - that should be the Attorney General - should be standing up and fighting for the people," Cahill told conservative talk show host Bob Lonsbery. "A perfect example of that is the passage of the so-called SAFE Act. Here we have legislation that's being passed in the middle of the night that is going to make criminals out of law-abiding citizens, that's going to take guns out of law enforcers' [hands], and where is the attorney general?"
Meanwhile, it is unclear how much stances like these really matter to the role of the AG: when a law exists, the AG must uphold it or defend the state in regard to it. The AG is not a legislator. But, there is always discretion involved in every position - and these types of issue stances certainly matter to voters.
The state has seen splits in ideology between Governors and AGs before. Republican Gov. George Pataki was said to have a cordial relationship with Democratic AG Eliot Spitzer despite their disagreement over same-sex marriage. At one point Pataki demanded that Spitzer intervene to stop New Paltz Mayor Jason West from performing same-sex marriages and Spitzer refused.
Blair Horner, of the New York Public Interest Research Group (NYPIRG), said that in the end, "The argument [that the AG should be a cross-party check on the Governor] is a good one for Cahill to make but I don't think it trumps the 2 to 1 party enrollment."
Grandeau agrees that the enrollment advantage will be tough to overcome, but that of the slate of statewide candidates Republicans have this year Cahill has the best chance. "History tells you that the right candidate at the right time can have success," he said. "I think I've seen the last Republican Governor in my lifetime, but my guess is Cahill gets the closest this time around."
[For more information on all the Attorney General candidates, visit our race page]
***
by David King, Albany Editor, Gotham Gazette
@DavidHowardKing