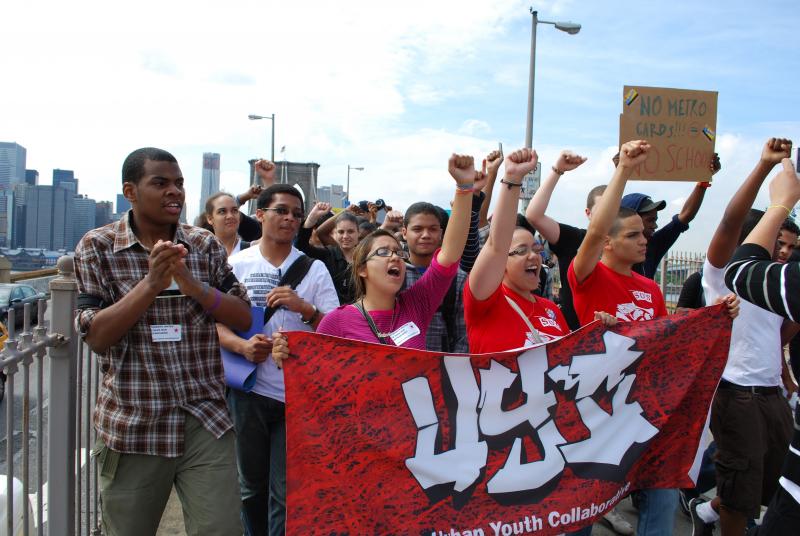 Members of the Urban Youth Collaborative at a protest march
---
The role of guidance counselors in schools is increasingly being recognized as an essential factor in student support and key driver to help prepare students both for graduating from high school and succeeding in higher education.
On Monday, the New York City Council's Committee on Education will consider a bill and a resolution centered around the counseling that students receive and aimed at improving student support services, college enrollment rates, and college-preparedness among high school graduates.
The proposed legislation, Intro. 0403, would require the city's Department of Education (DOE) to send annual reports to the Council on the state of guidance counselors in city schools, including guidance counselor to student ratios at each school. For these purposes, 'guidance counselors' includes a variety of student service providers such as traditional guidance counselors as well as school psychologists and others. With growingly diverse and needy student populations, many have renewed calls for an increase in counselor staff at schools.
The accompanying resolution, which also mentions counselor-student ratios, is focused on the creation of a comprehensive college preparation program based on recommendations by the Urban Youth Collaborative (UYC), an umbrella body of local youth organizations.
Former New York City Comptroller John Liu released a report in October 2012 highlighting the need to increase the number of counselors in city schools. The report also addressed the issues that the Council will be taking up on Monday, including an early intervention system to keep students on the right track to college, summer programs for college-bound youth, and training peer leadership in education.
The issue of skewed guidance counselor-student ratios is not new. A 2010 study by nonprofit research organization, Public Agenda, for the Bill and Melinda Gates Foundation, found that students considered high school counseling systems inadequate and at times even detrimental to their interests. Those who felt they were badly counseled in school suffered later when they headed to college.
The American School Counselor Association (ASCA) recommends that there be one counselor for every 250 students (Liu's report set the caseload goal at 100 students). According to the latest statistics from 2010-11, the national average was 471 students per counselor. New York State had a better figure, 392, but nonetheless higher than the optimum ratios set by ASCA and others.
"In the past few years, that number has just gotten worse," said Amanda Fitzgerald, director of public policy at ASCA. Fitzgerald says a countrywide trend has begun of addressing college and career readiness through increases in staffing ratios and that local governments are at the start. "It's definitely an important piece of the puzzle. We support the Council's resolution."
Unfortunately, the data for New York City is inadequate, which is one of the reasons behind the bill in front of the education committee. "Students are getting very little attention," said Council Member Antonio Reynoso, a sponsor on the bill.
(A 2005 study by the National Association for College Admission Counseling found that counselors were spending an average of 38 minutes annually per student on college advising. Back then the average counselor-student ratio was 315-1)
"The first step to improve the situation is to get a report from the Department of Education. Then hopefully we can find a solution and figure out how to change the system," Reynoso added.
Late last year, the Center for New York City Affairs at The New School highlighted the issue in a report titled Creating College Ready Communities. Certain students, the report noted, had even missed out on admissions to colleges of their choice because of mistakes by overburdened counselors. Of note, the Center analyzed data provided by the United Federation of Teachers (UFT), the union representing guidance counselors. New York City had seen, per the data, certain improvements in staffing ratios, but it varied greatly in different schools.
Scott Noon, executive director of business development at the Institute for Student Achievement (ISA) says the Bloomberg-era small schools initiative helped improve the situation in New York. "Most of the high schools are small," he said. "It leads to tight-knit relationships between students and adults. When that happens, students get better counseling."
The resolution before the education committee is aimed at addressing the more general problem of college access for students. According to DOE data from November 2013, only 49.7 percent of the class of 2012 enrolled in a two- or four-year college, vocational program, or public service program after graduation. Keeping this figure in mind, the Council's resolution is pushing the Urban Youth Collective's "Get Us To College" platform, which recommends that the city undertake an assessment of the support systems for high school students to transition into post-secondary education.
Among other measures in the resolution, the UYC has particularly stressed the need for creating student leadership and training peer counselors through Student Success Centers. "Young people are excited that the Council understands the youth have solutions and can play an important role in implementing them," said Kesi Foster, incoming UYC coordinator. "There is a broken pipeline in between high school and college graduation. The standards are changing and it's important to get students ready academically, especially first generation college goers," he added.
One method the resolution suggests, which the ISA agreed is effective, is distributed counseling. The model, which has already seen success in schools, relies on small groups, usually of 15 students. As opposed to the traditional model of hiring counselors, distributed counseling creates a network of counselors out of all teachers. "It's a safety net," said ISA's Noon. "It's a whole foundation of social and academic support to ensure no student falls through the cracks. It's about creating a college going culture by getting the students excited to go to college and ready to do so."
DOE Chancellor Carmen Farina created the office of Guidance and School Counseling at the department. Their representatives declined to comment for this story, but will be at the hearing on Monday to testify before the committee.
***
by Samar Khurshid, Gotham Gazette
@SamarKhurshid