Indian Prime Minister Modi at Madison Square Garden (photo: Casey Tolan)
---
New York - In a major speech at Madison Square Garden on Sunday, newly-elected Indian Prime Minister Narendra Modi addressed an adoring audience of Indian-Americans.
They cheered when he talked about his rags-to-riches story, his plan to clean the Ganges river, and his country's successful Mars satellite.
But the 19,000-strong crowd roared loudest of all for a slightly more mundane issue: visas.
Modi announced he would implement "lifetime visas" for Americans of Indian descent and a new visa-on-arrival system for all American citizens – top priorities for many Indian-Americans frustrated with the country's dysfunctional visa processing system.
The pledges are a sign of how focused Modi is on the Indian-American diaspora, and how he wants to make it easy for people of Indian descent to come home and invest.
"There was a time when people knew our country as a country of snake charmers," Modi told his audience, members of which had traveled to New York from across the U.S. "India has created a positive identity in the whole world, and you have an important part in that."
But while many attendees said they were proud of Modi, protesters outside the arena showed that the Indian-American community is still divided. Some accuse Modi of doing too little as chief minister of Gujarat state to stop religious riots in 2002 that killed over 1,000 people, most of whom were Muslims.
Modi finally made it to Madison Square Garden, where he was supposed to speak nine years ago, in 2005, but the State Department denied him a visa due to questions surrounding his involvement in the riots. The Obama administration made it clear after Modi won election in May that a visa would no longer be an issue – and on Sunday, many U.S. officials, especially from New York, seemed eager to put the past behind them.
Promises to cut red tape
Modi's speech was part of a six-day trip to New York and Washington, D.C. that also includes appearances at the U.N. General Assembly and the Global Citizen Festival in Central Park. This week, he will meet with President Obama at the White House.
The Madison Square Garden event at times resembled more of a rock concert than an address by a foreign leader. It featured folk dancers, flashy videos, and bollywood songs, and was emceed by Miss America 2014, who is Indian-American.
In a speech that was more than an hour long, Modi - who is fasting for the Hindu holiday of Navratri and only drinking tea and lemonade - promised to revamp India: helping the poor, cutting government waste, and making it easier to do business in the country.
He drew a line between himself and the previous administration, which was hit by corruption scandals, and said he wanted to create a government that would make Indians abroad proud, not ashamed.
"Ever since I have taken the responsibility of this job, not even for 15 minutes have I taken a vacation," Modi said, adding that he would "never do anything for which you feel you have to look down."
New York State has the second-largest Indian population in the U.S. behind California, with more than 313,000 Indians, according to census data, although New Jersey's population is close behind and growing rapidly.
The large Indian diaspora, especially in the United States, is important to Modi's plans because of the potential of Indians to return to India and invest in its development. Indian-Americans were also big contributors to Modi's political party during the election campaign earlier this year.
"He has a vision for how Indians around the world can contribute to India, through business and charity," said Persis Khambatta, an analyst with Bower Group Asia, which studies Asian politics. "People are energized. This was a much more high energy event than I've ever seen for an Indian government official."
The visa issue is key. Now, New Yorkers wanting to travel to "mother India," as Modi put it, have to stand in line, sometimes for hours, at the disorganized visa processing center on East 30th Street.
After Modi's proposals take effect, Americans will be able to get a visa when they arrive in India, instead of having to apply ahead of time. Indian-Americans will get a permanent visa, instead of dealing with the current, bureaucratic registration system.
About 30 members of the United States Congress joined Modi on stage, perhaps a testament to the growing political power of the Indian-American community.
"Cutting of the red tape... is something that's tremendously important to a lot of my constituents," Rep. Grace Meng, whose western Queens district has one of the largest Indian populations in New York, told Gotham Gazette. "We're thrilled that they're making it easier for them to travel."
"The Indian diaspora is quite excited," said New Jersey Assembly Member Upendra Chivukula, one of the first Indian-American elected officials in the country. "They can go back to their villages and try to invest and bring some investment from America. America speaks in dollars, and those dollars are going to go a long way."
Controversial history
Not everyone was so happy about Modi's visit. A group of several hundred protesters assembled across the block from Madison Square Garden, holding up signs like "Convict Modi" and "Prime Murderer of India."
They said the Obama administration should never have approved his visa, and that the 2002 riots were being swept under the rug.
"There is evidence against Modi that he was involved, and we think he needs to be held accountable for his role," said Robindra Deb, an activist with the South Asia Solidarity Initiative, one of the groups that organized the protest.
Deb said that Modi's rhetoric about helping the poor was undermined by his pro-business policies that disproportionately benefited the upper class.
"We wanted to make clear that the Indian-American community is not in any way united in their jubilation of Modi's victory," Deb said. "There are a lot of Indian-Americans who find this victory very troubling."
Last week, a federal court in New York issued a summons to Modi over his role in the riots – a decision that was basically symbolic due to the prime minister's diplomatic immunity.
But for many U.S. officials who attended the speech, the riots and the dispute over Modi's visa were squarely in the past.
"We're looking forward, and I know the prime minister is as well," said Nisha Biswal, the U.S. Assistant Secretary for South and Central Asian Affairs.
"Many of us here felt he should have had that opportunity to come to the United States [in 2005]," said Rep. Ed Royce (R-CA), chair of the House Foreign Relations Committee.
Royce noted that an investigation by India's Supreme Court found no culpability for Modi. "It is the responsibility of leaders in the United States to accept the decision of the court," Royce said - although human rights activists have questioned the validity of the investigation.
While it's unclear what percentage of the Indian-American population supports Modi, supporters get more attention than those who oppose him, said Maritsa Poros, a CUNY professor who studies Indian immigrants in New York.
"The Modi supporters and the people who have...really supported him abroad are very vocal, and those are the voices you hear for the most part," Poros said. "They do drown out a lot of the dissent."
Excitement in Queens
A 7 train ride away in Jackson Heights, the heart of New York's Little India, Modi's visit was big news, and many people were excited about the prime minister.
Saifullah Bhuiyan, who runs a travel agency on 74th Street, said he hoped the reforms Modi announced would make travel easier for his many customers heading to India.
Currently, "there's no fixed time for getting a visa back," said Bhuiyan, who is from Bangladesh. "People wait and wait and wait."
Travelers are often confused about the complicated visa procedures, and some have had their passports lost in the bureaucratic shuffle, Bhuiyan said.
Down the block at Patel Brothers, a large grocery store that stocks imported chai tea and shelves of Indian spices, a large poster of Modi hung on the wall.
"He was well-prepared for the audience of New York," said Ravi Rachit of Forest Hills, who had come from the speech to go shopping. "He got the results for us – the visa process will be better."
"He's trying to have us come back to India and help out," added his son, also named Ravi. "I like that."
The manager of the store, Nandu Patel, said he does business in India and thought Modi's reforms would make it easier.
"I'm proud of him," Patel said. "Narendra Modi is great for India, for all Indians."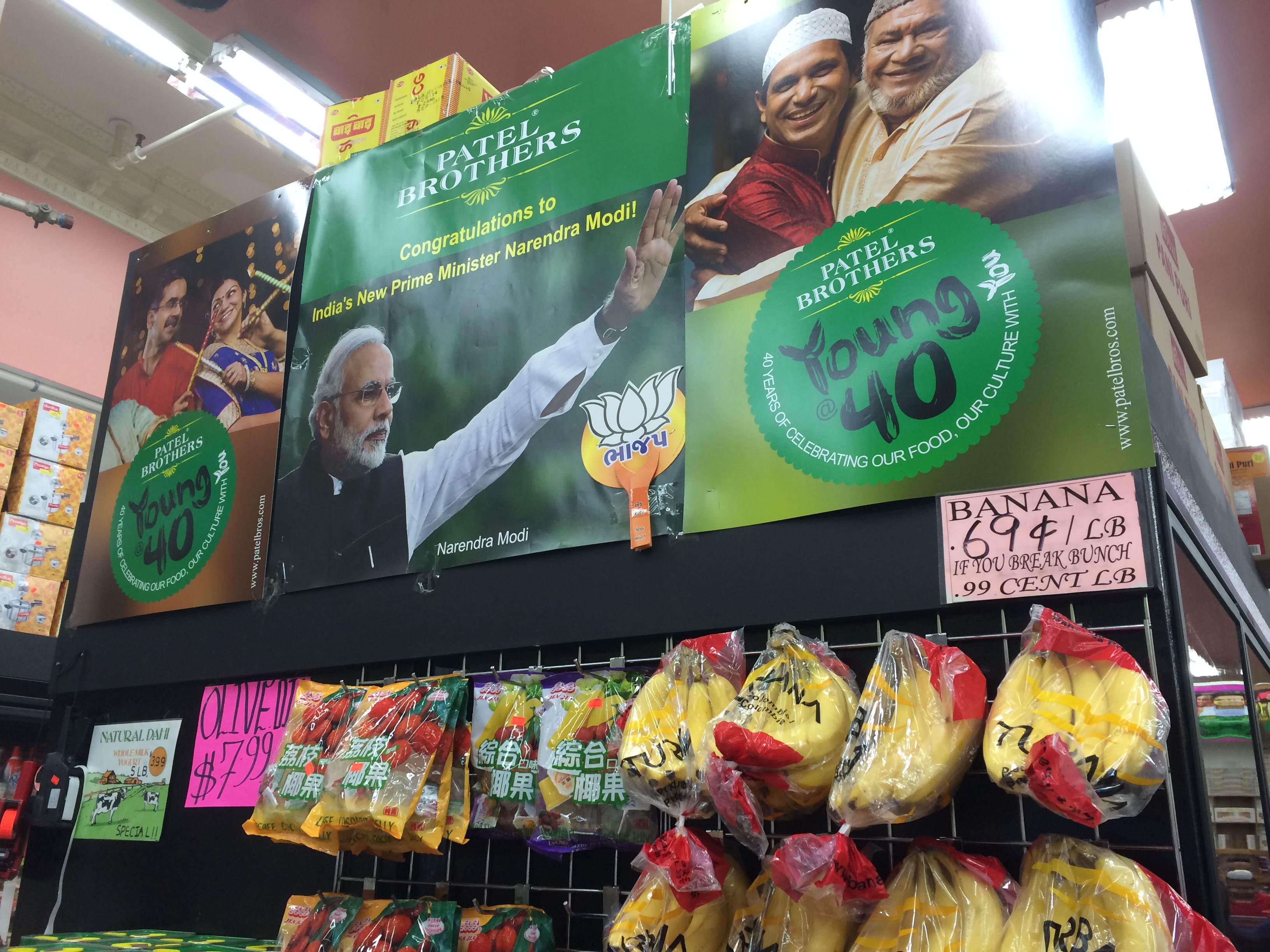 Signage for Modi in a Queens store (photo: Casey Tolan)
***
by Casey Tolan, Gotham Gazette
@CaseyTolan