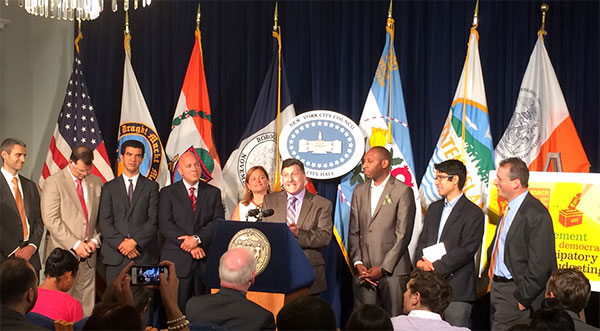 Council members announce major expansion of PB (photo: pbnyc.org)
---
The New York City Council website got a small, but significant upgrade on Tuesday, one that makes getting information about Participatory Budgeting a little easier.
The council home page now has a dedicated Participatory Budgeting (PB) tab where visitors can click to see general information on the process and constituents can find out if their council member is running the PB program.
The FAQ page was launched earlier this year, but now the council site includes an events page which lists all PB events by district. Citizens can also sign up to receive email updates or volunteer as a budget delegate, meeting facilitator, or interpreter, or to help with outreach.
This fiscal year, 24 council members will run Participatory Budgeting in their districts, up from four when the Council first adopted the practice in 2011. PB allows members of the community to choose how to spend roughly $1 million in capital discretionary funding on things like computers for schools, cameras in public housing, or parks improvements. This year the Council will allocate over $25 million to PB projects in total.
Speaker Melissa Mark-Viverito was among the first group of four Council members to use PB (prior to her becoming Speaker) and has embraced the practice as an effective way to engage the community in the budget process.
"Participatory Budgeting is a priority for this Council and we're excited by the new website which will help people better navigate and participate in the process," council spokesperson Eric Koch said by email.
***
by Kristen Meriwether, Gotham Gazette
@MeriwetherK