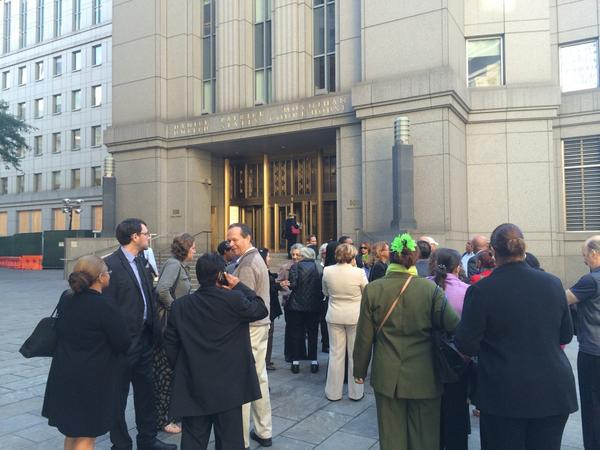 Supporters of Gabriela Rosa wait to enter the federal courthouse Friday morning (Casey Tolan)
---
Manhattan - Former New York State Assembly Member Gabriela Rosa was sentenced to one year and one day in prison and three years of probation on Friday morning.
Rosa, who pleaded guilty to marriage fraud and bankruptcy fraud in June, was sentenced by Judge Denise Cote at the federal courthouse in downtown Manhattan.
The sentence was virtually the minimum from the federal guidelines, which had suggested 12 to 18 months in prison. But Rosa and her lawyers had asked for a sentence of probation.
In 1996, Rosa, who is from the Dominican Republic, paid a man $8,000 to marry her so she could become a citizen and then lied about it to federal immigration authorities.
It was an emotional day for Rosa, who was joined by about 100 supporters, many from her former district, which includes Washington Heights and Inwood. When she arrived outside the courtroom, Rosa's supporters surrounded her and offered hugs, one at a time. Some prayed over her, hands extended and eyes closed.
During the hearing, Rosa's lawyer, Genesis Peduto, said that Rosa had been punished enough.
"Twenty years ago, when she committed this crime of marrying someone, she was following the American Dream," Peduto said.
Cote interrupted Peduto, incredulous.
"I'm sorry, are you implying that paying a man $8,000 and lying to immigration officials for years is the American Dream?"
In her own oral presentation, Rosa made a personal appeal to Cote.
"I want to speak to you as a mother. My son is 16 years old. He needs me," she said. "That doesn't take away my responsibilities, the bad choices I made…I just ask you for mercy, don't send me away from my son."
But Cote, who called Rosa's actions "a pattern of lies," was not persuaded.
"I don't think this was a mistake," she said. "I don't find that it can be justified as an act of naïvete or in pursuit of the American dream…that is really a disservice to all our immigrants who try to follow the law and gain citizenship legally."
"Innocent family members often suffer because of defendants' criminal acts," Judge Cote added.
The supporters packed into the courtroom strained to hear the judge speak, and many wiped away tears as the sentence was announced.
Rosa came out of the courtroom sobbing. Assembly Member Herman Farrell Jr., who Rosa worked for before she ran for office, hugged her, shaking his head. He declined to comment.
State Senator Adriano Espaillat, whose endorsement of Rosa helped her win her 2012 assembly race, also came to hear the verdict, but left soon after it was announced.
As Rosa left the courthouse, photographers and TV cameras crowded around her, and her supporters formed a wall, trying to block them.
"She's not capable at all of making a statement right now," Peduto said, escorting Rosa to a cab as press and supporters pushed and yelled at each other.
"Gabriela Rosa! The people are with you!" some chanted in Spanish.
Many said they thought that Rosa was prosecuted because she was a Latina fighting for her community.
"We feel targeted. This is not just an attack on Dominicans, it is an attack on all Latinos," said Zenaida Mendez, the president of the New York chapter of the National Organization for Women (NOW). "She was doing very well in Albany."
"The punishment did not fit the crime," said Quenia Abreu, a nonprofit leader in Washington Heights. "This is an abuse against women."
"This is the broader system of immigration everyone goes through," said Carlos Cabrera, a representative with the union 32BJ. "It cheats you of having opportunities…that's how these things work."
Supporters questioned why prosecutors didn't go after the man Rosa paid to marry her.
Rosa must surrender by November 14, and pay $19,652.09 in restitution.
[Related: court documents show statemens of support for Rosa from elected officials and the recommendation of prison time from U.S. Attorney Preet Bharara]

by Casey Tolan, Gotham Gazette