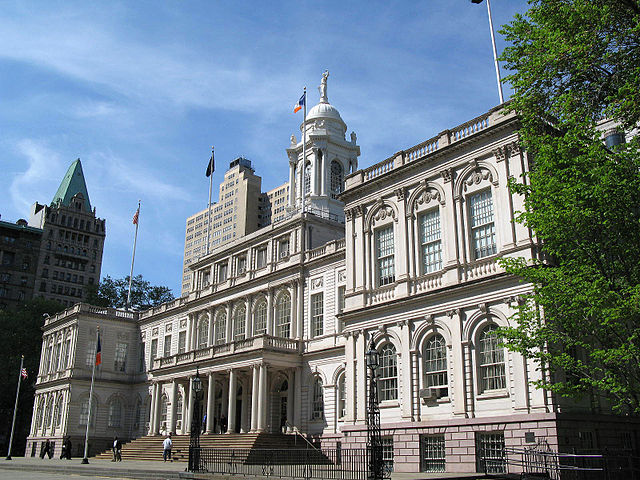 New York City Hall
---
What to watch for this week in New York politics:
The week ahead is sure to include more action in the hotly-contested races for Governor, Attorney General, and New York's 11th Congressional District, along with key State Senate districts - Tuesday is four weeks 'til Election Day. We're awaiting details on debates in each of the three state-wide races and watching for the next debates in NY11. This week is another busy one at The New York City Council, including a full-body Stated Meeting on Tuesday - see those details below, and as always there are plenty of interesting events this week, including on Wednesday evening when the City hosts a hearing on the municipal ID card program and Mayor de Blasio headlines a Working Families Party event. Also this week, grand jury deliberations continue in the Eric Garner case on Staten Island. All this and a whole lot more:
On Sunday, Mayor Bill de Blasio endorsed incumbent Democratic Attorney General Eric Schneiderman for re-election at Bridge Street AME Church in Brooklyn. According to a release from Schneiderman's campaign, de Blasio said, "I am proud to endorse Eric Schneiderman for Attorney General. Eric believes that every individual deserves to be treated equally under the law, and that the law must apply equally to everyone." De Blasio cited Schneiderman's work "holding the big banks accountable for their role in the financial crisis, fighting back against wage theft, [and] ensuring that money pledged for the Hurricane Sandy recovery effort was spent quickly and effectively."
Nothing about this endorsement is surprising, of course. What will be interesting to see is when and how Governor Andrew Cuomo endorses Schneiderman. The two are known to have an icy relationship, but Schneiderman backed Cuomo in the Democratic primary this year (Schneiderman did not face a primary challenge) and Cuomo is expected to endorse the sitting AG in his bid to defeat challenger John Cahill, a Republican.
Sunday evening, Mayor de Blasio was set to "speak at The Association of Indians in America, NY (AIA-NY) 27th Annual Deepavali Festival in Manhattan," according to his public schedule.
On Monday, the mayor is going to "tour the Staten Island University Hospital Power Plant and Boiler Room...Following the tour, the Mayor will host a media availability in the Staten Island University Hospital outside courtyard to discuss resiliency measures that will be coming to the hospital. In the evening, the Mayor will attend a reception celebrating the birthday of Kings County Democratic Party Chair Frank Seddio in Brooklyn," according to his public schedule.
Speaker of the City Council Melissa Mark-Viverito starts her week attending the "East Harlem Community Alliance STRIVE Launch at the East Harlem Talent Center and attends [the] JCRC National Hispanic Heritage Month and Sukkot Event" in the Bronx, according to her public schedule. It's a big week for the speaker as she introduces new legislation to the Council on Tuesday regarding policies around the City turning over detained undocumented immigrants to federal authorities.
Last week saw the New York City Council's new (fiscal year 2015) cycle of participatory budgeting really get going, including the launch of new web features by which constituents can track what's happening and plan to participate. With more than $25 million allocated toward this form of local spending and 23 council districts participating, this year's program will be a busy one. There are several community events this week - see below for more details.
It's Columbia Voting Week 2014 - details below of day-by-day events that include current and former elected officials, and other prominent civic leaders, including former Mayor David Dinkins.
More Elections Watch - just over 4 weeks until Election Day
Saturday was a busy one in the gubernatorial campaign as Gov. Cuomo and his lieutenant governor candidate running-mate Kathy Hochul toured the state on The Women's Equality Express and were trailed by a truck from the campaign of Republican gubernatorial candidate Rob Astorino, currently the Westchester County Executive, who is pushing back on the governor's women's rights agenda by asking (as told by a billboard on the truck) where the governor was when Assembly Speaker Sheldon Silver was questionably handling sexual harassment scandal in his chamber.
As the week begins, New York politicos will keep an eye on the campaigns, and there's a great deal happening at the City Council and all over the city, with many events to be aware of. The run of the week in more detail:
Monday
On Monday morning there will be Energy Infrastructure Finance, a public meeting of the quadrennial energy review, hosted by the U.S. Department of Energy, at NYU, with opening remarks by Ernest Moniz, Secretary, U.S. Department of Energy and Carolyn Maloney, United States House of Representatives
Also Monday morning, according to City & State NY, "Senator Charles Schumer and Consul General of Canada to New York John Prato address members of Manhattan's Diamond district at annual meeting of the 47th Street Business Improvement District."
Governor Cuomo begins his week welcoming "the I Lift NY Super Crane as it Travels Up the Hudson River from New Jersey to the New NY Bridge" in Piermont, along with making an announcement, according to his public schedule. "The I Lift NY super crane, one of the world's largest floating cranes, is scheduled to travel from New York harbor up the Hudson River early Monday morning."
The City Department for the Aging will hold a public hearing in the Bronx at Lincoln Hospital on Monday morning, part of a series of public hearings happening in October across the five boroughs.
Mid-day Monday at Life is Precious Brooklyn Headquarters, "U.S. Senator Gillibrand, U.S. Congresswoman Nydia Velázquez and Comunilife's Life is Precious Program (LIP) are seeking to raise awareness of the suicide epidemic for Latina teens, highlight early intervention measures, assess current federal response and promote community based, culturally sensitive solutions." The event is a "Latina Teen Suicide Expert Panel & Community Discussion."
The City Council schedule for Monday includes: the Committee on Cultural Affairs, Libraries and International Intergroup Relations will consider a resolution supporting the Justice for Jazz Artists campaign "which seeks ... to improve the lives of musicians working in New York City's jazz clubs by addressing workplace issues, including providing retirement security"; and the Committee on Transportation holding an oversight hearing on the MTA's 2015-19 capital plan and introducing local amendments to the administrative code of New York City as regards to "requiring certain qualified transportation benefits" and "reducing the citywide speed limit to twenty-five miles per hour."
Columbia Voting Week opens on Monday with a welcoming event hosted by Columbia College Dean James Valentini and School of International and Public Affairs Dean Merit Janow, followed by a panel on "Running for Public Office" headlined by former Mayor and current SIPA professor David Dinkins and featuring panelists Council Member Mark Levine, Assembly Member Nily Rozic, and former district leader Lincoln Restler.
There will be a "Cop Watch Training" in Manhattan on Monday evening, one of a series of sessions aimed at engaging New Yorkers in the monitoring of police to "document and deter abuse": "groups call on all New Yorkers to "Cop Watch" and offer guidelines for how to do it as safely and effectively as possible." The trainings are being sponsored by CAAAV Organizing Asian Communities, Justice Committee and Malcolm X Grassroots Movement.
Also on Monday evening, "Green Party lieutenant governor candidate Brian Jones holds an education forum" in Rochester, according to City & State NY.
Tuesday
Tuesday marks four weeks until Election Day. Visit our Elections Center for a lot more info.
On Tuesday morning, ABNY will host a breakfast forum featuring MTA Chairman Thomas Prendergast, who "will discuss the MTA's Capital Program and provide updates on MTA projects currently underway."
Also Tuesday morning, the Manhattan Institute and the Center for Educational Innovation-Public Education Association will co-host "A Light Shines in Harlem: New York's First Charter School and the Movement It Led." The event will explore: "New York's experiment with charter schools is widely regarded as a success, but issues remain" - issues such as funding, space, and the charter cap. Questions will be asked: "What have been the great innovations of the charter sector over the last 15 years? What will New York's charter sector look like 15 years from now? What are the characteristics of a successful charter school? How can charters and district schools work more collaboratively and learn from each other? What is the proper role of business leaders, civil rights leaders, and philanthropists in charter schools?"
The first of two October full-body Stated meetings of the City Council will occur Tuesday afternoon at 1:30 p.m. at City Hall. The big news from this past week is that Council Speaker Melissa Mark-Viverito will introduce legislation aimed at reducing the detention of undocumented immigrants. There are sure to be several other bills introduced as well as others voted to head to the mayor.
Prior to the Council's Stated meeting, its Committee on Finance will convene. Multiple meeting items include: a "resolution approving the new designation and changes in the designation of certain organizations to receive funding in the Expense Budget"; a variety of land use applications, and more.
Also prior to the Stated meeting, at 11 a.m. outside City Hall, Brooklyn City Council Members Stephen Levin and Antonio Reynoso, other council members, environmental justice advocates and community-based organizations will rally for Waste Equity Legislation, namely Intro. 522, which, they say, "will ensure the fair distribution of garbage handling in New York City."
And right before the Stated, at 1 p.m. outside City Hall, "Council Members Laurie A. Cumbo, chair of the Women's Issues Committee and Vanessa L. Gibson, chair of the Public Safety Issues Committee will lead a press conference on the steps of City Hall marking Domestic Violence Awareness Month. We will acknowledge survivors and salute the incredible service providers that carry out domestic violence-related services. Council Members and other elected officials will be joined by Domestic Violence survivors, advocates and key organizations that provide domestic violence-related services throughout the City."
On Tuesday at noon at City Hall Restaurant, City Housing Commissioner Vicki Been will "discuss her priorities for affordable housing at The Women in Housing and Finance Luncheon."
President Barack Obama is set to be back in town Tuesday, raising money for the Democratic National Committee.
Tuesday's Columbia Voting Week events are "Political Consulting and Running Elections" and "Political Engagement, Advocacy and Public Policy."
City Council Member Ben Kallos will resume holding participatory budgeting events around his district on Tuesday, this time on Roosevelt Island. Council Member Mark Weprin will also hold a PB event Tuesday night in Douglaston.
Also Tuesday evening, AD 76 Democratic primary winner Rebecca Seawright will be holding a thank you party featuring special guests State Senators Liz Krueger and José M. Serrano and Council Members Ben Kallos and Dan Garodnick.
Wednesday
On Wednesday morning, Crain's New York Business will host a breakfast forum with NYC Parks Commissioner Mitchell Silver, during which the commissioner is set to "discuss his plans to create a 21st century parks system and how best to work with conservancies and partner groups to bring best practices to all parks....[and] address the outlook for funding and manpower and re-imagining the parks' capital process."
Later on Wednesday morning, the City Council Committee on Juvenile Justice will hold a joint meeting with the Committee on Fire and Criminal Justice Services to oversee "the treatment of adolescents in New York City Jails" and review "the United States Department of Justice's Report on Violence at Rikers Island."
The Mayor's Office of Immigrant Affairs will host a public town hall hearing on the City's municipal ID card program at 5 p.m. on Wednesday at 1 Centre Street, which comes as the City continues to determine the details of the program. Members of the public are welcome to attend and speak on the record. There is also the option to submit comments to through the City's website (or email or send by postal mail).
Wednesday evening, the Working Families Party (WFP) and partners, including Mayor de Blasio are holding "WFP Campaign Kickoff: Justice for Workers" - "Together with the Mayor and a number of special guests, we'll be kicking off our campaign to win justice for workers by winning both a Democratic-WFP majority in the State Senate and a strong showing on the WFP line on Election Day." According to Common Cause NY, the event is also said to be will be a "Rally for Fair Elections" - "As the legislative session in Albany draws near, we are gearing up for a renewed fight to bring Fair Elections to New York State. It is time to change the way politics works in Albany...We are calling on legislators to pass a comprehensive campaign finance reform package, including public financing of elections. Fair Elections will break the power of big money with small donor contributions and public funds."
The Columbia Voting Week event on Wednesday is "Challenge of Being a Leader and Politician" with featured guest Rhode Island Gov. Lincoln Chafee.
Wednesday evening's participatory budgeting events include those being held in their home districts by City Council Speaker Melissa Mark-Viverito; Council Member Stephen Levin; and Council Member Daneek Miller.
Thursday
The New York League of Conservation Voters Education Fund & NYU/Wagner's Institute for Civil Infrastructure Studies are co-hosting "Dig Deep for a Greener New York" on Thursday morning that will feature "Angela Licata, NYC Department of Environmental Protection; Maureen Krudner, Environmental Protection Agency, Region 2; Mary Alice Lee, Trust for Public Land; Sean Dixon, Riverkeeper; Jaime Stein, S.W.I.M Coalition; City Council Member Mark Treyger, Chair, Committee on Recovery and Resiliency; Betsy Mallow, Deputy Director, Governor's Office of Storm Recovery; Daniel Zarilli, Director, NYC Mayor's Office of Recovery and Resiliency; Kizzy Charles-Guzman, The Nature Conservancy; Stephen Couch, U.S. Army Corps of Engineers; Amanda Ludlow, Roux Associates."
The Columbia Voting Week event on Thursday is "Democratic Engagement."
Council Member Mark Levine hosts a participatory budgeting session on Thursday evening in uptown Manhattan (he's also hosting one on Saturday afternoon). Council Member Corey Johnson is also hosting a participatory budgeting session on Thursday night.
Also Thursday evening, Council Member Johnson also hosts "Let's Talk! Affordable Housing with Council Member Corey Johnson...a conversation with experts about affordable housing" including "Vicki Been (Commissioner, NYC Dept. of Housing Preservation and Development), Sarah Desmond (Executive Director, Housing Conservation Coordinators), Joe Restuccia (Executive Director, Clinton Housing Development Company)."
Friday and the weekend
Friday's Columbia Voting Week events are "Conservative perspectives on civil rights, the First Amendment, immigration, and government reform" and "Perspectives from Iraq: Building a Democracy in a Multicultural Society."
The New Yorker Festival will be held October 10-12.
On Saturday, former Democratic gubernatorial candidate Zephyr Teachout will be the featured guest speaker at the WE ACT membership meeting "for a discussion on how we can take back the power in our democracy."
Also on Saturday, Diane Ravitch leads an event of The Network for Public Education: "PUBLIC Education Nation will deliver the conversation the country has been waiting for. Rather than featuring billionaires and pop singers, this event will be built around intense conversations featuring leading educators, parents, students and community activists. We have waited too long for that seat at someone else's table. This time, the tables are turned, and we are the ones setting the agenda. This event will be livestreamed on the web on the afternoon of Saturday, October 11, from the auditorium of Brooklyn New School, a public school. There will be four panels focusing on the most critical issues we face in our schools. The event will conclude with a conversation between Diane Ravitch and Jitu Brown."
On Sunday, Council Member Jumaane Williams is hosting a community event, "3rd Annual Breast Cancer & Domestic Violence Awareness Month Kickoff."
***
Have events or topics for us to include in an upcoming Week Ahead in New York Politics? Email Gotham Gazette executive editor Ben Max any time: This email address is being protected from spambots. You need JavaScript enabled to view it. (please use "For Week Ahead" as email subject).
***
by Rati Mukhuradze, Katrina Shakarian, Kristen Meriwether, David King, and Ben Max
@GothamGazette