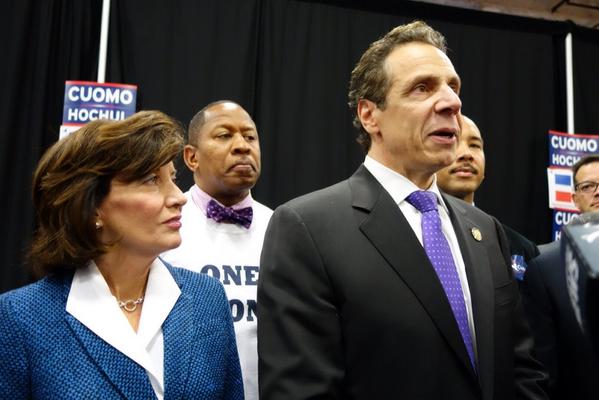 Gov. Cuomo with Kathy Hochul (photo: John Kenny @jjk607)
---
The following is part of our series, The Cuomo Record, examining incumbent Democratic Governor Andrew Cuomo's first term as he seeks re-election heading to Election Day, November 4
Ask good government groups what New York Governor Andrew Cuomo has done on ethics and reform in his first term in office and you will get strikingly different accounts.
One version goes that Cuomo is a dedicated public servant who has slowly and carefully worked for reform and achieved some important changes to how the state polices legislative corruption, but has ultimately been defeated on major systemic reform by a recalcitrant legislature.
"He has been the most active governor in recent memory on pushing wide-range reforms," said Dick Dadey of Citizens Union, who notes that Cuomo implemented a new ethics commission with joint oversight (JCOPE), mandated legislators disclose their outside income, secured tougher bribery laws, and got some concessions from the Legislature on issues "that are core to their power."
The other version is less kind. It goes something like: Cuomo is a governor who has broken many promises because he is unwilling to risk political capital for major reform.
To hear Barbara Bartoletti of the League of Women Voters tell it, Cuomo has "Squandered opportunities for reform that we won't see again for a generation." Bartoletti insists Cuomo has failed to capitalize on openings where he could have used his bully pulpit to push the Legislature harder or galvanize the public on full public financing of elections and ending loopholes in New York's campaign finance law that allow unlimited corporate donations; given the attorney general more power to pursue legislative corruption; or addressed the Board of Elections' lack of enforcement of existing campaign finance laws.
Despite some differences in assessment of Cuomo's first term, just about all in the good government community agree that Cuomo has not clearly communicated whether he intends to pursue any sort of ethics or campaign finance reform agenda should he win a next term.
"It seems he is trying to argue he has solved Albany's problems and he is not saying what he will do going forward," said Bill Mahoney of the New York Public Interest Research Group (NYPIRG). "He said he was going to stop Albany from being a punchline, but the minute Preet Bharara starts handing down indictments Albany will be a punchline once again."
Dadey of Citizens Union agrees that Cuomo has been quiet on his second-term agenda noting that "ever since the Moreland debacle the governor has not been visible on reform issues or second-term plans and I think it has been a loss."
Dadey contends that "the big black eye of Moreland has clouded some people's memories of the significant reforms this governor achieved during his first term."
Bartoletti, who served as an advisor to Cuomo's Moreland Commission on Public Corruption, says that the governor promised massive systemic reform in his 2010 campaign policy book and was handed major opportunities to achieve it.
"It started with a chance to reform redistricting and he gave it away and the Legislature said: 'This guy is all bark and no bite. He isn't serious about reform.'" From there Bartoletti notes that Cuomo has seen a swath of legislators indicted during his term (11 according to NYPIRG's Mahoney) and had the backing of a major, monied push to reform the state's campaign finance system, but rather than hitting the stump and rallying the voters for change, Bartoletti says Cuomo "Moved the ball maybe 10 yards...There wasn't a touchdown."
So what did Cuomo promise voters during his 2010 campaign?
"We must fundamentally reform our system to give voices to all New Yorkers, not just the special interests.To accomplish this, we must enact a voluntary system of public financing, make sure legislative lines are drawn independently of self-interested legislators and enact other campaign finance laws to give New Yorkers a real voice in their government," Cuomo's policy book read.
The 250-plus page briefing book criticized the loopholes in New York's campaign finance law that allow major donations to party coffers but rather than offering a specific solution the book simply asserts "New York State needs a system of public campaign financing."
Cuomo has not reformed the state's loosely regulated campaign finance system - instead he is the largest beneficiary of it - raising over $45 million for his 2014 campaign, mostly from large corporate donors.
On the campaign trail Cuomo promised he would give the Attorney General a blanket referral to investigate legislative corruption if he was unable to stop it with other reforms. Despite a tidal wave of legislative indictments Cuomo has not issued such a referral. Instead he empaneled the Moreland Commission, which he eventually bargained away for a set of reforms that good government groups regarded at the time as "small potatoes."
Accomplishments
Cuomo's first major action on ethics came in June 2011. After long negotiations with the Legislature a deal was announced that replaced the state's old ethics watchdog with the Joint Commission on Public Ethics (JCOPE). Staffed by legislative and gubernatorial appointees the ethics commission quickly came under fire because legislative appointees can easily team up to vote against investigations.
Furthermore, Cuomo's appointees all owed their careers or political position to the governor. JCOPE quickly ran into trouble over the Vito Lopez sexual harassment scandal. It was reported that JCOPE members blocked an investigation into Assembly Speaker Sheldon Silver's handling of the matter. JCOPE has also seen turnover of members who have expressed frustration about how the body operates.
Further troublesome to good government officials is that JCOPE often operates behind closed doors and without any transparency.
The JCOPE deal also included major reporting requirements relative to lawmakers revealing their outside income, with lawyers also required to reveal their clients if they do business before the state.
Mahoney describes that point as "a real step forward." Legislators' outside income has certainly become more public, but there's been little movement in terms of further regulating it.
Moreland and beyond
In the spring of 2013, after a rash of indictments, Cuomo held a press conference announcing a series of reforms he wanted to help fight corruption. Good government groups were unimpressed as his plans did not include major items like a new campaign finance system. The Legislature didn't seem to think the reforms were minor as they balked at the idea of enacting any of Cuomo's proposals into law.
Later in June Cuomo moved to create his long-threatened Moreland Commission. Despite the months of investigations, public hearings, and an initial report that detailed how Albany's campaign finance laws allow for corruption, Cuomo quietly announced the commission's demise over an atypical conference call to discuss a budget deal.
What Cuomo got in exchange for ending the commission was not insignificant, but was far weaker than what many had hoped for and Cuomo had promised from the Moreland Commission. The deal included stronger bribery laws, a trial campaign finance system that only impacted the 2014 comptroller's race, and a new position at the Board of Elections (BOE) that oversees enforcement issues. Legislators rejected tighter restrictions on campaign donations and a larger campaign finance system that Cuomo had proposed in his budget.
Mahoney of NYPIRG says it is important that the BOE now has an individual whose job it is to speak out about enforcement issues. However, Mahoney also contends that it is concerning that the head of the unit that investigates election law violations keeps in regular touch with Cuomo's aides.
Mahoney calls the trial campaign finance system for the comptroller's race "an unmitigated disaster" (incumbent Tom DiNapoli opted not to participate and his challenger is unlikely to qualify for the program).
Dadey, however, insists that Cuomo has often fought the good fight and been hamstrung by a legislature that is determined to maintain its power. "The governor was an effective champion on campaign finance reform. To place the failure of the movement entirely at his doorstep is wrong because he did do a lot given the Senate's opposition."
When asked about criticism that Cuomo did not expend as much energy on campaign finance reform as he did on same-sex marriage or gun laws Dadey responded, "I think that misses the point. The core power of the Legislature is at stake with redistricting and campaign finance reform in a way that it is not with marriage or gun laws. Those issues are not core to where they draw their power."
The main spot of contention among good government groups surrounds Cuomo's promise to enact independent redistricting and veto the Legislature's lines if they are partisan. Rather than making good on those promises, Cuomo cut a deal with the Legislature creating an amendment that would have a separate redistricting commission largely appointed by the Legislature draw lines. To go into effect, the plan must be approved by voters via a ballot proposal, number one ("Prop 1") on the Nov. 4 Election Day ballot.
According to the proposed amendment, the Legislature would review the lines drawn by the commission and if it twice rejects plans from the commission it could then change the plan to its liking - within certain legal parameters that those in favor of Prop 1 call extremely important. Common Cause NY and NYPIRG have come out against the amendment saying that it provides window dressing that allows the Legislature to continue controlling who its members represent and helping them win re-election.
Citizens Union and The League of Women Voters, on the other hand, back the amendment saying that Prop 1 is progress because it allows for a separate commission to draw the lines rather than the Legislature and that it includes key language preventing the drawing of lines "for political advantage" that would open gerrymandering up to significant legal vulnerability to court challenge.
Despite supporting the amendment Bartoletti believes Cuomo has mishandled the endeavor. "Prop 1 is supposedly being backed by the governor but has he been out there supporting it on the stump or in TV ads? I've not seen it. And if that goes down some people will say 'good, we can do better,' but it's just as likely the governor will say, 'we tried and the people have spoken so go away.'" Dadey says Cuomo's absence on Prop 1 has just been par for the course for the governor, who has avoided ethics and reform issues since the Moreland scandal and is not indicative of his support for the amendment. Cuomo recently reiterated his support for Prop 1 when asked, but has not been an active advocate for it - yet, anyway.
Mahoney disputes that permanent damage has been done to the chances of good government reform, but he agrees that Cuomo has missed major opportunities to rally the public. "He had a big opportunity in 2013. It seemed like there was an indictment every other week, and there were many groups who had his back on campaign finance reform. He could have used that time to rally the public but he really didn't push hard," Mahoney said.
Bartoletti acknowledges that corruption issues don't poll as well as economic issues with voters and that it will take "A governor who is willing to go to the mat for principles and we haven't seen that. 'Present company' included."
Bartoletti said she had deep belief that Cuomo's Moreland Commission would effect change. "Senate Republicans and Assembly Democrats were scared to death of what Moreland might reveal and this is what we get," she said, disappointedly referring to allegations that Cuomo interefered with the commission when it started investigating interests he was close to and then traded it away for minor reforms.
Of course, U.S. Attorney Preet Bharara's office has picked up on Moreland's initial work and may still bring about further results - though these would be in the form of indictments, which require a far higher bar, not necessarily recommendations for reform. As Bharara has said, often the real scandal is what is legal, not what is illegal. Moreland was on track to expose the many problems involved with the legal systems in place that indictments from Bharara and others often help highlight, but only when legislators have taken things even past what is legally sanctioned.
Asked whether she thought the fallout from Moreland would damage future attempts for reform Bartoletti responded, "I can't really imagine a positive scenario. The governor alienated an awful lot of people from the Working Families Party to my colleagues in good government. I don't have an awful lot of optimism anything is going to happen on reform in the next four years. I think we are going to have to wait for an entirely different governor and an entirely different legislature."
***
This article is part of The Cuomo Record, Gotham Gazette's series looking at the governor's first term. Find the other articles in the series here.
***
by David King, Albany Editor, Gotham Gazette
@DavidHowardKing
Note: Gotham Gazette is published by Citizens Union Foundation, the sister organization of Citizens Union