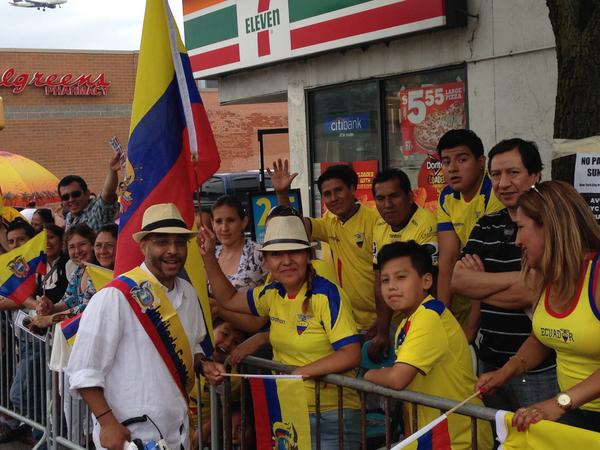 State Sen. Jose Peralta is one of many uncontested incumbents (photo: @SenatorPeralta)
---
The strength of a democratic government is in its citizens' ability to choose their representatives. But if the choices are limited, is the process truly democratic?
On Election Day - Tuesday, November 4 - more than a third of all races for seats in the New York State Legislature, 74 out of 213, feature a candidate running unopposed. The same holds true when you zoom in on New York City, where 21 of 63 races are uncontested.
Looking at this startling democratic mutation, Gotham Gazette spoke with experts seeking answers as to why such a phenomenon exists and what can be done to make New York elections more competitive. The theory goes, of course, that more competition for office moves candidates to further engage with voters, explain specific policy positions, and remain more accountable to constituents if victorious.
Along with its partner for this project, City Limits, Gotham Gazette also spoke with New Yorkers in several sections of the city where voters will not have candidate choice on Election Day.
Voter perspective
In a section of Astoria, Queens that is part of Senate District 13 and Assembly District 36, both feature one-candidate races - incumbent Democrats Jose Peralta in the Senate and Aravella Simotas in the Assembly. Residents of the neighborhood expressed disappointment in the situation. "I don't think this is a democratic way," said Hector Algarroba. "There hasn't been a lot of campaigning because of that reason. Since they don't need to campaign, they don't need to spend the money in advertisement."
Another resident, Yannis Bacalis, a 26-year-old master's student, said there is a lack of a personal touch in the campaigning. "I would like to see a nominee coming to Astoria, rather than sending flyers and ads on the news. I would like to know why I should be motivated to vote for him or her. So it's lack of PR and human relations basically," he said.
[Related: What Bronx Voters Think of One-Sided Elections]
"Well, I wasn't aware of the elections... but after what you told me, I think someone needs to step up, because this is not democratic," said Ourida Victorin, 25, a student living in Crown Heights, Brooklyn, which falls under Assembly District 57. The District is represented by Walter Mosley, who is running unopposed this year.
"I feel it's not fair there is just one person running. What if the person is not good for the position?" Victorin added.
Contested and Uncontested Races for the State Senate, 2014
Contested and Uncontested Races for the State Assembly, 2014
Incumbent Advantage
In a state with no term limits for state-wide or state legislative offices, incumbent candidates are nearly impossible to beat. Of course, they can't be beaten if they aren't even opposed. In New York City alone, two-thirds of incumbents in the September primary elections did not face an opponent.
Incumbents enjoy strong name recognition, and can mobilize extensive resources (chiefly financial) to solidify their position. It is an uphill task for any challenger to enter the ring. Good government advocates, political operatives, and political scientists seem to agree on the reasons that so many races are run unopposed: imbalanced campaign financing, unchecked gerrymandering, and the absence of term limits.
[Explore: NYC's Unopposed Candidates: Accountability Toolkits]
Money Matters
"Either one party is so dominant in a district that it discourages opposition, or the incumbent has acquired so many resources that it's daunting for opponents to run," said Gerald Benjamin, director of the Center for Research, Regional Education and Outreach at SUNY New Paltz. "Resource gathering has more to do with discouraging competition than actually campaigning."
Benjamin seems to hit at the heart of the issue. Opposition can be deterred before it even becomes a reality. Uncontested races, says NYPIRG research coordinator Bill Mahoney, are "partially from the natural partisan divisions of New York State. In other cases the races are made unnaturally uncompetitive when a company lends hundreds of thousands of dollars to a candidate. Some candidates are deterred at the realities of that."
The phenomenon is one that has not gone unrecognized, particularly in New York City where public financing rules can make for a more equitable distribution of campaign resources and more competition in races for municipal office - though incumbency still almost always prevails.
"Certainly, incumbents have the access to this institutional money," said Eric Friedman, assistant executive director for public affairs, New York CIty Campaign Finance Board (NYCCFB). "Political committees, labor organizations, lobbyists -- those groups are looking at incumbents, but challengers rarely have access to those big contributors."
Even without contests, incumbents raise - or are simply given - campaign funds. The aforementioned incumbent State Sen. Peralta's re-election campaign received $147,925.25 since January; contributions to Assembly Member Mosley's campaign are more modest at $33,828. Another unopposed incumbent, David Valesky, State Senator for District 53, raised $173,681 (it is typical that Senators outraise Assembly Members). Candidates are known to spend campaign cash even when unopposed. There is also, naturally, the inclination to raise funds in preparation for a challenger that could emerge.
The collection of resources and their utilization seem to be the chief factors in deciding candidates for seats. "We have to spend our resources carefully," said David Laska, communications director, New York Republican State Committee. "Every County Chair has to decide where resources are best spent," he said, asserting that just as there are seats where Republicans have not put up a candidate, Democrats have also failed to run in certain Upstate districts.
Kenneth Sherrill, professor emeritus of the Political Science Department at Hunter College, CUNY, cut exactly to that chase: "No one wants to spend money on a race they know they're going to lose."
Carving out wins
Redistricting has been one of the prominent issues of this year's election with a ballot proposal ("Prop 1") that offers voters a chance to approve redistricting reform. Advocates are split about the promise that Prop 1 holds for large-scale reform, but all agree that so-called gerrymandering is anti-democratic.
Districts have historically been drawn by sitting legislators to advantage incumbents. The carefully-crafted district lines allow for skewed voter registration balance, one of the bricks in the foundation of incumbency and one that all but eliminates competition.
"One reason (for the many uncontested races) is, of course, the outrageous gerrymandering of the State Legislature which creates a very large number of districts packed with only one party and designed to be non-competitive," said Sherrill. "The appearance of party competition in New York State is maintained only by virtue of the malapportionment of the Legislature."
Sherrill added that local political clubs and organizations are dying out and failing to recruit younger potential candidates.
Reinvent Albany's Kaehny said, "There are fewer contested districts because of gerrymandering working for incumbents. Over time it is not a surprise that they have so many built-in advantages. The fact that the State Senate has an agreement to effectively have a peace treaty of sorts and the governor has not done anything to change the gerrymandering proves that we have an incumbency-protection plan."
In fact, the trend appears to be worsening. According to a new report by good government group Citizens Union, released on October 29, the percentage of incumbent state legislators running unopposed was 28% in 2012 and is now 38% in 2014.
The redistricting of the state - often into bizarrely drawn districts - by those in power creates niches of concentrated supporters and helps win seats in general elections. "When you look at general election races in particular, when you have a system when the majority party is drawing lines favoring one party over another, the seats are not competitive," said Rachael Fauss, director of public policy at Citizens Union.
Uncontested Races, New York State Legislature, 2012 & 2014
Limits and Signatures
Incumbents have several significant advantages, among them being the fact that there are no limits on the number of terms they can serve. And for challengers who are new to the system, simply entering the fray is fraught with technicalities that are hard to navigate, particularly obtaining ballot signatures.
"Election law in New York State is very onerous," said Daniel Isaacs, chair of the New York Republican County Committee. "I think it's more so an uphill climb in challenging an incumbent. But the arduous process of getting on the ballot is also taken into account. It definitely deters candidates."
Jerry Skurnik, founder of Prime New York, a political consultancy firm, said "It is true that in some states it's easier to get on the ballot than New York. If you needed less signatures there probably would be more candidates running in districts."
Kaehny concedes that these "terrible rules" need to be fixed but doubts whether they play a big role in the number of uncontested races.
However, to Sherrill's point about the death of local political clubs, if those clubs are indeed withering, that may actually remove one advantage incumbents often have: club mobilization for gathering ballot signatures. Old-school political clubs are very often the mechanism by which incumbents easily attain more than enough signatures to make the ballot each election cycle.
Competitive spirit lacking?
Uncontested elections relate closely to another common New York phenomenon: elections so one-sided that they are "contests" in name only. The same factors foster both problems, and the latter can lead to the former--as it has in Staten Island's 62nd Assembly district. A solidly Republican district, the seat was open in 2012 when Republican Lou Tobacco departed, so Democrat Anthony Mascolo made a bid to defeat GOP nominee Joseph Borelli. The Republican romped to a 69-31 victory, and this year Mascolo didn't even think of challenging the incumbent.
Mascolo says he had a difficult time raising money and had to spend a lot of his own resources on the race, but doesn't blame a small financial disadvantage (Borelli raised $89,000 to Mascolo's $69,000) for his defeat. Instead, he feels the local Democratic Party did nothing to support him.
"I started to get the feeling that Staten Island is carved up among the parties by district," he recalls. "I received no help from the Democratic Party at all, which was a little surprising to me. I couldn't get a Democrat to stand with me out here, even for a handshake."
Did his quixotic campaign make an impact, just by giving voters a choice? Mascolo doesn't think so. And in case he wants to run for something else in the future, he recently registered as a Republican.
Uncontested Senate Races by Borough, 2014
Uncontested Assembly Races by Borough, 2014
Cookie cutter solutions?
Where these different experts and analysts stand divided is the solution to the systemic problems in New York's electoral process that create such limited choice in so many districts.
New York City's Campaign Finance Board and many others see the city's system as a model for publicly matching small contributions to enable more competition in the State Legislature.
"There are lot of different proposals for reform, but what I think works best is at the city level," said Friedman of the NYCCFB. "That matching of funds ensures candidates can raise small contributions from neighbors and have resources to run a viable campaign against incumbents. Incumbents have been beaten in city races because the resources are available for candidates that have significant neighborhood support."
In 2013, New York City saw perhaps its most competitive, democratic election cycle since 2001. More than two-thirds of the total amount of individual contributions collected by candidates came from residents that contributed $175 or less. The system provides incentive for candidates to reach more voters. And for more people to run. Because New York City is so heavily Democratic, this often manifests itself in party primaries - but to an extent that does not happen in races for state legislature. While the public campaign finance system is part of this trend, term limits also plays a key factor. Nevertheless, in the 2013 race for City Council in the 7th District, the eventual winner, now Council Member Mark Levine, faced nine opponents in the primary. Seven candidates battled it out in the 42nd District primary before Inez Barron won. In District 48, Chaim Deutsch won in a tight contest of five candidates.
Prime New York's Skurnik said public financing can help. "Candidates do feel they don't have to spend so much time raising money and they can spend time on the issues," he said, although with one caveat. "It definitely is increasing the amount of candidates in the primaries to create seriously contested primaries, but less so in the general election."
Skurnik's point again returns the conversation to the issue of unbalanced party registration - New York City is heavily Democratic with an approximate registered voter ration of 6 to 1 Democrat to Republican.
There are those who are wary of implementing the city's public campaign finance system across the state. "Campaign finance reform might help," said David Laska, of the New York Republicans. "But, if you look at New York City, the Campaign Finance Board, in the 2013 mayoral race, actually kept people from running [more competitively], such as John Liu and Bill Thompson. There's been a lot of misuse of public financing, so I would be cautious of state-wide adoption of it."
With reforms to campaign finance and term limits, long-standing incumbents are more likely to be pressed on residing issues by unlikely opponents instead of riding out an uncontested race.
"The only way these guys leave Albany is either in handcuffs or on a stretcher. Term limits and public financing will change that," said Daniel Isaacs.
His colleague at the state level, Laska, added, "Term limits are a good thing. New Yorkers would like to see fewer career politicians and more citizen legislators."
Yet again, every reform has it's skeptic. "Term limits will simply have the effect of rotating which members of the dominant party hold the seat," said CUNY's Sherrill.
Finally, many agree that non-partisan independent redistricting would be a key reform to fostering more competitive, democratic elections. Disallowing incumbents sway over swathes of the state comprised largely of their supporters or party affiliates would be a major step forward, advocates agree.
With the election around the corner, there has been much clamor for and against Proposition 1, which will appear on the back of ballots and offers reform of the process by which district lines would be drawn in the future. The extent to which the proposal offers positive reform continues to be the source of much debate.
While divided over solutions, experts generally agree with freelance cameraman Webster Antoine, a freelance cameraman living in Assembly District 57, where Walter T. Mosley faces no opponent next Tuesday. Antoine said the lack of choice on his ballot is "pretty messed up."
"I was planning on voting, but it's not like I have a choice. I haven't seen a lot of commercials or campaign events either now that you mention it," he added. "I didn't think about it before, but of course if you don't have an opponent, you don't need a campaign, do you? This is just wrong."

***
by Lisa Autz and Samar Khurshid with reporting contributed by Danielle Cruz, Jarrett Murphy and Ana Pastor.
This report is part of a collaboration between Gotham Gazette and City Limits looking at the troubling lack of competition in New York elections.
Read: What Bronx Voters Think of One-Sided Elections & Explore: NYC's Unopposed Candidates: Accountability Toolkits
Note: Gotham Gazette is published by Citizens Union Foundation, sister organization of Citizens Union