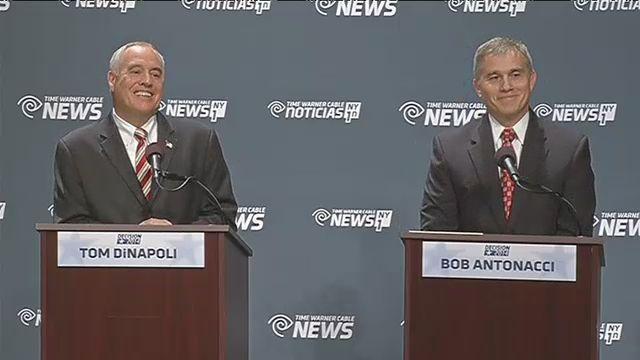 Comptroller candidates debate (photo: @InsideCity Hall)
---
We're helping you prepare for Election Day 2014 in New York. In that vein, we bring you our best attempt to collect video ads, debate footage, and editorial board endorsements in the three statewide races as well as the race in New York's 11th Congressional District.
To see who will be on your ballot and find lots of information about races, candidates, and ballot proposals, use our Gotham Gazette-WNYC Election Guide.
To read our ongoing coverage of the races of 2014 as well as other New York politics and policy, see our most recent articles. This includes our report on the very high number of uncontested general election races for New York State Legislature. But, the three statewide races are not uncontested, and we're bringing you more information on the contests for Governor, Attorney General, and Comptroller (plus New York's 11th Congressional District). See below for all the video advertisements that campaigns for those three offices have put online on Vimeo or YouTube. We've also put links to televised debates. But first, editorial board endorsements:
Do newspaper editorial board endorsements matter to voters? Do they impact elections? Most say they have historically. Some say they don't matter much these days. It's hard to tell. Candidates certainly love to tout them when they get them and downplay them when they don't. While we can debate and analyze their impact - and some exit polling would be nice! - we can certainly track to whom these endorsements go and some of the interesting things said in support of the so-honored candidates as well as those not chosen.
We're collecting editorial board endorsements in the 2014 races for the three statewide offices of New York Governor, Attorney General, and Comptroller, as well as NY's 11th Congressional District, one of the most widely-watched congressional races in the state and country. Note: Gotham Gazette does not make endorsements. Send us additions for this page any time: email This email address is being protected from spambots. You need JavaScript enabled to view it.
Editorial Board Endorsements for New York Governor: Incumbent Democratic Governor Andrew Cuomo v Republican challenger Rob Astorino v Green Party challenger Howie Hawkins
Glens Falls Post-Star for Astorino
Rochester City Newspaper for Cuomo
Watertown Daily Times for Cuomo
Poughkeepsie Journal for Cuomo
(Flashback: NY Times Democratic Primary non-endorsement)
Editorial Board Endorsements for New York Attorney General: Incumbent Democratic Attorney General Eric Schneiderman v Republican challenger John Cahill
Syracuse Post-Standard for Cahill
Watertown Daily Times for Cahill
NY Daily News for Schneiderman
Albany Times Union for Schneiderman
The Jewish Voice for Schneiderman
NY Times for Schneiderman & DiNapoli
Queens Tribune for Schneiderman & DiNapoli
Editorial Board Endorsements for New York Comptroller: Incumbent Democratic Comptroller Tom DiNapoli v Republican challenger Bob Antonacci
NY Times and Queens Tribune both went for (Schneiderman &) DiNapoli - see last two links in AG section above
Glens Falls Post-Star for DiNapoli
Syracuse Post-Standard for DiNapoli
Albany Times Union for DiNapoli
Watertown Daily Times for DiNapoli
NY Daily News for DiNapoli - sort of
Editorial Board Endorsements in New York's 11th Congressional District: Incumbent Republican Rep. Michael Grimm v Democratic challenger Domenic Recchia
Staten Island Advance for Grimm
Debates in the races for NY Governor, Attorney General, Comptroller, and the 11th Congressional District (note: these are televised debates):
Gubernatorial Debate, October 22 on PBS
Broken up by question by the Buffalo News
Attorney General debate, October 30 on NY1
Full debate video
Comptroller debate, October 15 on NY1
Full debate video
NY-11 debate, October 28 on NY1
Full debate video
NY-11 debate, October 17 on ABC-7
Full debate video
Video Advertisements Posted to Candidates' Vimeo or YouTube Channels (note: candidates may run TV ads and not post the video to Vimeo/YouTube):
Gotham Gazette Vimeo Channel of 2014 Video Ads for NY Gov, AG, Comptroller
Gotham Gazette YouTube Playlist of 2014 Video Ads for NY Gov, AG, Comptroller:
***
Did we miss something? Please email our editor, Ben Max, at This email address is being protected from spambots. You need JavaScript enabled to view it. - thanks!
@GothamGazette